1 Apr 2022 By AWAY IN STYLE
EYE | LOEWE | NATURE SPRING SUMMER 2022
The Spring Summer 2022 Eye/LOEWE/Nature collection exudes an idea of hedonism en plein air. On the wavelength of the LOEWE SS22 men's runway collection, its fluoro bright colors and playful shapes are charged with a feeling of energetic release that flows from the club to nature and the great outdoors, which remains both the backdrop and the essence
of Eye/LOEWE/Nature. The collection's deep ties to the natural world are underscored with an initiative supporting 'A CASA for birds' for the second year running. Aimed at preserving wildlife species in danger of extinction, the project will receive a €15 donation for every Eye/LOEWE/ Nature product sold.
Modeled by French actor Stéphane Bak, the collection consists of pragmatic pieces designed to live outside, in contact with the elements. Following a responsible mindset, there are upcycled pieces crafted from parachutes, military gear, tents and LOEWE T-shirts from previous seasons, as well as outdoor jackets made from deadstock denim fabrics or recycled textiles. Some details are sustainable too, with bio-based buttons and cords, recycled polyester and recycled leather labels. Leathers have been made using a low impact tanning process.
This season creative director Jonathan Anderson keeps lines straightforward and functional, and volumes loose. The collection is a system of outdoorsy staples such as the parka, the parachute blouson and trousers, the fleece anorak and the windbreaker, the multi pocket slacks and Bermuda shorts, the T-shirt and the crewneck jumper, made from multiple fabrics and patchworks of various colours and materials. There is a crafty feel to the items that is translated into colourful geometries: jacquard double squares on a jumper, contrast panels or pockets on the windbreaker, contrast taping on cargo trousers and bags, and laser printed logo on denim shorts. All-over patterns on shirts and socks add another joyful element.
An idea of vibrant playfulness pervades the collection, inviting the wearer
to create personal mixes. The same spirit carries in bags made with technical fabrics and low-impact leather, roll-top backpacks and canvas totes, fleece and leather bumbags, as well as quilted sandals and logo caps.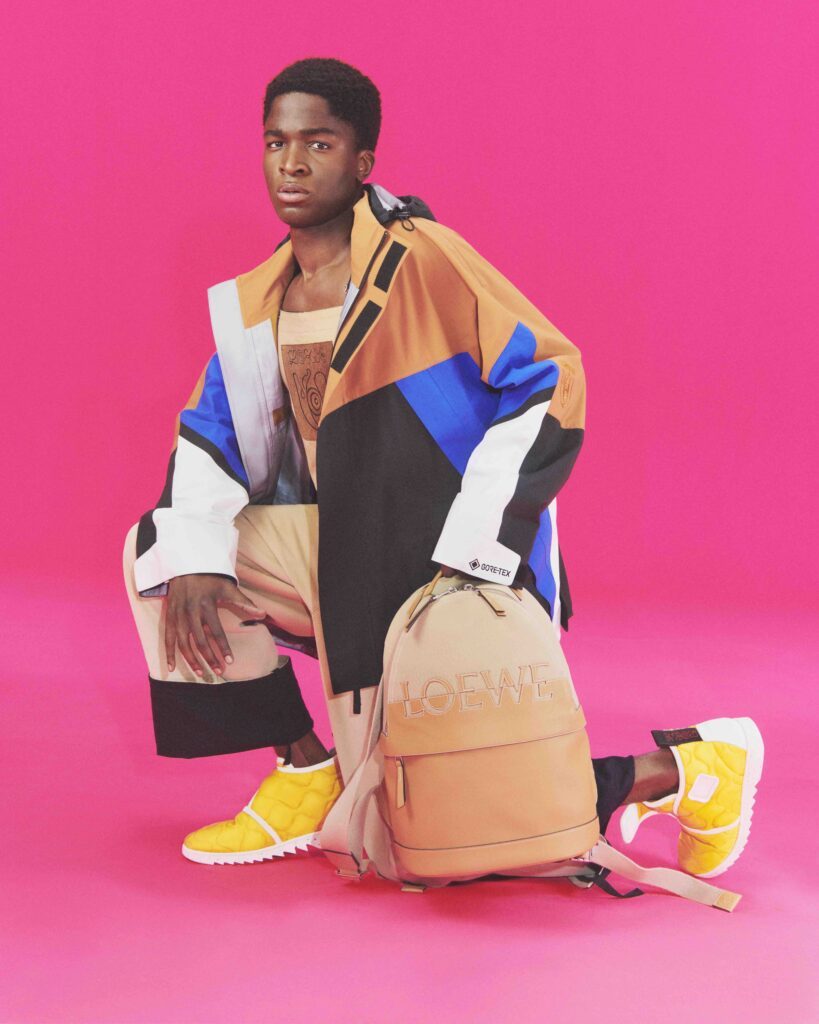 今年春夏Eye/LOEWE/Nature系列以大自然享樂為主題,又與LOEWE 2022春夏 男裝系列互相對應,以鮮艷螢光色及玩味形態為重點,滿載活力能量,就像從都市 夜生活場景連接到戶外大自然環境。大自然及環保一直是Eye/LOEWE/Nature系 列的精神所繫,所以今年LOEWE連續第二年支持保護瀕危物種的 "A CASA for birds"(雀鳥之家) 計劃,LOEWE每售出一件Eye/LOEWE/Nature系列產品,將會 捐出15歐元支持該計劃。
春夏Eye/LOEWE/Nature系列廣告由法國演員Stéphane Bak示範,服飾著重實用 功能,應對戶外多變的天氣環境,是戶外生活的理想裝備。Eye/LOEWE/Nature 系列以環保責任為宗旨,款式以舊降落傘、舊軍服、舊帳篷及LOEWE以往系列T恤 為物料升級改造,亦有用滯銷牛仔布料或回收布料製作的外套,細節設計亦講求環 保減廢,包括有機物料鈕扣及繩索,並重用回收聚酯纖維及回收皮革作標籤。而皮 革以較為環保方法鞣製,減少對環境的影響。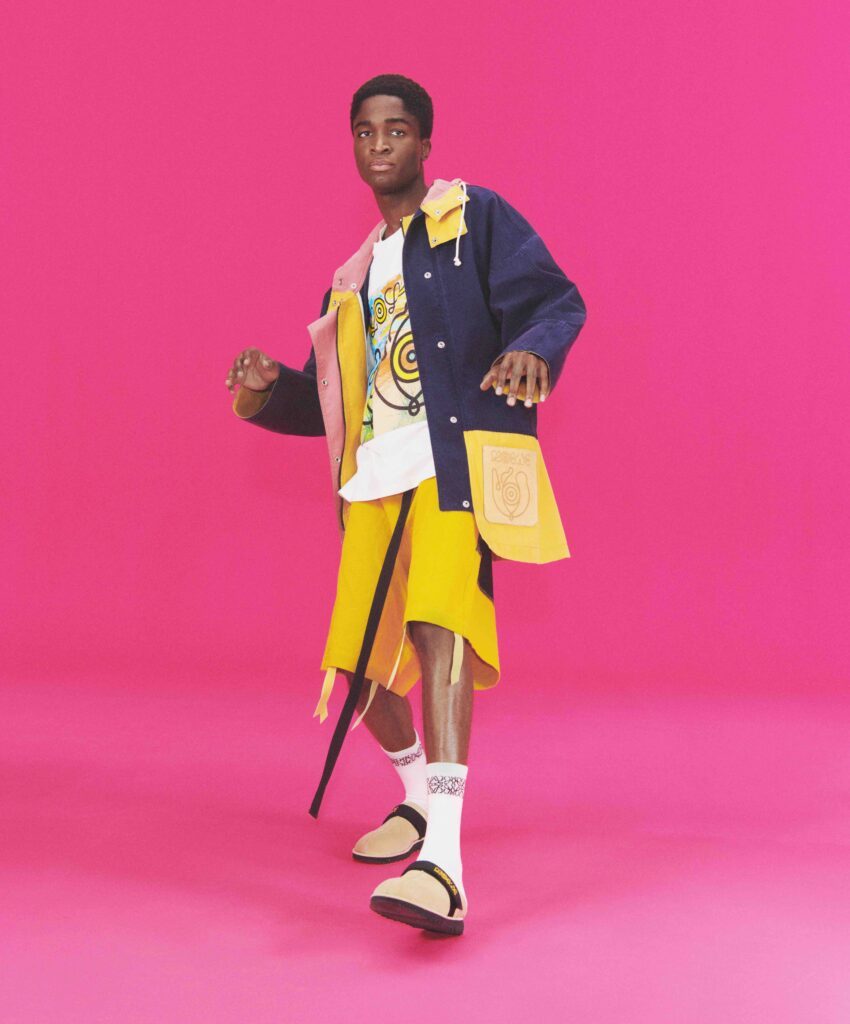 創意總監Jonathan Anderson今季落筆著重簡單實用的寬裕剪裁,款式都是戶外功能 服必備,包括連帽厚外套、降落傘機恤及長褲、抓毛連帽禦寒外套及風褸、多袋便 服褲及百慕達短褲、多種不同顏色和質地的布料拼貼的T恤及圓領套頭線衫。這些 服飾的細節帶有幾何美感,製作很有心思,例如套頭線衫的提花織雙正方圖案、風 褸的對比色布塊及口袋、工人褲及手袋的對比色布條、牛仔布短褲的鐳射印刷標誌 等,而襯衫及襪子的重複圖案帶點歡悅趣意味道。
玩味趣意的設計貫穿整個系列,並以功能型物料與環保皮革製作,包括捲蓋背囊及
帆布手提袋、抓毛及皮革腰包,還有襯墊涼鞋及標誌鴨舌帽等,隨意配搭都可突顯
個人風格。