23 Feb 2023 By AWAY IN STYLE
F.P.Journe – Unique Piece for Action Innocence
OCTA AUTOMATIQUE
F.P.Journe supports Action Innocence with the donation of a unique piece auctioned at CHF 1'000'000
Gstaad, February, 2023 – Action Innocence organized a charity gala during which F.P.Journe renewed his commitment to the Foundation with the donation of a unique version of the Octa Automatique.
Action Innocence was founded in Geneva in 1999 by Mrs. Valérie Wertheimer. Its first mission was to point out the emerging abuses of the Internet and to denounce what was being prepared in terms of pedocriminality. The Foundation has developed and given free of charge to interested police services an AntiPedoFiles tracking software that has allowed the arrest of thousands of individuals consuming child pornography material. One of the first actions was to develop a prevention program targeting children, informing them of various risks surrounding the Internet : coming across disturbing and/or illegal images ; the disclosure of personal data ; meeting the wrong kind of people ; sexting ; cyber-bullying, Internet addiction. More recently, the Foundation has decided to tackle the premature exposure of children to screens, the effects of which are worrying for childcare professionals who are noticing worrying behaviors in their practices: delayed speech development, difficulty relating to other children, attention span deficit, poor fine motor skills, lack of interest in traditional games.
At the end of the evening, the Octa Automatique presented with an exclusive dial made especially for the occasion was auctioned. Varnished, lacquered, honed and polished by hand, the face of the watch echoes themes similar to the Tourbillon Souverain, élégante and Chronomètre Optimum donated to the Geneva foundation in 2015 and 2017.
This unique piece attracted the interest of many collectors and was finally sold for CHF 1'000'000.
The uncluttered design of an F.P.Journe timepiece always reflects the highest level of technical innovation. The hours, minutes and seconds are displayed on the off-center dial in whitened guilloche Silver secured by a polished Steel circle, while the instantaneous date is revealed through a large window for enhanced legibility. At the heart of the 40 mm Platinum case, the Octa 1300.3 automatic caliber offers chronometric precision during 120 hours and an exceptional 160-hour power reserve for great comfort of use. Its off-center 22K 5N Gold rotor turns unidirectionally and exploits each slightest movement of the wrist to ensure an optimal winding of the watch. The sapphire glass caseback emphasizes the magnificent 18K rose Gold mechanism as well as the subtle decorations and watchmaking finishes executed by the Manufacture's craftsmen.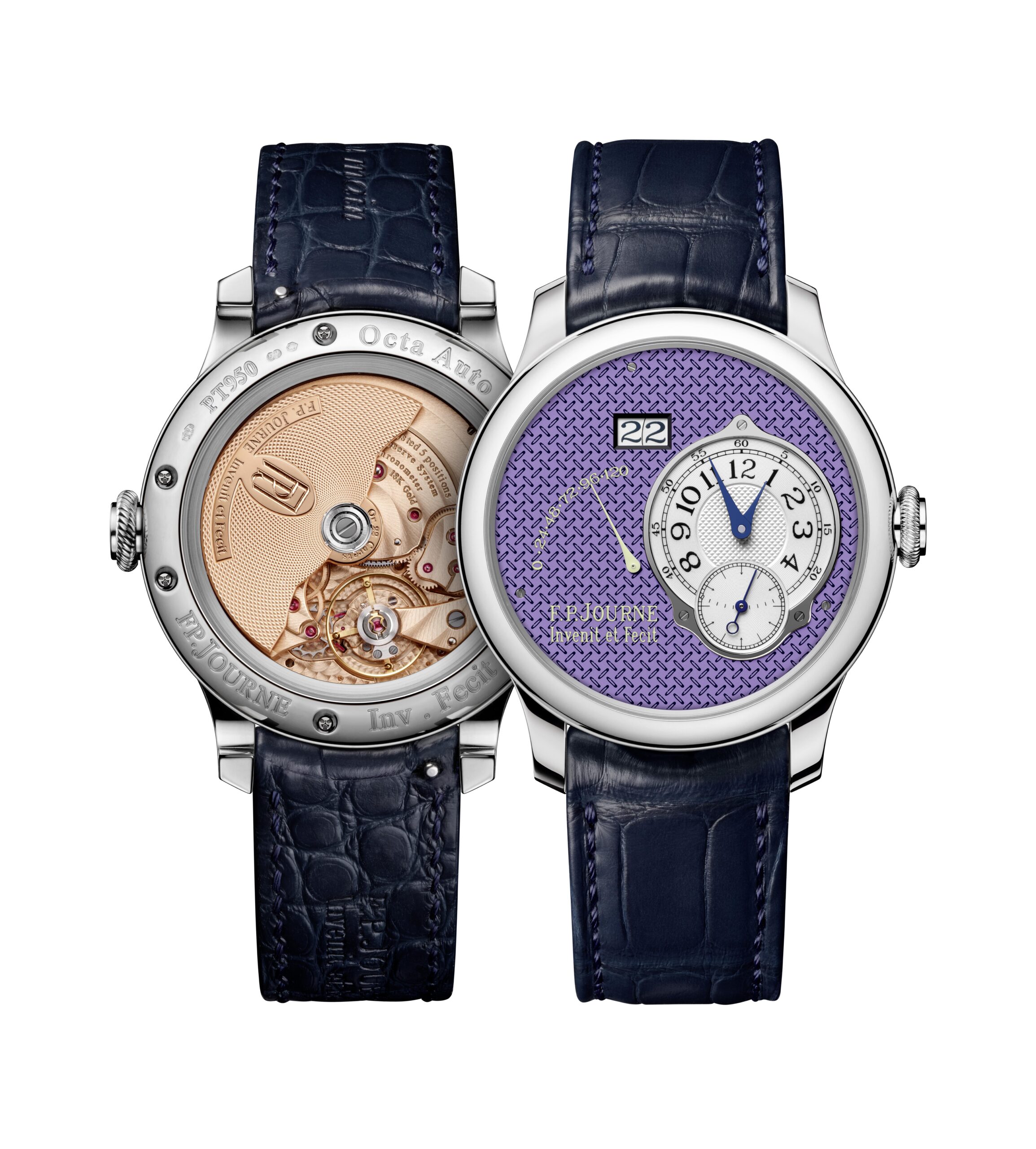 OCTA AUTOMATIQUE
F.P.Journe捐贈孤品腕表作慈善拍賣以支持ACTION INNOCENCE 基金會,腕表以1,000,000瑞士法郎高價成交
格施塔德,2023 年 2 月 —— F.P.Journe捐贈一枚獨一無二的Octa Automatique予Action Innocence 於慈善晚會中拍賣,再次表現出對基金會的支持。
Action Innocence由Valérie Wertheimer夫人於1999年在日內瓦創立。它的首個任務是揭露日趨嚴重的互聯網濫用行為,並對網上有關兒童性侵害的內容予以譴責。基金會開發了名為 AntiPedoFiles的跟踪軟件,免費提供予有關警察部門,協助逮捕了數千名兒童色情製品用戶。基金會的另一項早期舉措是為兒童制定一套有關網絡安全的計劃,告知他們在使用互聯網時可能會遭遇到的各種風險,例如接觸到令人不安和/或非法的圖像、過度披露個人資料、誤交損友、收到色情訊息、網絡欺凌、網絡成癮等。最近兒童過早接觸電子屏幕產品所引致的問題令人憂慮,這些問題包括語言發展遲緩、缺乏社交能力、專注力不足、動作技能缺失及缺少對傳統遊戲的興趣等,有見及此基金會已決定著手處理。
F.P.Journe 曾在2015 年和 2017 年捐贈過Tourbillon Souverain、élégante和 Chronomètre Optimum特別版腕表予這家位於日內瓦的基金會作慈善拍賣。今年的慈善晚會以拍賣為壓軸環節,當中Octa Automatique Action Innocence特別版腕表隆重登場,其表盤經手工上漆、打磨及拋光,設計別具一格,與前作互相呼應。
經過多位收藏家熱烈競投,這枚孤品腕表最終以1,000,000瑞士法郎高價成交。
這枚腕表的簡潔設計一如既往的反映了F.P.Journe極高的機械創新水平。表盤右方的銀質偏心小表盤以拋光鋼框固定,上面設有時、分及小秒顯示,中央綴有細緻的扭索飾紋,配上表盤上方特大的瞬跳式日期顯示視窗,佈局清晰,令人一目了然。直徑40 毫米的鉑金表殼內搭載Octa 1300.3 自動上鍊機芯,提供 120 小時的精準走時和長逹 160 小時的動力儲存。其高效的單向上鍊裝置利用22K玫瑰金偏心式擺鉈及自動上鎖式滾珠軸承系統去提升上鍊的效率,令無論多麼細微的手腕動作都可為腕表提供最適量的動能。透過藍寶石水晶底蓋可以欣賞到18K玫瑰金機芯上精巧細膩的打磨裝飾,甚為賞心悅目。