12 Oct 2022 By AWAY IN STYLE
Fabulous W Sydney Set to Open Doors in October 2023
Sydney, Australia – In early Q4 2023, the long-awaited W Sydney will make its debut. The confirmed arrival of the W brand to Australia's most vibrant, international city will be welcome news to city dwellers, tourists and industry.
Set in the heart of Darling Harbour, W Sydney will bring its unique take on modern luxury to the city when it opens its doors in October 2023, igniting the waterfront location with energy, style and creativity as well as an exciting new landmark.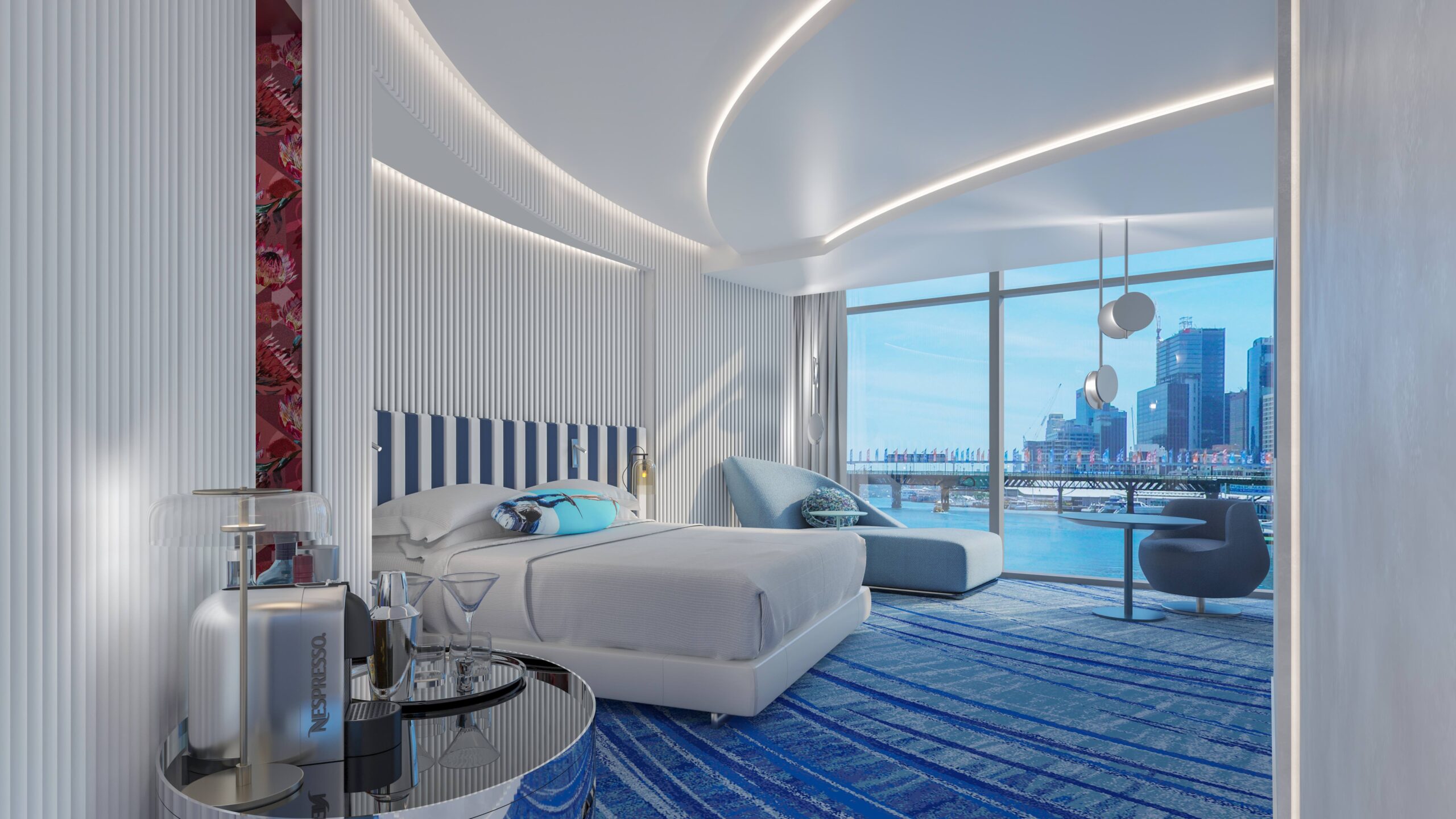 A beacon of bold, sophisticated design, W Sydney will dazzle the city with its truly original accommodation, restaurant, bars and venues, conceived and created by award winning interior specialists, Bowler James Brindley. W Sydney's luxury design narrative informs every element of the property, from the dramatic curves of its exterior to the extraordinary detail of its distinctive spaces. Interiors are informed by a sense of curiosity, originality and responsiveness to the environment, evident in the expressive concrete and street art touches of the restaurant, and the dramatic colours and patterns of its infinity pool and two-storey rooftop bar, reflecting the energy and motifs of the city and its surrounds.
W Sydney's rooms, suites and ultra-luxe suites will set a new design benchmark for the city. Echoing the curves and lines of W Sydney's exceptional architecture, no two rooms are the same, embracing their asymmetry with sleek, modern décor. The interior palette is inspired by the marine environment, and highlights are the stunning azure bathrooms and walk-in robes punctuated with contrasting colour and inflorescence.
Says Craig Seaward, General Manager of W Sydney, "We are incredibly excited to confirm our opening date for W Sydney in October 2023. There have been delays, but trust me, it will be worth the wait.  It's a luxury hotel with a new perspective, one that not only connects deeply with its host city and its urban setting but is also imbued with a sense of freedom and possibility. To cross the threshold of W Sydney will be to enter an exciting new world of creativity, design, culture and connection. We simply can't wait to welcome our guests."