Feather & Bone Brings FAB-Festive Cheer to Hong Kong
Presenting Premium Turkeys, Festive Menus, DIY Bundles, Hampers & Gourmet Gifts
Hong Kong's favourite butcher and restaurateur, Feather & Bone, is set to celebrate the festive season with sumptuous Thanksgiving and all-round FAB-ulous Christmas offerings. The epicurean butcher and delicatessen proudly present premium easy-to-roast turkeys, build-your-ownChristmas bundles boasting the finest cuts of meat and produce for an elevated homemade feast, indulgentgift hampers filled with handpicked gourmet goods, and spectacular Christmas sharing menus for those wishing to commemorate the occasion at any FAB restaurant.
Thanksgiving & Christmas Turkeys
Those looking for the finest birds in town will be impressed by the butcher and grocer's easy-to-roast, top-quality Steggles Turkeys (HK$658/3kg, HK$888/5kg, HK$1,089/7kg). Steggles' Australian turkeys are fed a natural, hormone-free diet, and are now available frozen and thawed at all FAB shops and online, promising the most decadent true-to-tradition Thanksgiving with the crisp, golden turkey as the centerpiece of any home-cooked dinner.
Don't fancy cooking this Christmas? Let Feather & Bone's talented chefs take care of it! Gourmet Cooked 3kg Turkeys (HK$1,400) are available from 23-25 December, for a fuss-free, unmatched Christmas feast at home. Pre-orders and reservations are available online or via info@featherandbone.com.hk from today.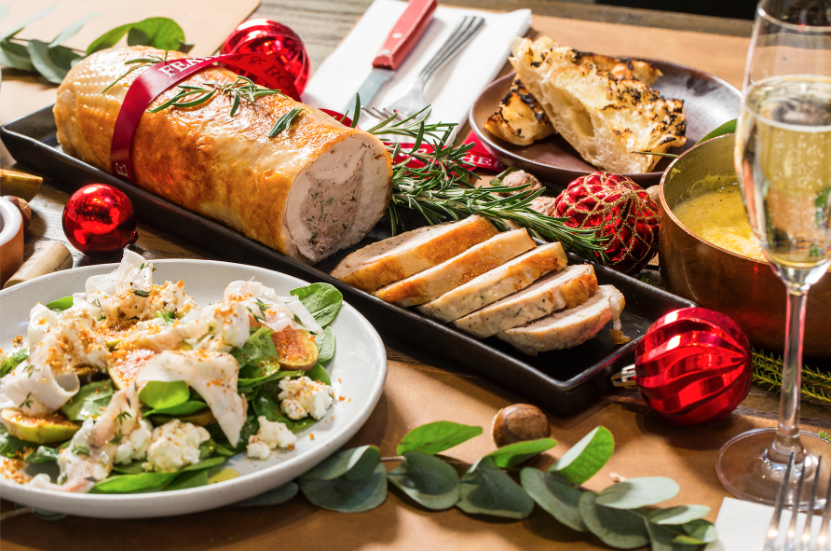 Festive Christmas Sharing Menus
Feather & Bone invites families and friends to celebrate the jolliest time of the year with two indulgent dine-in Christmas menus. Available from 15 November at all FAB restaurants, the specially curated Christmas Sharing Menu (HK$598 per person) showcases FAB signature dishes and classic festive treats. Enjoy prized Fine De Claire No. 2 Oysters (+HK$38 per piece), before devouring an abundant spread of appetisers, including olives, Charred Baguette, House-made 'Smoked Brisket' Pastrami, a fresh Salad of Fig, Guanciale with aromatic ricotta and spinach, delicate Pecan Praline with Pomegranate Salumi and a flavourful Prosciutto Selection. The highlight of the meal marks the scrumptious Roast Turkey Roulade with fig and cinnamon stuffing, perfected with a delicate cranberry sauce. Accompaniments include the all-time favourite Brussels Sprouts, Creamy Mash, FAB's much-loved House Slaw, and more. The delectable meal ends with an iconic Christmas Pudding, Eggnog Custard and a premium Cheese Selection, best enjoyed with a glass of FAB's exclusively crafted 'Three Butchers' Mulled Wine as part of the festive feast. A Vegetarian Sharing Menu (HK$598 per person) is also available, and families can enjoy a discount with all little ones, aged 12 years or below, eating for only HK$299.
For more festive spirit(s), guests can pair their Christmas feast with free-flow packages starting from HK$298, featuring two hours of unlimited prosecco, house white wine, 'Three Butchers' shiraz and lager as well as juices and soft drinks. To add a spark to the most sparkling time of the year, diners can be served Bollinger 'Special Cuvée' Champagne, too, for an extra HK$200.
Feather & Bone will accept reservations between 15 November and 19 December, and all bookings must be made three days in advance for a minimum of four guests. Walk-ins of all group sizes will be welcomed from 20-25 December. Advance bookings are encouraged. For private event enquiries, please contact: events@featherandbone.com.hk, as Feather & Bone offers inviting outdoor terraces, spectacular rooftops and private rooms for the perfect Christmas party.
Christmas Feast at Home: Build-Your-Own Christmas Bundles
Bring out the baubles and presents, and let Feather & Bone take care of the festive feast at home. FAB awakens the most creative chef-de-cuisine in everyone with their Build-Your-Own Christmas Bundles (from HK$1,098)with endless options, perfect for four to six people. Customers can choose from an exceptional range of premium ready-to-cook centerpieces, such as the classic Steggles Premium Turkey, a sumptuous Porchetta, prime Wagyu Rump or a Lamb Shoulder to fire up at home, including a FAB-ulous Christmas stuffing, creamy potato mash, brussels sprouts, gravy and decadent desserts. More delicious treats are only one click away, from boneless honey glazed ham to an iconic Beef Wellington, a broad selection of cheese, sides, sauces and wines – the options are endless.
The exclusive Christmas bundles are available from 1-25 December, and all orders shall be placed before 20 December for pick-up or delivery via the online shop. Early birds who order before 15 November will enjoy a complimentary bottle of Tar & Roses Prosecco for a festive toast. So do up your tree with more tinsel and put on your best Christmas jumper whilst putting together your dream Christmas feast order to cook up some magic at home.