Former Holiday Homes of Legendary Indonesian Architect Form Backdrop of Artistic Afternoon Tea
If where you take your tea is as important as how you take your tea, then Bali may very well emerge as one of the world's premier destinations for stirring milk and honey.
In the lush, tropical uplands of Ubud, Tanah Gajah, a Resort by Hadiprana, is opening the doors on a suite of natural spaces for leisurely one-of-a-kind afternoon tea sessions inspired by the same man who conjured the spaces.
On the grounds of Tanah Gajah itself, which Hendra Hadiprana designed as a family retreat in the 1980s and repurposed as a resort in 2004, they're wheeling out the tea in Panen Padi, a new dining destination that launched during the pandemic. The location is exclusive to in-house guests when it comes to afternoon tea. Once known as Pondok Margin, Panen Padi is where the late Hadiprana stayed when he retreated to the property with his wife, children and grandchildren.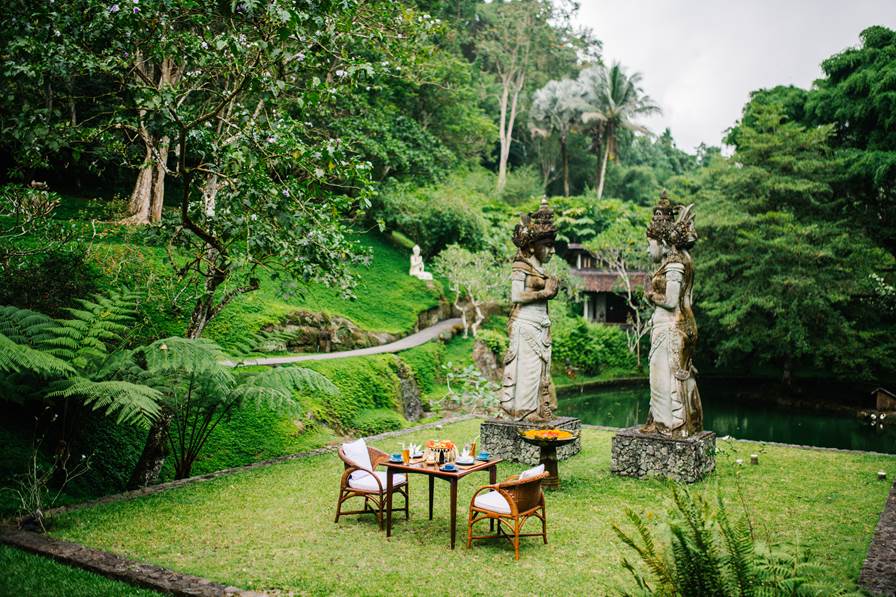 After the 2004 repurposing, the Hadiprana family set up a second peaceful family abode in the tropical jungle nearby. Dua Dari, like Tanah Gajah, started as a home but the family has now opened it up to the public for stays. The warmth of the family looms large and the unique high tea in Ubud consists of the late patriarch's favorite snacks.
Guests can choose between multiple locations throughout the property. There's Balai Barong, a pillared, wall-less space that is open to nature and a gentle breeze. The building was designed by Hadiprana to be like the body of a Barong (a mythical panther-like creature), which stands as a symbol of health and good fortune.
A picnic-style afternoon tea, overlooking the swimming pool, is another popular choice and the setting is decorated with Balinese white umbrellas, while the table is adorned with wooden sculptures and fresh flowers. A mix of sweet and savory dishes are served on the family's private collection of chinaware which have been a part of their collection since the '80s.
The array of afternoon tea snacks varies by property and season but savory dishes like Balinese-spiced tuna satay, chicken curry puffs and finger sandwiches, as well as sweet treats such as Valrhona chocolate cake, mixed fruit tarts, jackfruit fritters and tiramisu are some examples of what's on offer.
During his lifetime Hadiprana was passionate about building up and showcasing the work of local Indonesian artists. He opened his own gallery in South Jakarta 'Galeri Hadiprana' in the '60s and it was the first art gallery in Indonesia. His passion for art, beauty, and nature run through both Tanah Gajah and Dua Dari's offerings from the food they serve to the locations in which they serve it.
Afternoon tea in Ubud at the Panen Padi Lounge or at Tanah Gajah's sister property, Dua Dari, is available exclusively to guests from 4pm – 6pm daily. Visitors staying off-site can enjoy afternoon tea at Tanah Gajah in the main restaurant, The Tempayan, or picnic style on the verdant grounds.
For more information visit Tanah Gajah https://www.tanahgajahubud.com/en or Dua Dari https://duadariubud.com/.