Four Seasons Resort Chiang Mai Launches "Chaan Baan"
Renowned for its deep-rooted heritage, Chiang Mai is touted as Thailand's cultural capital, with a rich history of art, craft and tradition that has been handed down over generations. Wrapped in working rice paddies and overlooking lush tropical bounty, Four Seasons Resort Chiang Mai is a true reflection of this legacy, offering guests a sensory cultural immersion.
"Having been in Mae Rim valley for more than 25 years, the Resort has nurtured a strong and meaningful relationship with the people, embracing the essence of the Northern Thai way of life," shares Anthony Gill, General Manager, Four Seasons Resort Chiang Mai and Tented Camp Golden Triangle.
Truly Thai Experience
With the launch of Chaan Baan, the Resort gives guests an opportunity to get up-close-and-personal with the cultural milieu of the land.
Embracing the Local Way of Life
The term "Chaan Baan" refers to the terrace outside a traditional Thai home, or an outdoor living space – often a courtyard that connects the different parts of the house.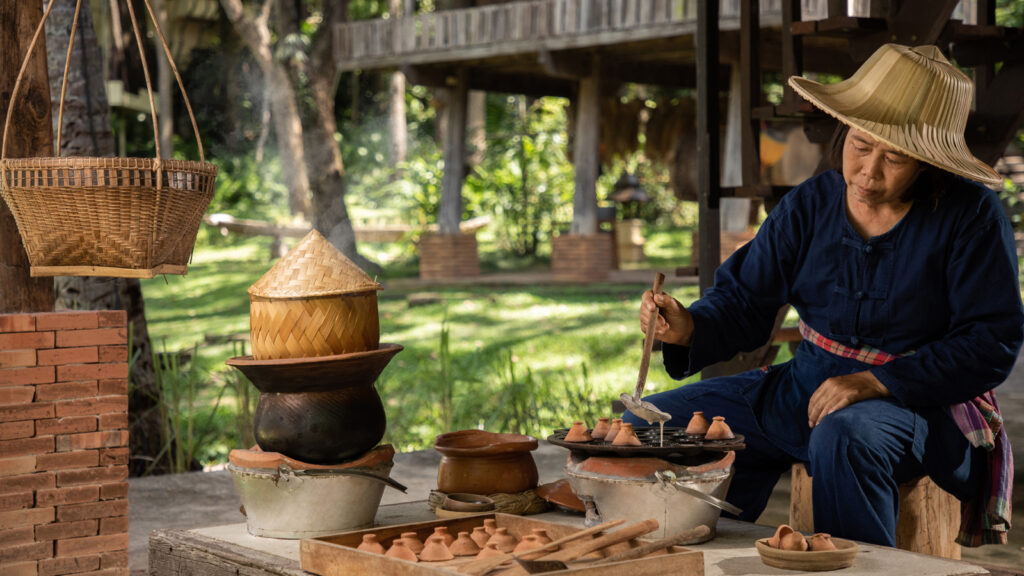 Collaboration at the Forefront
A key aspect of Chaan Baan is the ongoing collaboration with the local community to help sustain and preserve the crafts. The Resort offers guests the opportunity to learn traditional tie and dye from Chiang Mai's leading craftspeople, Patricia Cheesman and Lamorna Cheesman of Studio Naenna.
"Indigo dyeing is a great way to connect with nature," says Patricia, who has shared an invaluable vat of dye that has been kept alive for more than 25 years. "We look forward to growing old together," she jokes.
Another worthy partnership is with InClay Studio Pottery, which has handcrafted the serve-ware at North by Four Seasons. Using mostly natural ash glazes, owner Jirawong Wongtrangan creates patterns of colour clays and themes that are inspired by the surrounding landscape.
"Whether it is to pursue a long-term, tailor-made course, or just have a go at hand-building and using the wheel, all ceramic experts are welcome!" he gushes. With a kiln on-site, guests can create their work of art and have it fired up as a souvenir.
Respected Traditions
Besides pottery and tie and dye, guests can also learn more about the rich rice planting tradition of the region. Both adults and children can plant rice shoots and discover age-old traditions like creating ta-laew.
The experience at the venue extends to a glimpse of traditional Thai cooking and enjoying local specialties such as khanom khrok or coconut-rice pancakes, cooked in a hot indented frying pan. At the far end, Executive Chef Liam Nealon and the team of farmers tend to the herb and vegetable garden that provides some of the garnishes at the restaurants and cooking school.