FRED Audacious Blue, Innovation Serving Credativity
Always going beyond, constantly reinventing oneself, and breaking with convention. Instilled in the brand by its founder Fred Samuel, this daring spirit has always been the driving force behind Maison FRED, and today it shines with a new glow as the jeweler unveils its very first blue lab-grown diamonds with the Maison's exclusive FRED Hero Cut: FRED Audacious Blue. They have also inspired the new High Jewelry set, Force 10 Duality, an unexpected pairing of this new blue stone with natural white diamonds.
Throughout his life, Fred Samuel was entirely ruled by his heart and guided by his instincts. This mindset constantly pushed him to excel and gave him the courage to dare to do things differently, which led to increasingly innovative designs.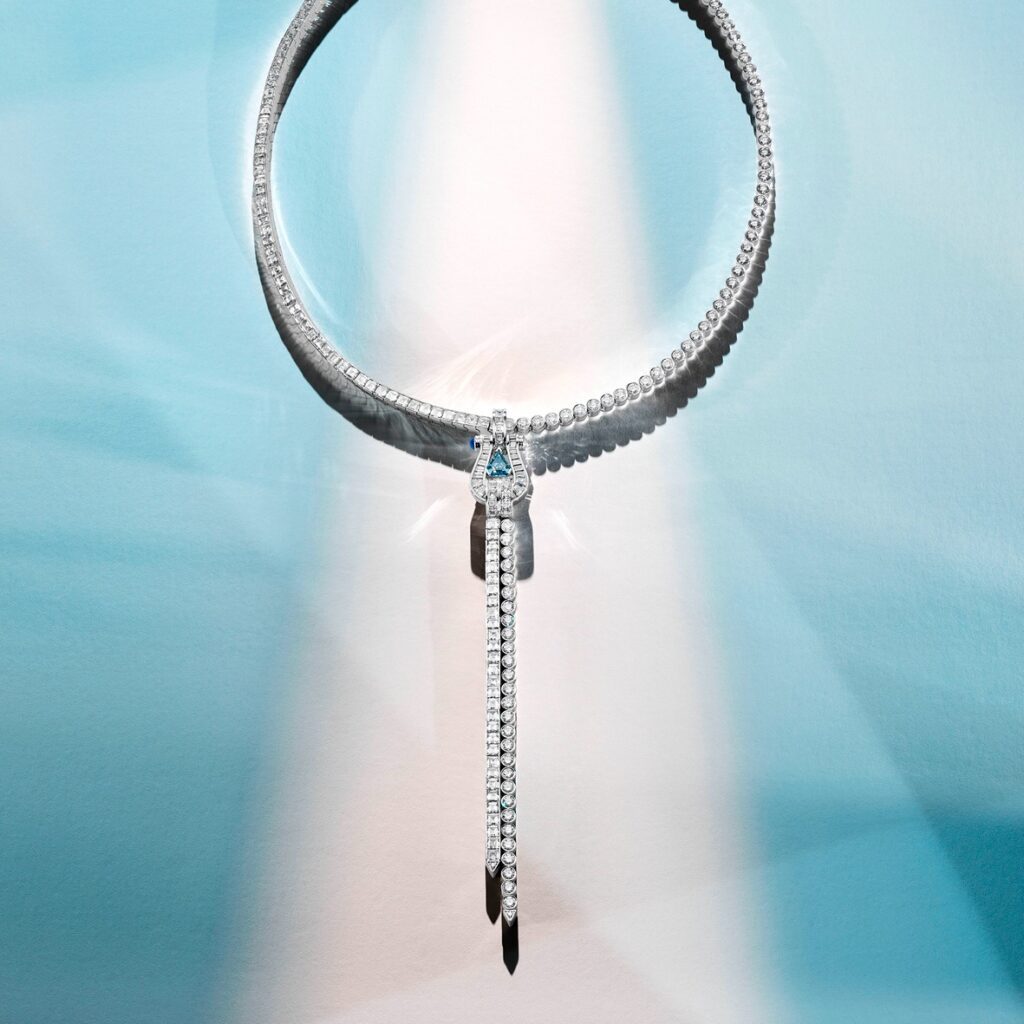 From the very beginning, the jeweler preferred to follow his intuition, even if it seemed to defy trends or traditions. He was the first jeweler to foresee the craze for cultured pearls in the 1920s, for instance. Going against the tide of classic jewelry codes, he dared to combine radically contrasting materials, such as gold and steel on the iconic Force 10 bracelet (from 1966) to create a versatile piece that could be worn for any occasion. It was with this pioneering spirit that Fred Samuel founded his eponymous High Jewelry Maison in 1936, aged just 28. Since then, creative audacity has become the FRED signature, both in terms of its style and its search for innovative techniques to craft jewelry with a strong and unique identity.
Driven by this ambition to always look to the future and beyond conventional codes, FRED is daring to break new ground by unveiling FRED Audacious Blue, a creation whose name wholly reflects its DNA. "Audacious" by its very nature: a lab-grown diamond, the first in the Maison's history. And "Blue" in tribute to this quintessential FRED shade: a nod to the Maison's love not only for the Riviera, but also for the sea and sport. Two passions close to Fred Samuel's heart, embodied by the exclusive FRED Hero Cut selected for this stone. Its shape draws its power from lines that combine the elegance of a boat sail with the strength of a shield. Unveiled for the first time in 2022 together with the launch of the Monsieur Fred Inner Light High Jewelry collection, a tribute to its founder, then presented to the public at the Maison's retrospective in Paris last September, it follows in the footsteps of the iconic Force 10 collection. It seemed to be destiny that all these precious elements would come together…
FRED Audacious Blue, exceptional lab-grown diamonds and all their facets