FRED Force 10 XL/ FRED Force 10 XL Interchangeable
Considered as one of the first pieces of sportswear / sports-chic jewellery in history, the Force 10 bracelet has become an icon. For over 55 years it has constantly reinvented itself without ever losing its contemporary relevance. Today its striking, clean lines take on the outsized proportions of an avowed masculinity that women will also want to embrace for its audacious look.
Symbolising courage, strength and surpassing oneself, the new Force 10 bracelet is pushing back the frontiers of its design. For the first time, its buckle becomes XL-sized, supported by a cable of steel or gold. A style choice that underlines FRED's creative audacity and gives its iconic bracelet a forceful, avowed/acknowledged masculinity.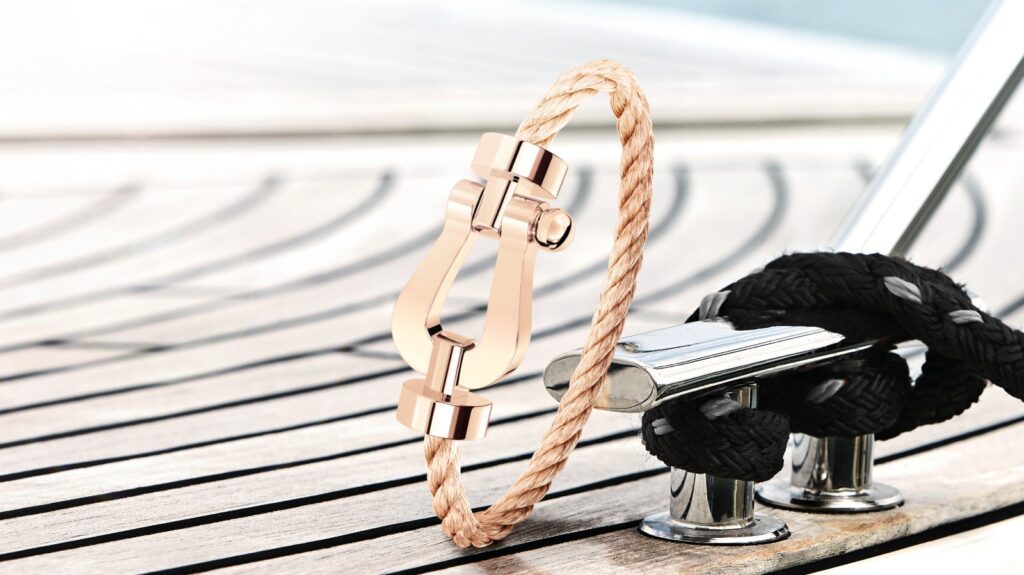 Stretching the dimensions of those lines demanded particular technical skill, both in making the buckle and perfecting the cable. Braided in the traditional way of all Force 10 bracelets, the cable had to be enlarged to a diameter of 6 millimetres comprising around 1,900 individual wires and a security fastening was designed especially. The XL buckle for its part is made up of 13 pieces, as opposed to the normal 5 for a large or medium-sized buckle. These unprecedented proportions for such a piece led the Maison to combine different forms of high-precision expertise at the boundaries of jewellery and watchmaking.
Designed in white, yellow or pink gold and attached to a cable of steel or yellow or pink gold, the interchangeable Force 10 XL bracelet offers new wearing options and takes on its original two-tone, two-material signature as the wearer wishes. Alternating different looks and styles, it also opens up mix-and-match possibilities with the Force 10 collection's other lines.
The Force 10 XL is bracelet is the ultimate expression of the values that Force 10 embodies, sustaining the ethos of a resolutely unisex, free-spirited and audacious jewellery piece as such for 55 years.