FRED SOLEIL D'OR in the Spotlight at FRED's First Retrospective in Autumn of 2022
Coloured stones always made Fred Samuel's heart beat a little faster. This passion was fostered during his childhood in Argentina by a father who was a jeweller and dealer in precious stones and continued through his apprenticeship at Worms in Paris. It fired his imagination and creativity in equal measure and developed into an expertise that was acknowledged and sought after.
Founding his Maison in 1936, the "Creative Modern Jeweller" soon attracted a clientele of celebrities passionate for precisely this kind of stone. From the 1950s, leading royal families around the world entrusted him in turn with their special commissions.
To fulfil them, Fred Samuel started seeking gemstones that were just as special and created true masterpieces.
Recognised as a pioneer in this field, FRED established itself from then on as the jeweller specialising in colour.
Jewellery exhibitions followed in Cannes, Monaco, Mégève, Saint-Tropez, even aboard the ocean liner France, while Princess Grace attended the 1976 opening of a showroom in Monte Carlo. For the House, these were festive, glorious times. It was at this moment that fate smiled on someone who had always trusted his lucky star. In 1977, FRED had a rare encounter with one of the world's most incredible yellow diamonds, the SOLEIL D'OR, so named by the Maison because its intense colour seemed to have captured all the sun's brilliance and rays. As this remarkable jewel returns to form part of the Maison's heritage: This is its story.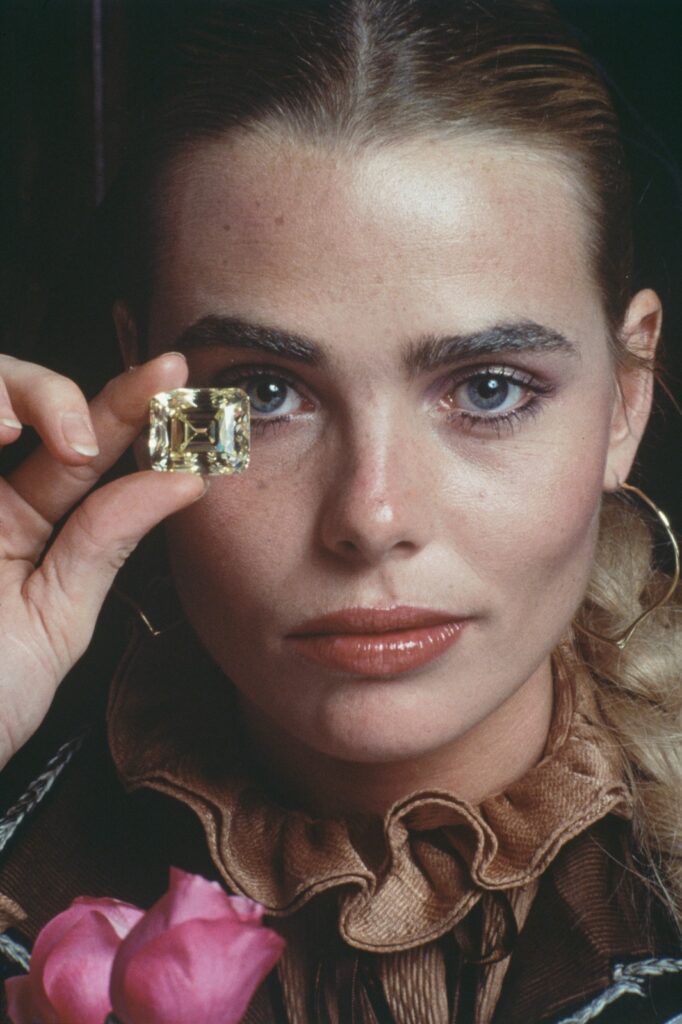 There was once the SOLEIL D'OR…
Beverly Hills, on 7th June 1977. FRED opened its first American boutique on Rodeo Drive. What might have been a red-letter day ended up being marked by a unique diamond. Fred Samuel's elder son Henri learned about the existence of a yellow diamond. For its incredible 105.54-carat weight and "Fancy Yellow" shade thought to be among the most fascinating of hues, the stone was unusually beautiful in every respect.
In addition to its magnificent weight, the vivid yellow colour was accentuated by the emerald cut with its slender lines. This cut is extremely rare in its shape, size and colour, the shade having to be deep and consistent throughout the stone. Every facet revealed a treasure-trove of radiance, the contemplation of which became a genuine journey of fascination. In a flash, the magic took effect. Literally captivated, the jeweller bought this natural treasure without hesitation, ensuring FRED's entry into a very exclusive club – great jewellers holding stones of over 100 carats. One final detail made this find even more original: unlike other prestigious diamonds, this spectacular stone was unnamed, allowing a jeweller the rare opportunity of choosing a name for it.
For a jeweller, holding in your hands and bringing to market a 100-carat stone remains a unique feeling, and there are very few of us around the world to have experienced it.
– Fred Samuel, "Mémoires d'un Joaillier", Éditions du Rocher, 1992
The SOLEIL D'OR in the Spotlight
At FRED, First Retrospective in the Autumn of 2022
Now back as the showpiece of FRED's heritage, the SOLEIL D'OR will shine at the Maison's first retrospective exhibition at the Palais de Tokyo in Paris in the autumn of 2022, then in Asia during 2023. There, Fred Samuel's life and destiny, worthy of
an adventure story, will blend with his visionary spirit and expertise evident in the most remarkable stones and jewellery to have punctuated FRED's history.
Among them will be some exceptional pieces including the 56.7-carat "Oiseau" (Bird) brooch made of multicoloured sapphires and, of course, the SOLEIL D'OR.
"When we place the SOLEIL D'OR in the context of FRED's history, we appreciate how completely it embodies a jewellery house that excels at the art of creating and marketing jewellery its own unique way." says Charles Leung. "Firstly, by acquiring one of the most incredible diamonds and placing FRED among the few jewellers to hold stones of over 100 carats. Then also by immediately sensing which client it was meant for. Lastly by creating an event as extraordinary as the stone itself with such an instinct for the avantgarde, audacity and innovation. This was back in 1977, and already a television programme was covering it, something totally unheard of at the time! Such passionately artistic, bold vision is part of FRED's genius."
A marvel of nature and the jewel in the crown of the forthcoming exhibition, the SOLEIL D'OR remains an eternal icon. The Riviera light so beloved by Fred Samuel, the sun-filled joie de vivre and the spirit of the "Creative Modern Jeweller" will forever shine forth in its brilliance.