French-Japanese Steakhouse BIFTECK Launches All-Day Lunch Menu
BIFTECK's a la carte menu is temporarily served only from 3 – 6 pm, with last orders by 5 pm; while selected dishes are offered at 10% discount for self pick-up takeaway.
BIFTECK is newly opened introducing unique, unprecedented flavours and delightful presentations to surprise steak lovers. Finest beef cuts from Japan, USA, Belgium and Australia with fascinating sauces and sides plus creative cooking define the exquisite steakhouse experience.
Named after the French sobriquet for 'steak', BIFTECK extends the visionary fusion concept of Causeway Bay sister restaurant Le Reve, encouraging diners to "allow their imaginations to run wild and embrace new dishes, challenging pre-conceptions with interesting flavours never tasted before".
Manipulating and marrying traditional French and Japanese flavours with contemporary flair and mesmerising culinary techniques, BIFTECK's captivating menu showcases the latest culinary concept of Executive Chef Ken Kwok, a celebrated veteran of refined Japanese, French and Italian fine dining, including Michelin-starred VEA, CIAK, Beef Bar and Wagyu Takumi, on a mission to bring Hong Kong "a whole new perspective on steakhouse dining," he says. "There are many 'same old' steakhouses in Hong Kong, I want to bring something unique and surprising."
The masterful steakhouse reinvention headlines the star turn signature of the menu, Japanese A5 Snow-Aged Wagyu Beef.  Lauded in Japan as one of the finest cuts, the house specialty is 'snow-aged' by an ancient 'yukimuro' aging technique at almost icy 1-2 degrees, with high humidity of around 90%, bringing out moist and delicious sweetness with a mellow, rich and exceptionally tender melt-in-your-mouth taste.  For discerning steak aficionados intent on a carnivorous 'pilgrimage' for the experience, it is available at market price but with only limited daily supply, pre-ordering is highly recommended.
Giant Australian Black Angus Porterhouse (HK$150/100g, minimum 1,100g) is another ultimate carnivorous feast, while signature fusion presentations exemplify magical balancing of textures and flavours.  Japanese A5 Kobe Wine Tenderloin (HK$588), marinated with sukiyaki sauce, is gently balanced with fennel, potato purée, broccolini & black garlic purée; and USDA WBI Prime Rib Eye (HK$498) marinated with rosemary and green chili, with roasted Japanese turnip, capers & shallot salsa.
Porcini-crusted Dry Aged 35 Days Belgium Sirloin (HK$448) marries with Chimichurri baby vegetables and beef fat vinaigrette; and Roasted Slow Cooked Japanese A5 Rump (HK$438) is finely balanced with Wagyu consommé and black truffle.  Skewers of Blackmore Australian Fullblood Wagyu Flap Meat (HK$428) are in a lively marinade of house BBQ sauce, served with Padrón peppers and pickled fresh mushroom; and USDA Wagyu SRF Tri-Tip (HK$458) with baby gem lettuce, wasabi and crispy garlic, is enlivened with balsamic teriyaki sauce.
Aside from beef, Chef Kwok's menu is deftly balanced with lighter alternatives of Slow Cooked French Challans Duck Breast (HK$398), with caramelised mango, beetroot, pickled onion and mint sauce; Greek Yogurt Marinated Milk Fed Veal Chop (HK$428) from France with tempura vegetables; and Grilled Whole Boston Lobster (HK$408), with herbs & fennel butter.
Pasta and rice signatures also feature Braised USDA Prime Short Rib (HK$328) with Japanese crispy rice and Mapo Tofu sauce; and Grilled Spanish Red Prawn Udon (HK$448) with cherry tomato confit and spicy prawn oil, a theatrical presentation with red prawn served on the side and the server mixing prawn roe into the Japanese Inaniwa udon with prawn head at the table.
For appetiser or quick bite, BIFTECK Grilled Alaska Crab Leg Brioche (HK$228) features buttermilk-anchovy dressing and fries peppered with sakura prawn powder; and BIFTECK A5 Wagyu Mini Burger – Two Ways (HK$88/pc), with burger beef and a tantalising slice of snow-aged Wagyu, comes in a 'house secret sauce' with French fries.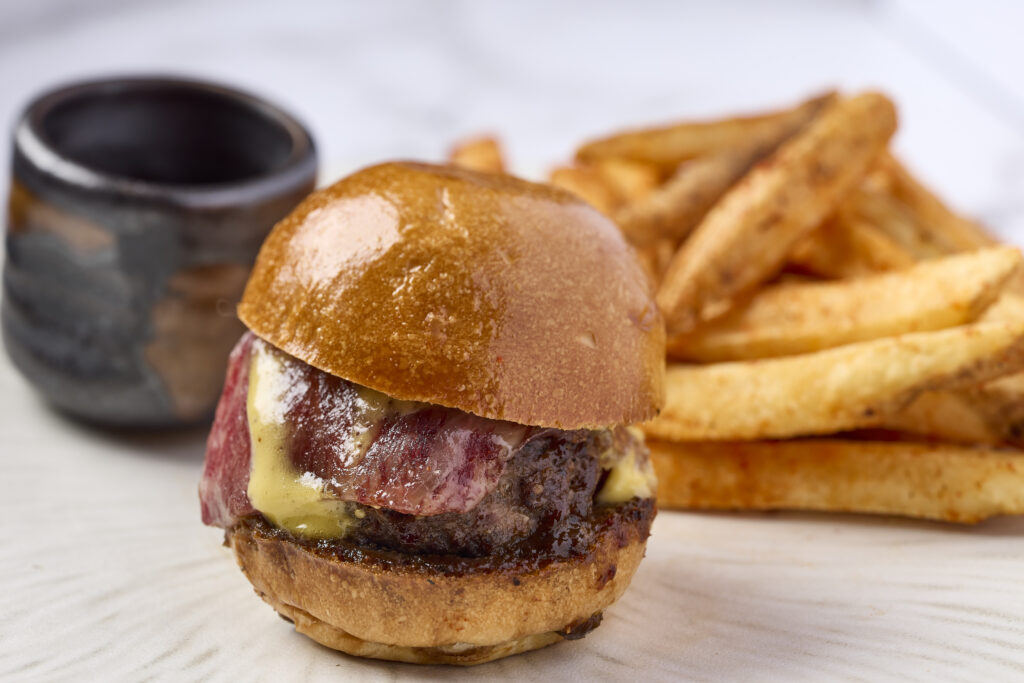 Seating 58, including two private rooms for six over 3,300 sq. ft., BIFTECK's interior design has a warm yet minimalist 'steakhouse' ambience beneath an exposed industrial-style ceiling, with cozy leathered armchairs and wood-paneled flooring around a central bar.
BIFTECK is located at 23/F, QRE Plaza, 202 Queen's Road East, Wanchai, Hong Kong – operates daily from 12noon – 3pm and 6pm – 10pm (opening hours may be adjusted conforming to prevailing regulations).
For enquiries, please email reservation@bifteck.com.hk or call (852) 2246-8805.
Like and connect with BIFTECK :