Get the Party Started at Uma Nota's Brand New Immersive Carnaval Night Brunch
To mark the milestone of six years in Hong Kong, the city's popular Brazilian-Japanese boteco, Uma Nota is all set to turn things up a notch! Uma Nota's iconic Carnaval Brunch is now elevated to Carnaval Night Brunch, a trimonthly roving party that pairs Nipo-Brasileiro-inspired feast, free-flow of drinks, live drummer performance, Brazilian dancers for a vibey Saturday night of friends, top-notch cuisine and fun!
Uma Nota is now ready to transport guests to the bustle of Rio for a few hours every trimonthly by bringing this dynamic festival to their restaurant, and partygoers can expect an immersive experience of captivating dining and high-energy performances, including drummers, Brazilian dancers, dazzling decoration, entertainment props to dance along and more!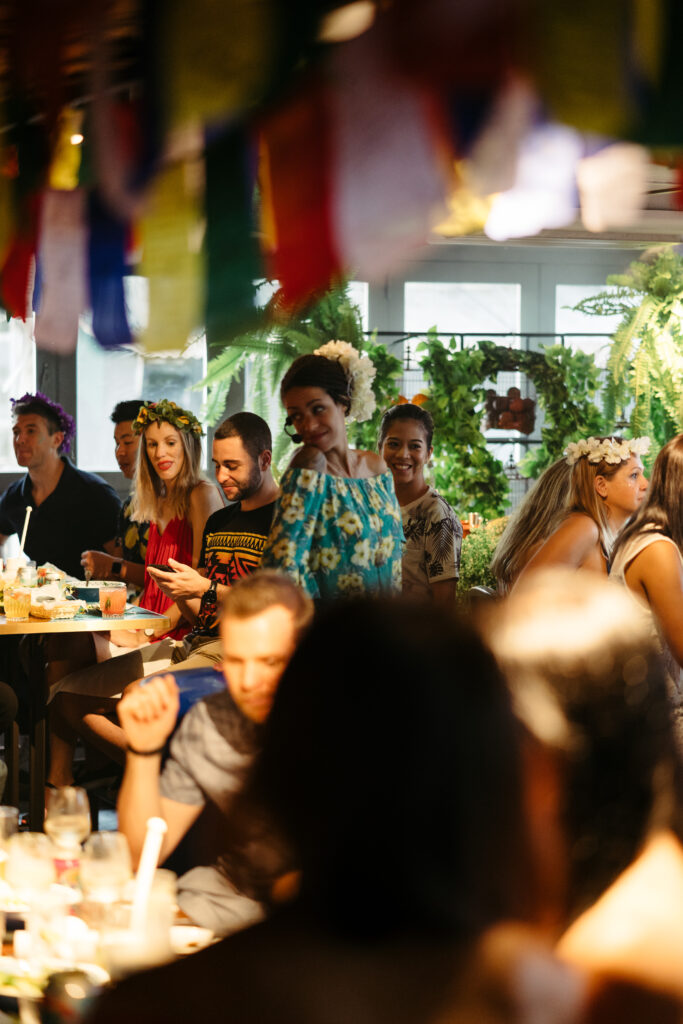 The debuting night brunch is happening on Saturday evening, 17 June 2023, from 7 pm to 10 pm and is not to be missed. Other announced dates include 23 September 2023 and 16 December 2023. Priced at HK$1,288 per person, it includes a Brazilian dinner feast with a selection of sharing appetisers, one sharing main and one sharing dessert, along with three hours of free-flow drink package including the refreshing watermelon Sakerinhas, classic Caipirinhas, bottled beer, prosecco, white and red wines.
Partygoers also are welcome to stay and enjoy an after-party with a DJ performance to continue the fun until 1 am, making Uma Nota an enchanting partying nightspot of the night in the heart of Central.
Guests can tuck into five Nipo-Brasileiro-inspired sharing starters, including homemade cassava bread with smoked butter; tuna roll with wasabi and cream cheese; Calamar a la Brasa, grilled squid served with red bell pepper chimichurri and cassava farofa; Beterraba, roasted beetroot served with tofu cream, cashew nuts, pomegranate vinaigrette and arugula; and Karaage ao Passarinho, Japanese style fried chicken served in Brazilian boteco style.
For the main, indulge with the succulent Churrasco platter of a selection of chargrilled grass-fed rib-eye steak, pork sausage, and spring chicken served with roasted baby potato, roasted vegetables, a mixed green salad with Brazilian vinaigrette.
Finish with the picture-perfect guilty pleasure of the Dessert Platter, with a selection of sweet delights and fresh fruits.
Seats for the Carnaval Night Brunch are limited. Free your mind, dine your cares away, take to the dance floor, and embrace the Brazillian way of life!
Uma Nota is located at 38 Peel Street, Central. Click here to book your table online. For more information, please call +852 2889 7576.
Availability
Uma Nota Carnaval Night Brunch is a trimonthly event with a sharing feast, three hours of free drinks, and a special Uma Nota Carnaval show with DJ, percussionists and Samba dancers
Below are the announced event dates:
17 June 2023 (Saturday) from 7 pm – 10 pm
23 September 2023 (Saturday) from 7 pm – 10 pm
16 December 2023 (Saturday) from 7 pm – 10 pm
Standard Package
HK$1,288 per person with pre-payment in advance
The night brunch package includes the Carnaval entertainment and props, a sharing feast and three hours of free-flow drink package with a selection of Watermelon Sakerinhas, classic Caipirinhas, bottled beer, prosecco, white and red wines
Vegetarian options or any dietary requirements can be catered for with advance arrangement
Address
38 Peel Street, Central
Reservations
Online: sevn.ly/x0fjRgzV
Phone: +852 2889 7576
Uma Nota Website
uma-nota.com
Social Media
FB @ umanotahk
IG @ uma.nota