24 Oct 2021 By AWAY IN STYLE
GIVENCHY PRESENTS THE FUTURISTIC CUT-OUT BAG
GIVENCHY PRESENTS THE CUT-OUT BAG FOR FALL-WINTER
Matthew M. Williams' vision shines in new interpretations.
The futuristic Cut-Out handbag by Givenchy Creative Director Matthew M. Williams is now available in exciting new versions for Fall-Winter 2021.
With its daring, angular lines, the Cut-Out evokes the House's heritage while pushing it into bold new territory. This season, its distinctive, V-shaped signature becomes even more directional in padded, grooved lambskin inspired by vintage car seats. First revealed on the Fall-Winter 2021 runway, this treatment is achieved using an intricate process of high-frequency wave techniques to bring a sophisticated new attitude to the bag.
The Cut-Out features the eye-catching silver-finish G-Cube chain, an emblematic hardware signature developed by Matthew M. Williams for Givenchy. For the first time, a longer, cross-body G-Cube chain also is available as an add-on to enhance versatility and offer a new style of carry for this and selected other Givenchy handbags.
The Cut-Out in padded leather is available in mini and small sizes, in padded matte lambskin (black) or patent leather (lilac). It is also available in smooth box leather with a subtle glossy sheen, in black and chestnut.
Prices: HKD 12,500 to HKD 14,500 (mini) and HKD 13,900 to HKD 17,500 (small). A large version, in either black or chestnut box leather, is priced at HKD 19,900.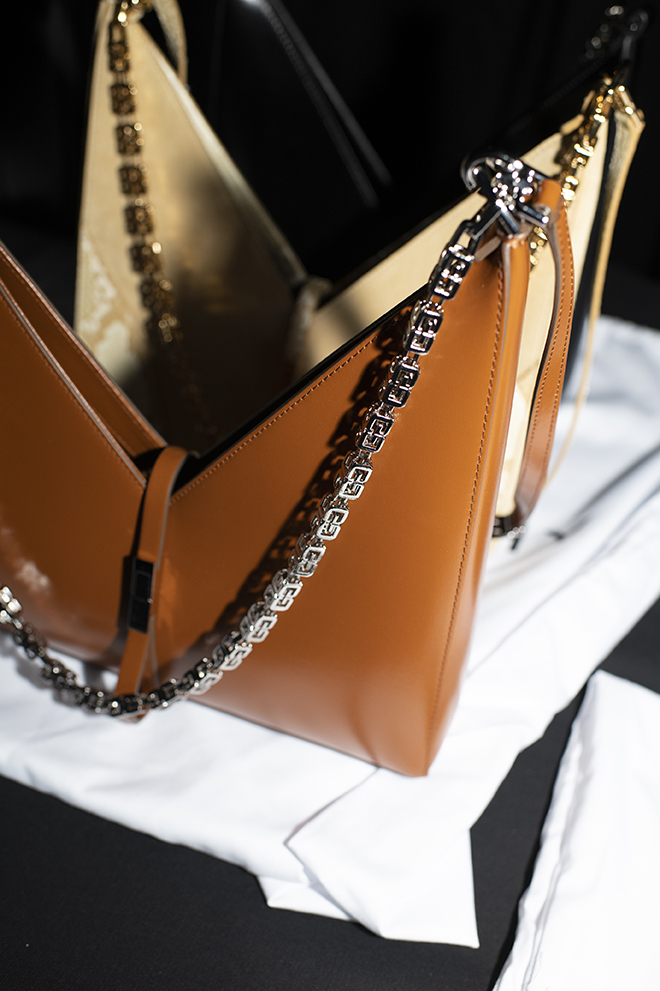 GIVENCHY呈獻2021年秋冬CUT-OUT 手袋系列 
Matthew M. Williams經典袋款換上亮麗新色。
由Givenchy創意總監Matthew M. Williams設計、充滿未來感的Cut-Out 手袋,於2021年秋冬推出奪目的 新設計。
前衛大膽、稜角分明的Cut-Out 手袋,貫徹品牌的美學傳統,同時突破界限,獨樹一幟。今年秋冬,這 款經典V形手袋換上源自古董車座椅的坑紋軟墊羊皮,展現引領潮流的時尚魅力。這種加工手法於2021 年秋冬時裝展首度亮相,利用複雜的高頻波技術為手袋塑造脫俗時尚的氣息。
Cut-Out 手袋飾以奪目的銀色G-Cube鏈飾,展示由Matthew M. Williams創意打造的獨特金屬裝飾。品牌 更首次推出斜揹用的G-Cube長鏈,令手袋更加實用百搭,為Cut-Out和其他Givenchy袋款增添更多可能 性。
Cut-Out軟墊皮革手袋備有迷你和小型尺寸,提供啞面軟墊羊皮(黑色)或軟墊漆皮(淺紫色)選擇,顧客亦 可挑選帶有細緻光澤的黑色或栗子色平滑小牛皮。
售價:港幣12,500至港幣14,500(迷你);港幣13,900至17,500 (小型)。 黑色或栗子色小牛皮大袋款式售價為港幣19,900。