Givenchy Spring – Summer 2024 Men's Ready-to-Wear Collection
Elegance as an expression of individuality. Sartorialism as a gesture of nonconformity. A free-spirited sophistication. For the Spring-Summer 2024 Men's Collection, Givenchy examines the relationship between a new culture of masculine dressing and the codes of the classic gentleman's wardrobe. Drawing on his own generational experience, Artistic Director Matthew M. Williams observes in the spirit of the times a re-contextualisation of the archetypes of smartness: a reset perception of the well-tailored silhouette devoid of the preordained virtues of the past.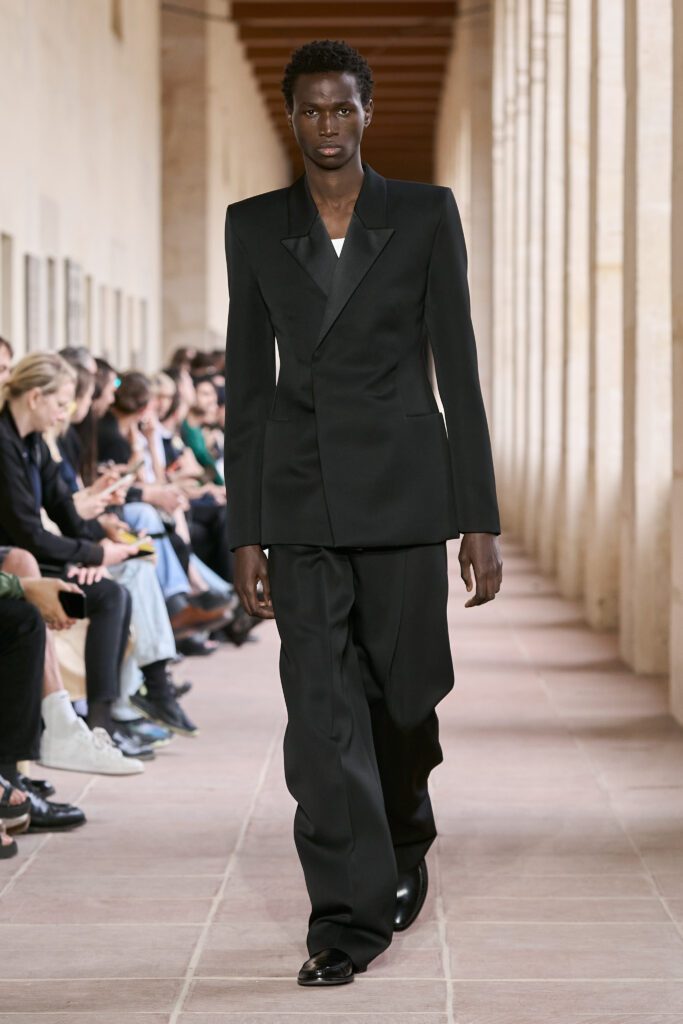 The premise prompts a study of our formative discovery of elegance embodied by the school uniform. A dual symbol of democracy and constraint, it is the canvas for teenage-driven customisation: an archetype instinctively re-appropriated according to functionality and personality. Crested knits, sweatshirts and polos shrunken, scoop-necked or cropped at the hip play with ideas of outgrown proportions and self-adaptation, framed by formidable overcoats. Outlining a new formality, schoolboy suits are worn under tech jackets created with heightened savoir-faire, from archival floral embroideries to hand-encrusted crystals and a yellow and black construction crafted entirely in super-light calfskin.


The silhouette evolves into an exploration of essential wardrobe items elevated in luxury techniques and fabrications. Adorned with gems or hardware, longline t-shirts and jersey pieces riff on oscillating proportions in wide-leg cargo trousers and super-sized chinos cinched in by way of overlaying hooks. Tropes of the men's wardrobe are hand-made in double-face cotton, from the trench coat to the mac and the blouson. Cut in slight dimensions, hand-constructed double-face nylon outerwear, hoodies and tops carrying the marque Givenchy Double Face Nylon add a contracting line to silhouettes. Labelled Givenchy Garment Dyed, crinkled tracksuits, military smocks and field jackets have undergone state-of-the-art fabric treatments. Denim manifests in a new take on the regular-fit jean and in hacked-off shorts.


Tuxedos in lurex or brushed wool reflect an idea of realistic proportion, neither oversized nor sculpted, and appear slightly elongated in length and shortened at the sleeve as a nod to the formative notion of sophistication. They herald the pinnacle of customised elegance: a series of hand-made suits expressed in double-breasted silk-wool blazers with magnet closures, sculpted square shoulders achieved through hand-carved pads, and eliminated back seams. The details are applied to an intricately tailored haute couture military jacket in diagonal wool imitating the texture of the authentic piece that inspired it. The generational take on high dressmaking evolves in jumpsuits – a painstaking tailoring exercise – echoed in waistcoats and trousers that create a similar silhouette.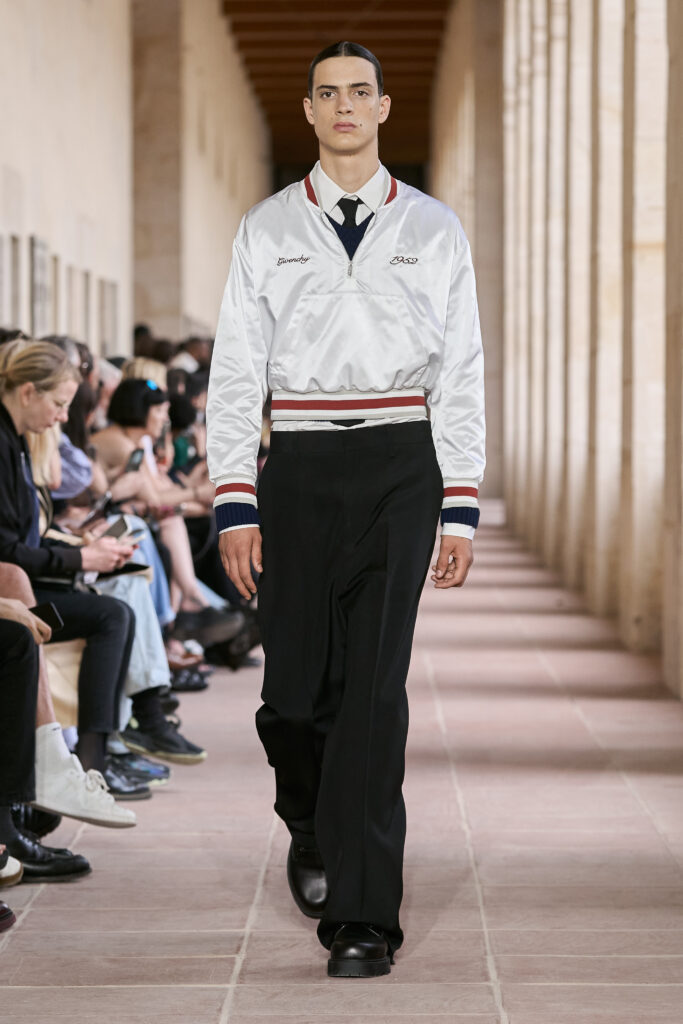 Worn around the waist, technical bags in suede, nylon and webbing reinforce a real and functional approach to elegance. Nodding at the schoolboy motif, backpacks in mixed tech materials and scuffed suedes take macro or micro form and are styled to accentuate the play on proportions central to the collection. The scuffed suedes are mirrored in the triangular Voyou, which emerges in a cross-body bag with silver and gold hardware, and in magnified-toe derbies and boots which also feature in leathers, alongside a flat loafer. A hybrid proposal for a new wardrobe mentality, a lightweight sneaker in nylon and corduroy transforms the language of hiking shoes into an elegant shape and fuses the constructions of sneakers and dress shoes through the Maison's savoir-faire.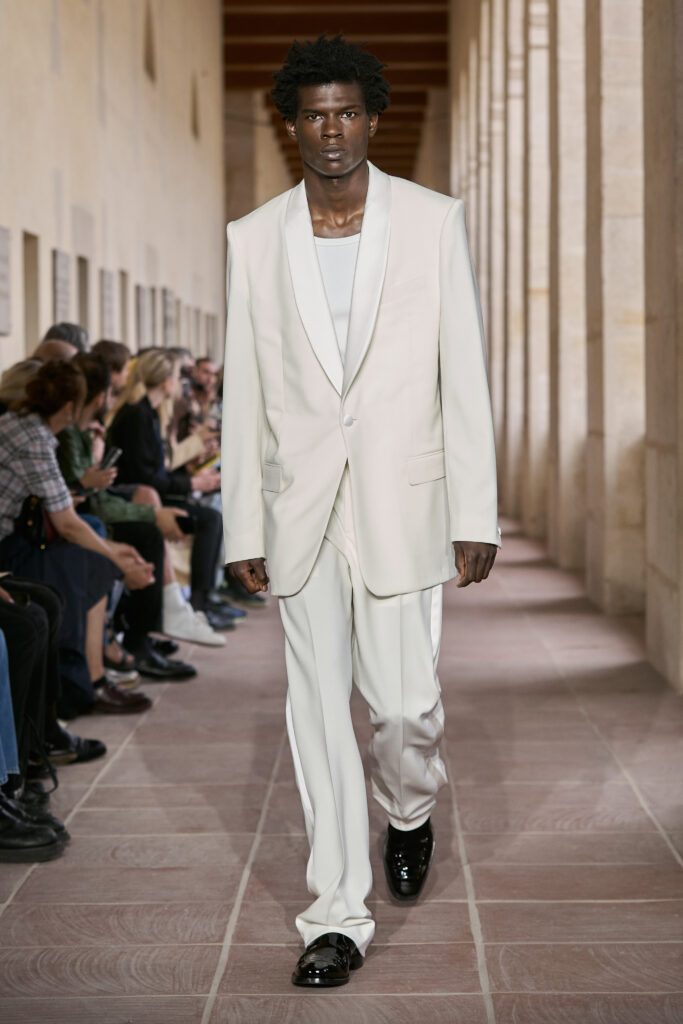 Jewellery pays homage to Hubert de Givenchy in adaptations of orchids, one of the founder's favourite flowers. Emphasising the artisanal core of the collection, the orchids are hand-forged in gradient enamel earrings, ear cuffs and necklaces. Sunglasses reinterpret classic shapes in minimal oval frames in matte metals.