6 Sep 2022 By AWAY IN STYLE
Greca Goddess
GRECA GODDESS
INTRODUCING A NEW LINE OF BAGS & ACCESSORIES
The new Greca Goddess harnesses Versace's culture of myth and luxury across a range of bags and accessories, each finished with the brand's Greca insignia—a long-held symbol of the Versace brand that borders the Medusa head signifier.
"Greek Goddesses have always been part of Versace DNA and the Greca Goddess captures their clash of cultures and emotion. Classical with a subversive rebellion, the cold metal Greca dressed in warm gold. These juxtapositions create something new. When I touch the strong, cold metal of the Greca it makes me feel my strength and confidence."
– Donatella Versace
REALIZE YOUR INNER GODDESS
Bags and accessories have a sculptural feel, with precise angles and feminine curves coming together in sleek leather for an overall feeling of richness. The geometric Greca hardware powerfully punctuates each style, never a timid decoration but rather direct and permanent in burnished-gold metal. It's an enduring symbol of Versace's continuous message, linking the brand's cultural, geographical and design origins while always moving forward.
A shoulder bag and large clutch make-up the line's bag selection, with the east-west shoulder bag available in large and standard sizing and with interchangeable Greca chain or leather shoulder straps. Across the clutch bag, Greca hardware features as a central hand-slip, allowing the bag to be tightly snatched in the hand and carried for more impulsive styling. A range of small accessories completes the new line, with chain wallets, small clutch bags, and card cases, each featuring a golden Greca at the center.
Styles are available in smooth box calf leather in a range of colors including black, white, teal, and charcoal gray.
全新GRECA GODDESS
手袋配飾系列矚目登場
全新Greca Goddess系列延續Versace一貫的神話元素和奢華風格,每款手袋和配飾也添上 品牌的經典希臘迴紋,呼應Medusa頭像的精緻飾邊。
「希臘女神一向也是Versace的品牌特色之一,而Greca Goddess系列正好捕捉了她們在文 化和情感上碰撞的火花。冰冷的金屬希臘迴紋披上暖金色調,為古典圖案注入破格叛逆 的氣息,乍現新意。當我觸摸堅硬冰冷的金屬希臘迴紋元素時,馬上感到自信和充滿力 量。」
– Donatella Versace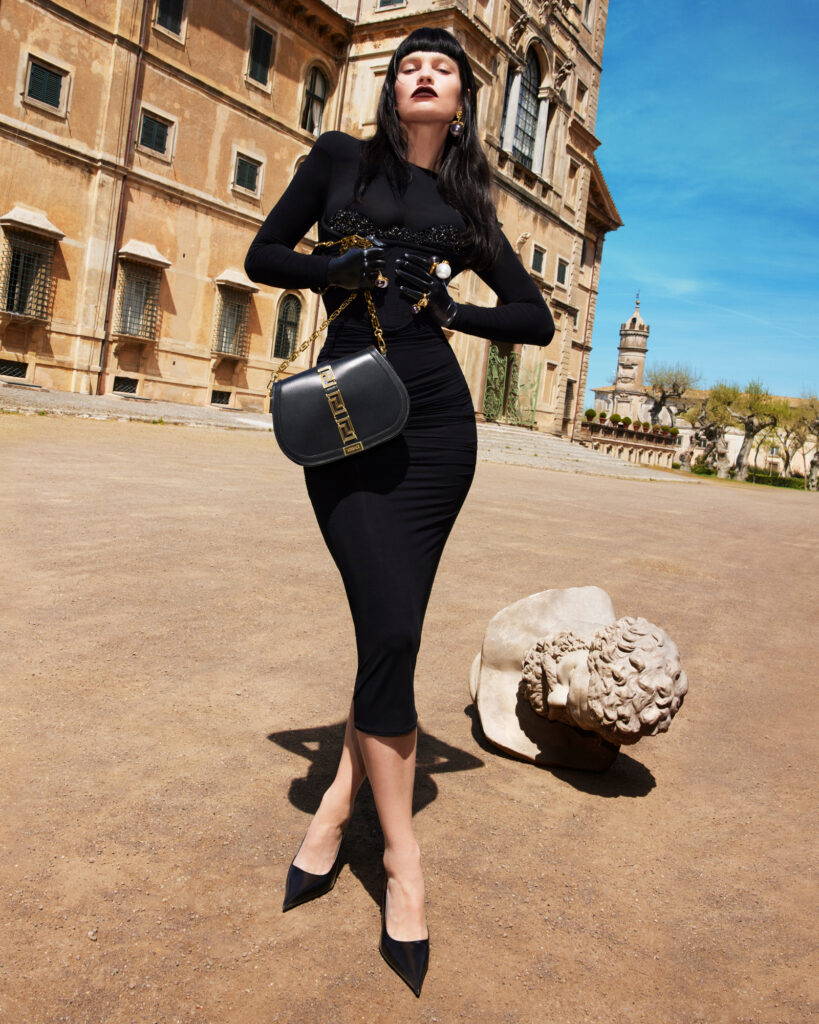 喚醒內在女神
系列的手袋和配飾展現立體美學,光滑的皮革同時結合精準的稜角和柔美的弧線,呈現 豐富且多彩的效果。幾何形狀的希臘迴紋金屬元素貫穿所有設計,以拋光亮金色金屬作 出大膽、直接的宣言。希臘迴紋是Versace魅力雋永的標記,將品牌的文化、發源地和靈 感來源連繫起來,同時不斷與時並進。
手袋款式包括肩袋和大型手拿包,east-west 肩袋推出大袋和標準尺寸,可配搭希臘迴紋 鏈帶或皮革肩帶。手拿包款式則以希臘迴紋金屬裝飾點綴袋面中央,成為特色手帶,方 便携帶之餘亦能襯托任何造型。系列也帶來多款小型配飾,包括鏈帶錢包、小型手拿包 和卡片套,每款也以金色希臘迴紋點綴。
全新系列以平滑箱包小牛皮製成,提供黑色、白色、藍綠色和炭灰色選擇。