22 Nov 2021 By AWAY IN STYLE
GROUNDBREAKING 360 CINEMA EXPERIENCE WONDERDOME
ARRIVES IN SYDNEY THIS DECEMBER & JANUARY
TEG Live proudly presents WONDERDOME, the largest 360 immersive cinema experience ever to be seen in Australia, coming to Sydney's The Entertainment Quarter from Saturday 4 December 2021 to Sunday 30 January 2022.
General Public tickets are on sale at 11am on Wednesday 17th November 2021.
WONDERDOME is a 'Pop Up' 360 dome theatre combining fully immersive visuals with leading-edge technologies that dissolve the boundaries between digital and physical to create environments where audiences 'experience a new reality'.
It's not multisensory, it's EXTRAsensory.
The pioneering technology has mesmerised crowds at cutting edge cultural festivals such as Coachella and Burning Man in recent years and now arrives in Australia, promising a summer season of transformative cinematic entertainment.
At WONDERDOME, audiences are invited to venture into a pulsating new world, where art, film and music are fused together to create a wholly unique experience. Think 'virtual reality' without the goggles.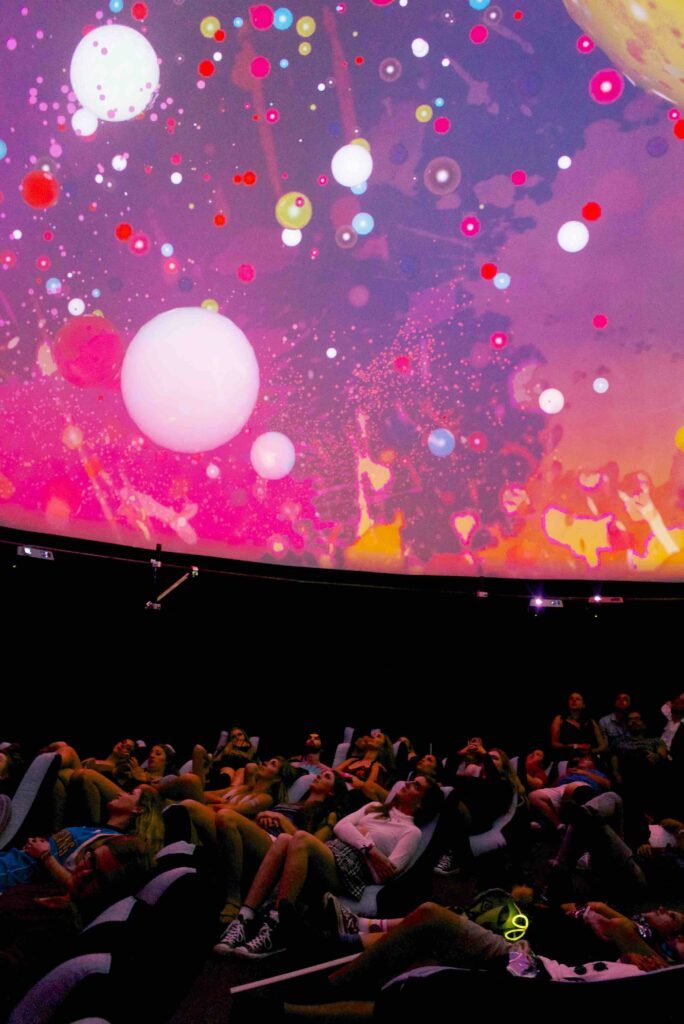 "Full dome technology is the leading edge of cinema, where the boundaries of the screen are dissolved, allowing the viewer to become part of the film," said WONDERDOME Co-Founder Chris Deckker. "Viewers are immersed into multiple worlds, from thrilling rides through galaxies to emotive journeys navigating natural landscapes."
Geoff Jones, CEO of TEG said, "We are delighted to be contributing to the reactivation of Sydney this summer by delivering such an innovative and exceptional experience at The Entertainment Quarter.  This is the largest 360 projection cinema that Australia has ever seen and our slate of films has been carefully designed to provide something for everyone aged between 3 and 83. This is the future of cinema!"
NSW Minister for Tourism Stuart Ayres said,"The NSW Government is delighted to partner with TEG on this incredible and unique cinematic experience, which promises to be a very popular addition to Sydney's lifestyle offerings over summer. This is a great example of an innovative approach to boosting our visitor economy. We are focused on investing in unique cultural experiences like Wonderdome to showcase Sydney and NSW as the events and lifestyle capital of the Asia Pacific, to drive visitation and enhance the quality of life of NSW residents."
The December and January program is out now and features a catalogue of the world's most successful and thought-provoking '360' degree film experiences, made to entertain all audiences with something for everyone.
WONDERDOME will feature stellar headline films including Coral Rekindling Venus, a stunning Australian production written and directed by Emmy Award winner Lynette Wallworth; Flying Monsters, a David Attenborough narrated National Geographic film about flying dinosaurs; and Dynamic Earth which explores the inner workings of Earth's great life support system: the global climate, narrated by Liam Neeson.
The program will also feature the stunning Carriberrie, an exhilirating journey across Australia celebrating the depth and diversity of indigenous dance and song from the traditional to the contemporary.
For a beautiful and transcendent journey, WONDERDOME's vibrant and visceral art films will provide a truly multi-dimensional experience. Get lost in an M.C. Escher inspired world with Labyrinth or get psychedelic with Samskara, an awesome visual feast filled with mystical creatures and lush fantasy environments by visionary artist Android Jones.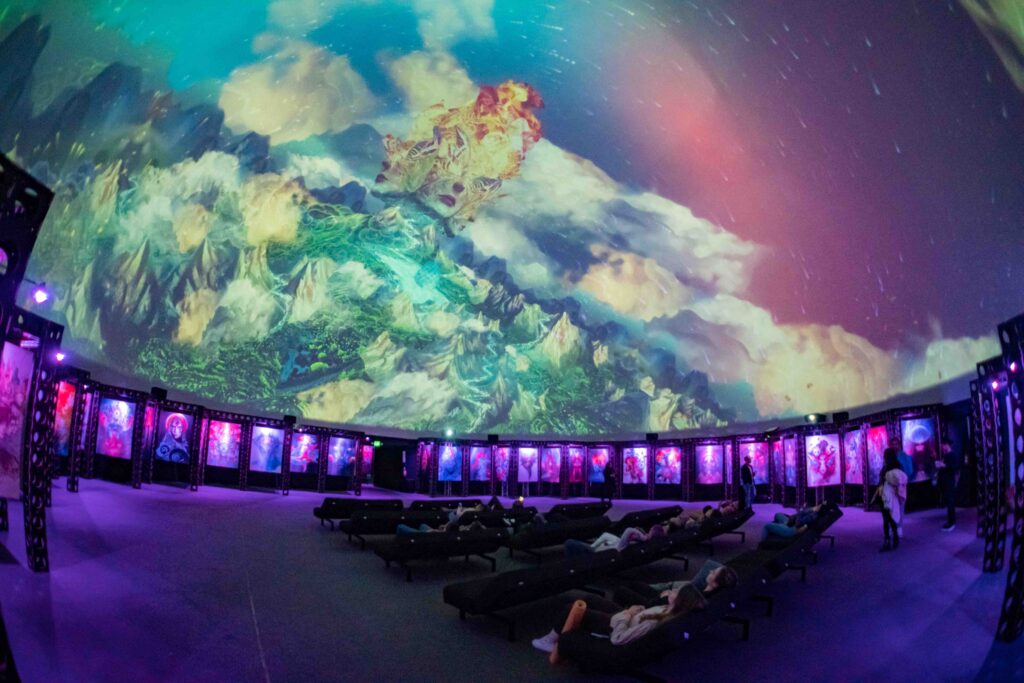 During the day on weekends and school holidays, WONDERDOME will screen family-friendly content for mini-movie lovers and pint-sized thrill-seekers. Kids will be awe-struck with 360 animated tales The Meadow Racers and Magic Globe or get an interstellar education with Space Shapes. For the brave, Dino Planet offers an adventurous ride through a pre-historic playground.  And the December program will include the playful Christmas-themed show, Snowflake Adventure, to bring some much-needed festive cheer to the Entertainment Quarter.
The WONDERDOME experience will also include a precinct activation with food and beverage offerings available pre-or post –screening, including hot jaffles, chips, chocolates, slushies, icecreams, a gin bar and craft beers.
Pre-sale tickets for the December and January program go on sale 10am, Friday 12th November. General Public tickets on sale 10 am Monday 15th November.