6 Apr 2022 By Betty Chung
GUCCI CONTINUES ITS SUSTAINABILITY JOURNEY
GUCCI CONTINUES ITS SUSTAINABILITY JOURNEY WITH NEW EYEWEAR SELECTION
The designs combine Gucci's distinctive square-shaped frames with an eco-friendly ethos
As part of Gucci's ongoing commitment to environmental sustainability, the House has extended its focus on eco-innovation to its new eyewear collection.
Crafted with a significant content of sustainably sourced materials, the selection features two sunglass styles. The frames contain up to 68% bio-based acetate and are enriched with mineral glass lenses, creating a sophisticated interplay of colors and contrasts.
Designed with bold contours and rounded edges, Gucci's emblematic square-shaped frames are proposed in classic black and Havana shades, and in a sleek mother of pearl- like finish, which appears for the first time on this particular kind of acetate.
Both styles are enriched with signature ornamental rivets while the Gucci lettering logo stands out on the temples as an emblem of the House's distinctive balance between timeless elegance and cutting-edge design.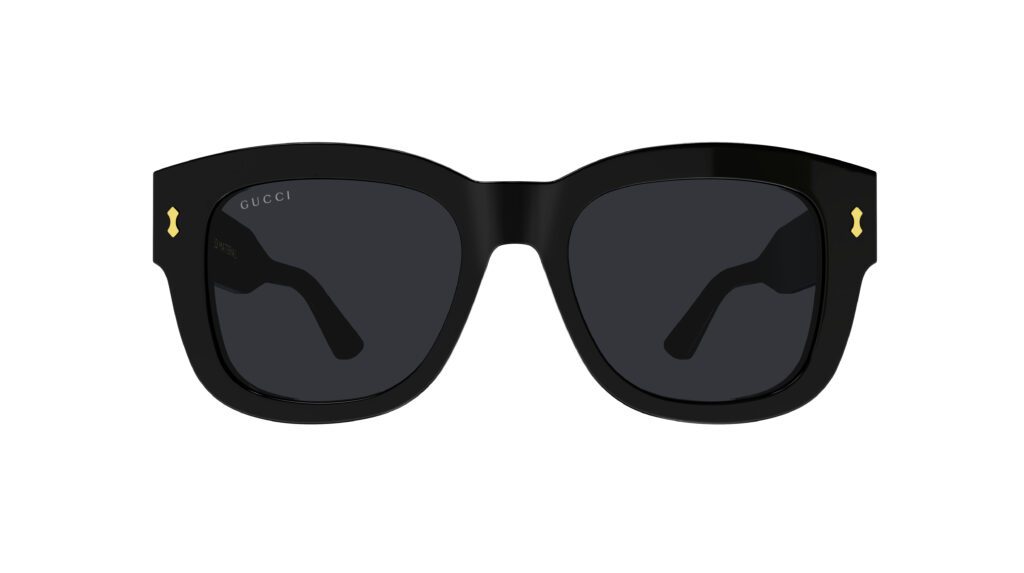 GUCCI 推出全新眼鏡系列 延續可持續發展之旅
全新設計結合 Gucci 別具特色的方形鏡框和環保理念
Gucci 秉承品牌一直以來在可持續發展方面的承諾,在全新眼鏡系列發揮環保創新的精神。
全新系列提供兩個太陽眼鏡款式,採用大量以可持續來源採購而來的材料製作。鏡框含有高達 68% 生物基醋酸纖維,搭配礦物鏡片,色彩與對比效果之間相得益彰,饒富精緻美感。
Gucci 標誌性的方形鏡框呈大膽廓形和圓潤邊緣,採用經典的黑色和哈瓦那色調,並配以時尚的珍珠 母貝效果飾面,而此飾面首次用於這種醋酸纖維上。
兩款作品均綴以經典的鉚釘裝飾,而鏡腳上的 Gucci lettering 標誌引人注目,象徵著品牌別具特色的 風格,在永恆優雅的魅力和創新前衛的設計中取得平衡。