24 Apr 2022 By AWAY IN STYLE
GUCCI IN BLUE
GUCCI GG CANVAS IN BLUE
HONG KONG: Mirroring the material's historic origins, GG canvas is reintroduced in a timeless mix of blue and beige for Gucci Love Parade. With a low environmental impact, the canvas has come to the forefront of each collection decade after decade to become a hallmark of the House.
Drawing from the Archive, the classic palette defines a wide array of products for both men and women and is declined on the Leather Goods world and in particular on an extensive selection of Luggage. The House's legacy in travel goes all the way to its beginnings, when Guccio Gucci worked as a lift boy at the Savoy Hotel in London. Inspired by the trunks of the British aristocracy, luggage became a part of the Gucci collections from its earliest days as a leather goods shop in Florence. Today, luggage remains part of the Gucci narrative, even more so in the Love Parade collection as the offering expands to include a variety of materials and functional bags, including roller suitcases and duffles.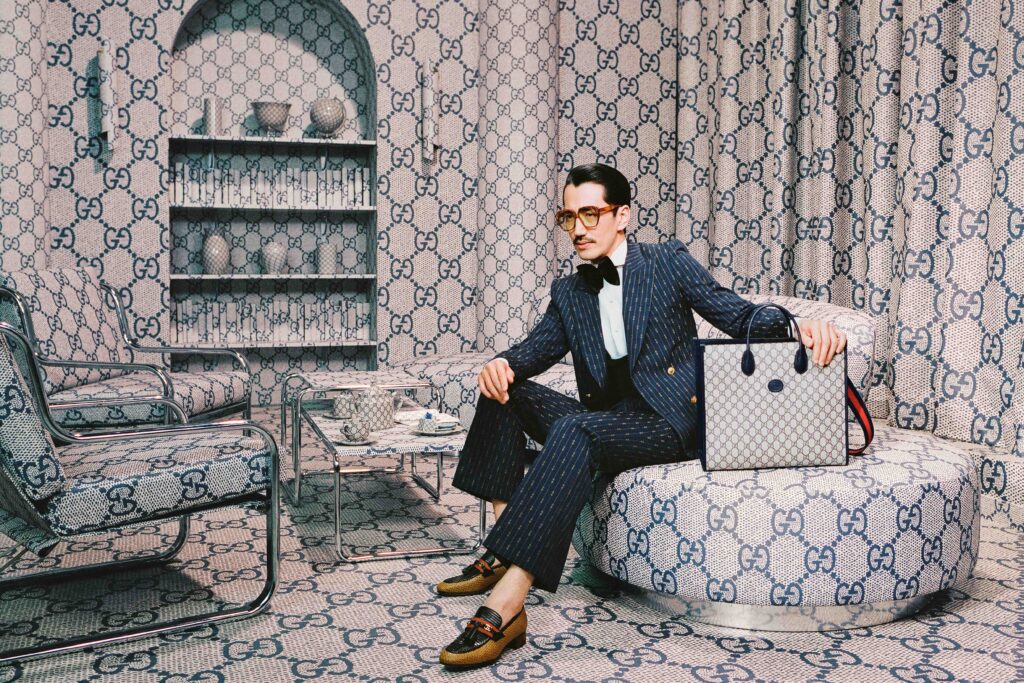 The blue GG canvas is revived through a dedicated campaign where the attention is focused entirely on the motif. Stills and videos capture a world fully covered in the GG monogram. From the floor to the ceiling, everything featured within the setting is decked out in the signature pattern. The Gucci items blend with the backdrop, just defined by the blue leather trim and the blue-red-blue Web stripe.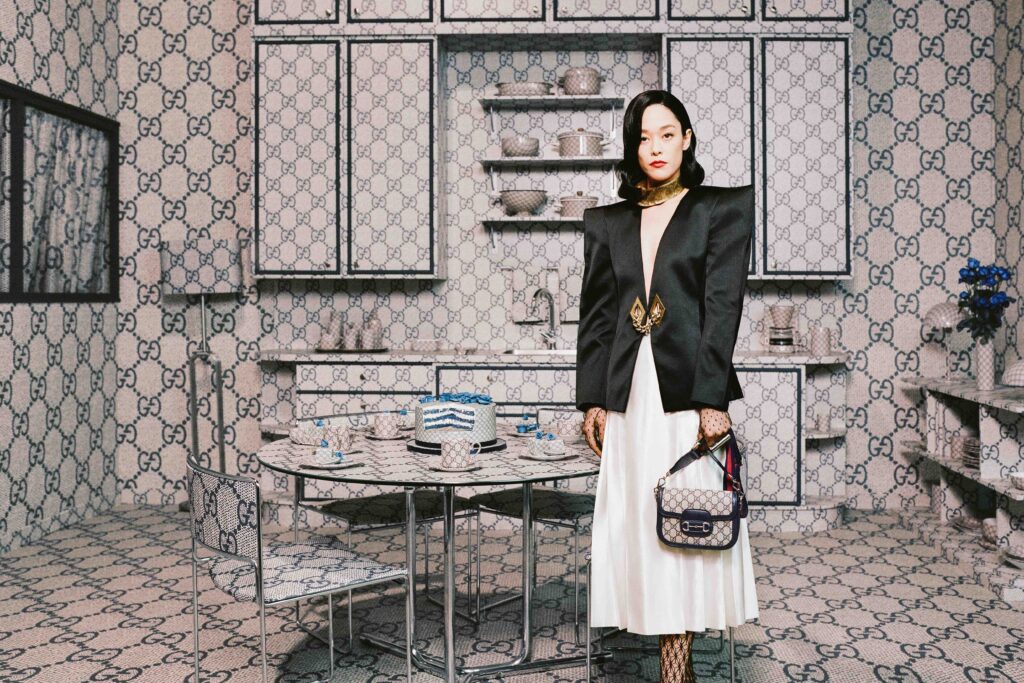 The blue GG monogram is featured on Luggage and Handbags, expanding the men's and women's offer as an alternative to the already well-known ebony and beige combination first introduced in 1969. The new color variation dating back to the early 70s, is declined on a selection of styles from the Ophidia line, refreshing the assortment with a contemporary touch: a trolley in different sizes (small, medium and large sizes), a duffle bag (medium, large sizes), a garment bag, two different backpacks, a hobo bag, a shoulder bag and a belt bag. In addition, a tote in different sizes, a briefcase and a messenger bag are presented.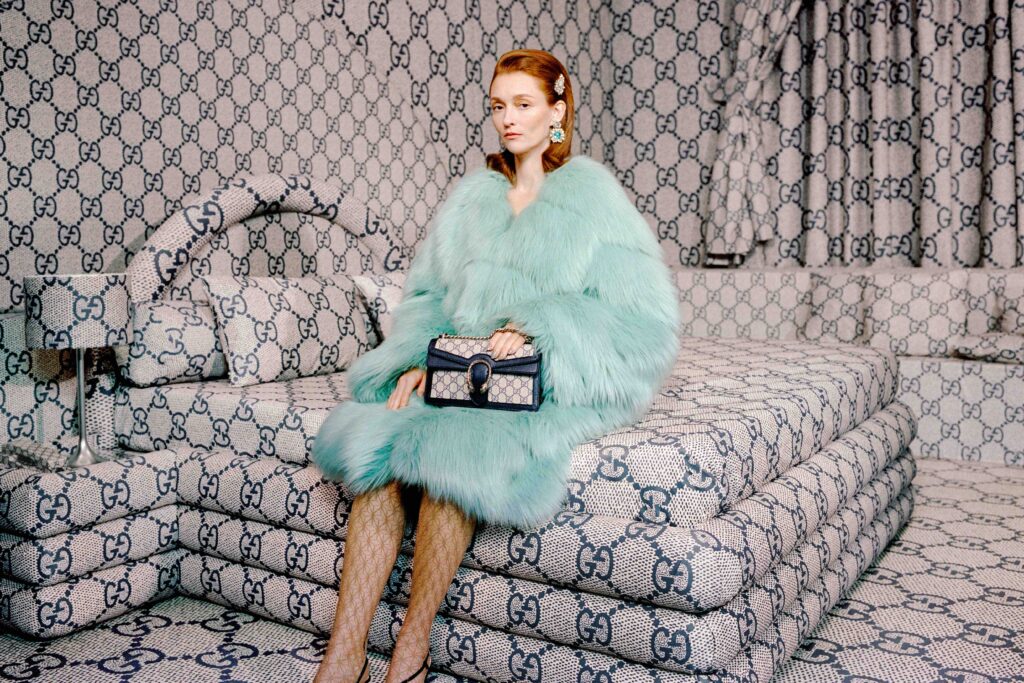 The assortment also includes feminine options that complete the handbag offer. Paired with a blue-red-blue Web, blue leather trim and silver-toned hardware, the new shade is introduced through a selection of styles including the Jackie 1961, the Gucci Horsebit 1955, and the Dionysus. Small Leather Goods for men and women, including wallets, chain wallets, card cases and key cases top off the selection.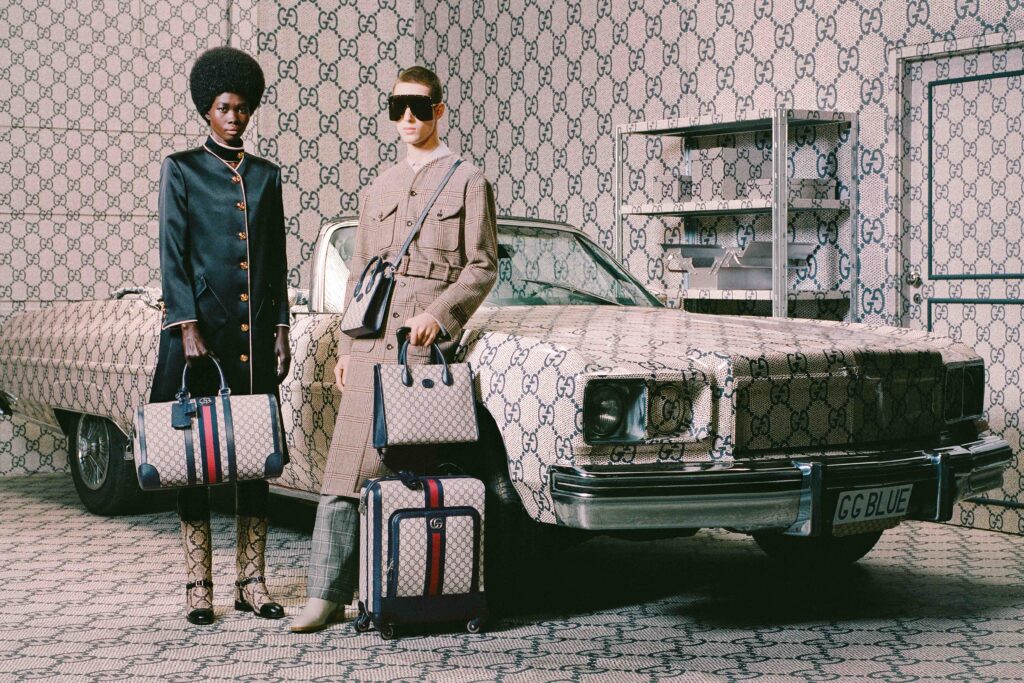 The new colorway is declined across different shoe styles ranging from dressy to casual. Slide sandals, slippers, slingback pumps, Gucci Jordaan loafers, GG Rython sneakers all present the new blue GG canvas. GG Marmont reversible belts and a selection of hats including a baseball cap and a flat cap round off the offer.
CREDITS
Creative Director: Alessandro Michele
Art Director: Max Siedentopf
Ph & director: Max Siedentopf
Make up: Fara Homidi
Hair: Andrea Martinelli