18 Dec 2022 By AWAY IN STYLE
HERMÈS H24 EAU DE PARFUM & SKINCARE
To create the eau de parfum, Christine Nagel pursues her sylvan dream, crafting a hybrid between nature and technology to imbue the H 24 signature with unprecedented breadth and intensity.
The H 24 space opens up, giving expression to the depth and sensuality of the materials. Sage, rosewood, narcissus and sclarene still compose the olfactory range of the eau de parfum, but shaken up, in different proportions.
Moss, both natural and high-tech, emerges from the green depths, clinging to the walls of the city as it does to the trees, suffused with an assertive natural character that brings richness and comfort to the initial accord. The fragrance's trail becomes more intense on the skin.
H 24 eau de parfum also evokes the new, sensual texture of raw linen, a light and tactile material worked by Véronique Nichanian, artistic director of the men's universe, used here to echo the interwoven fibres in nature.
The remarkable vibrancy of H 24 eau de parfum follows the path of a contemporary, consciously elegant form of masculinity.
The object
The fragrance's new intensity is embodied in its chiselled glass bottle shot through with light, designed for H 24 by Philippe Mouquet. It asserts clear power without ostentation, a sensitive symbol casting a different perspective on men.
Its aerodynamic lines express the momentum of men according to Hermès, a form of harmonious respiration, a movement in unison with the world.
The refillable object is ornamented with moss green lacquer, echoing Christine Nagel's new olfactory note, and in shades of green chosen by Véronique Nichanian for her collections.
Made entirely of untreated paper, the outer box is composed of recycled fibres. Its stronger shade of grey emphasises the depth of the fragrance.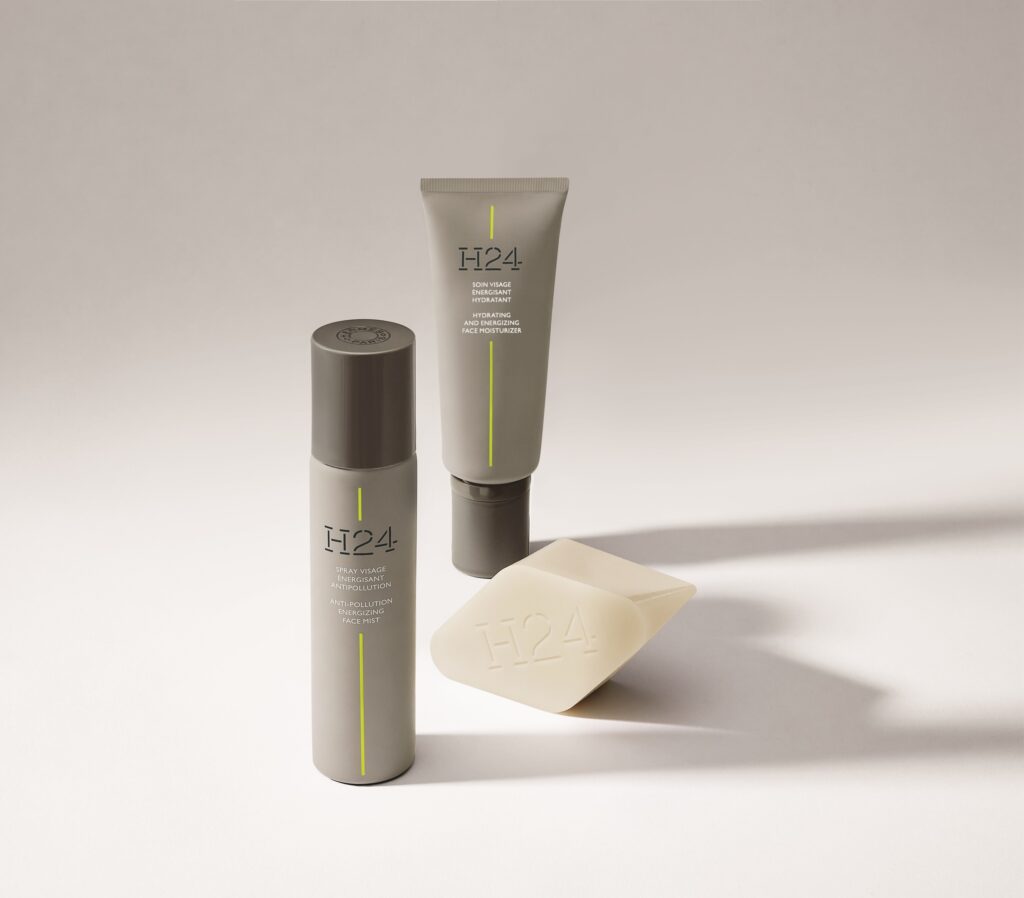 Skincare
Hermès is launching a full range of skincare for the urban man, extending the fragrance's ecologically responsible message.
Rich in plant energy, the range suits all skin types in need of calming and reconnection with the natural world.
The collection is available in stores and on hermes.com/hk.
#hermesH24
#hermesparfum
#hermeshk