HERMÈS POUDRE D'ORFÈVRE | Girl Powder, Perfect For After A Night Out
2021 LIMITED EDITION
Shimmering winter light.
The shining star of the Fêtes en Hermès festive celebrations.
A precious limited-edition powder bringing sparkle between moon and sun, city and mountaintop.
A halo of light for the face. A golden touch of beauty.
The object
Designed by Pierre Hardy, this white lacquered circle bears the Hermès ex-libris signature in permabrass. Innovation serves function with its slim case incorporating a generously sized mirror and a magnetic closure. Radiance is mastered, roundly celestial.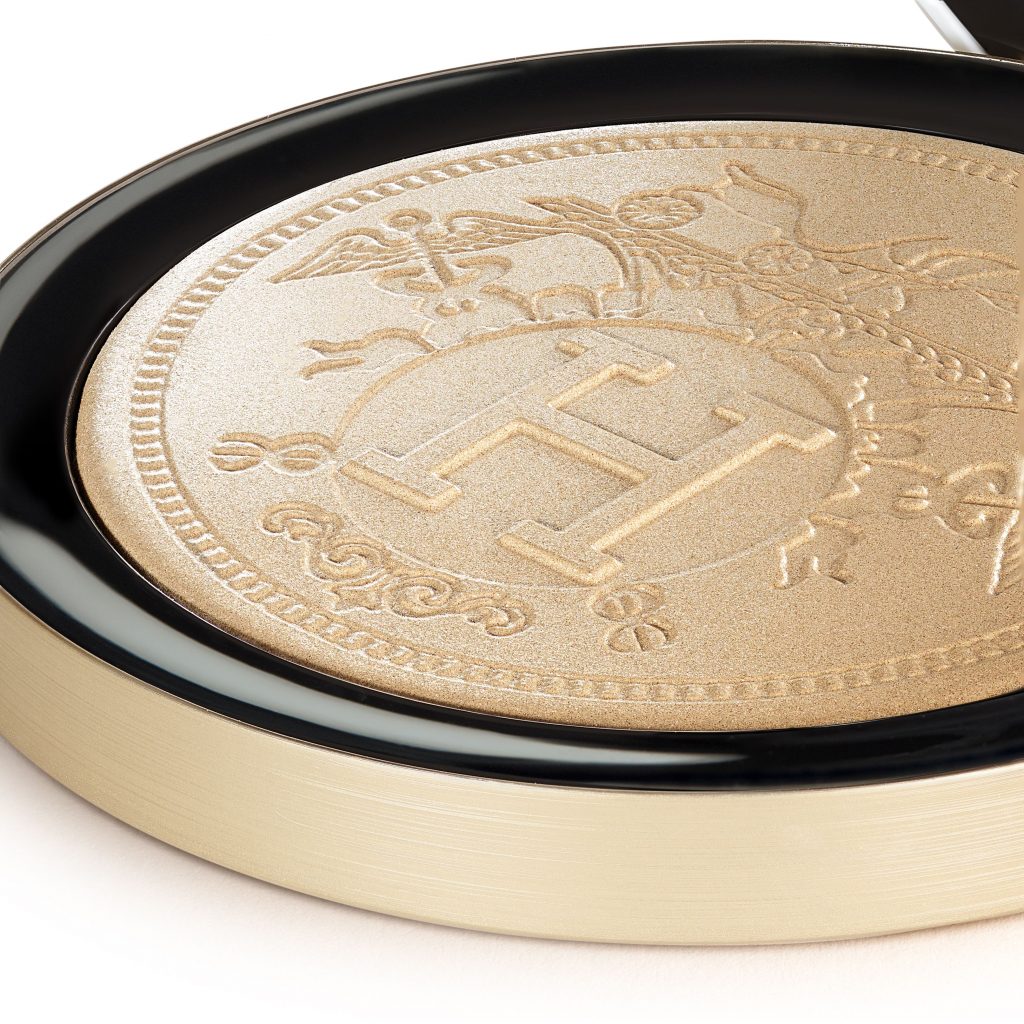 The texture
The powder, also embossed with the Hermès ex-libris, is compressed to form its distinctive chiselled, engraved and polished appearance. This jewel-like powder is inspired by goldsmithing know-how and the golden hue of the case. It carries the memory of ancestral gestures that shape metal using hammers, chisels and engraving irons to reveal softness and finesse.
The transparent core formula of Poudre d'orfèvre, with its high concentration of golden motherof-pearl, offers perfection in reflected light.
The gesture
Applied with a brush or finger, the metallic reflections of permabrass are revealed in the purity of their radiance. Swept over the cheekbones, the bridge of the nose and the browbone, it enhances the face and reveals the splendour of a personality. On the body, it accentuates a décolletage. At midnight, the powder shimmers in a more artistic form: at the corners of the eyes and on the cupid's bow, it sculpts the glints of night. Like a trace left by molten metals, it elevates the face and eyes with a transparent veil of intense light.
Poudre d'orfèvre face and eyes illuminating powder autumn-winter 2021 limited edition will be available from 1 November 2021 in selected Hermès retail outlets around the world.
#hermesbeauty #hermeshk
Hermès Poudre d'Orfevre - HK$ 790 © Studio des