Hermès Watch Arceau Wild Singapore
Woven with gold thread and adorned with miniature painting, the dial of the Arceau watch reveals a majestic lion in the heart of a lush natural setting. Produced in a 24-piece numbered limited edition, the Arceau Wild Singapore watch reinterprets the eponymous silk scarf designed by Alice Shirley for the 2021 spring-summer collection.
The British artist pays tribute to the extraordinary biodiversity of Singapore, a green island where migratory birds stop over on their journey between North Asia and Australia. This abundant theme depicts several nocturnal rainforest animals, while a regal lion shaped like a fig tree and enthroned at the centre of the composition keeps watch over the island nature of Singapore – whose name means «Lion City» in Sanskrit.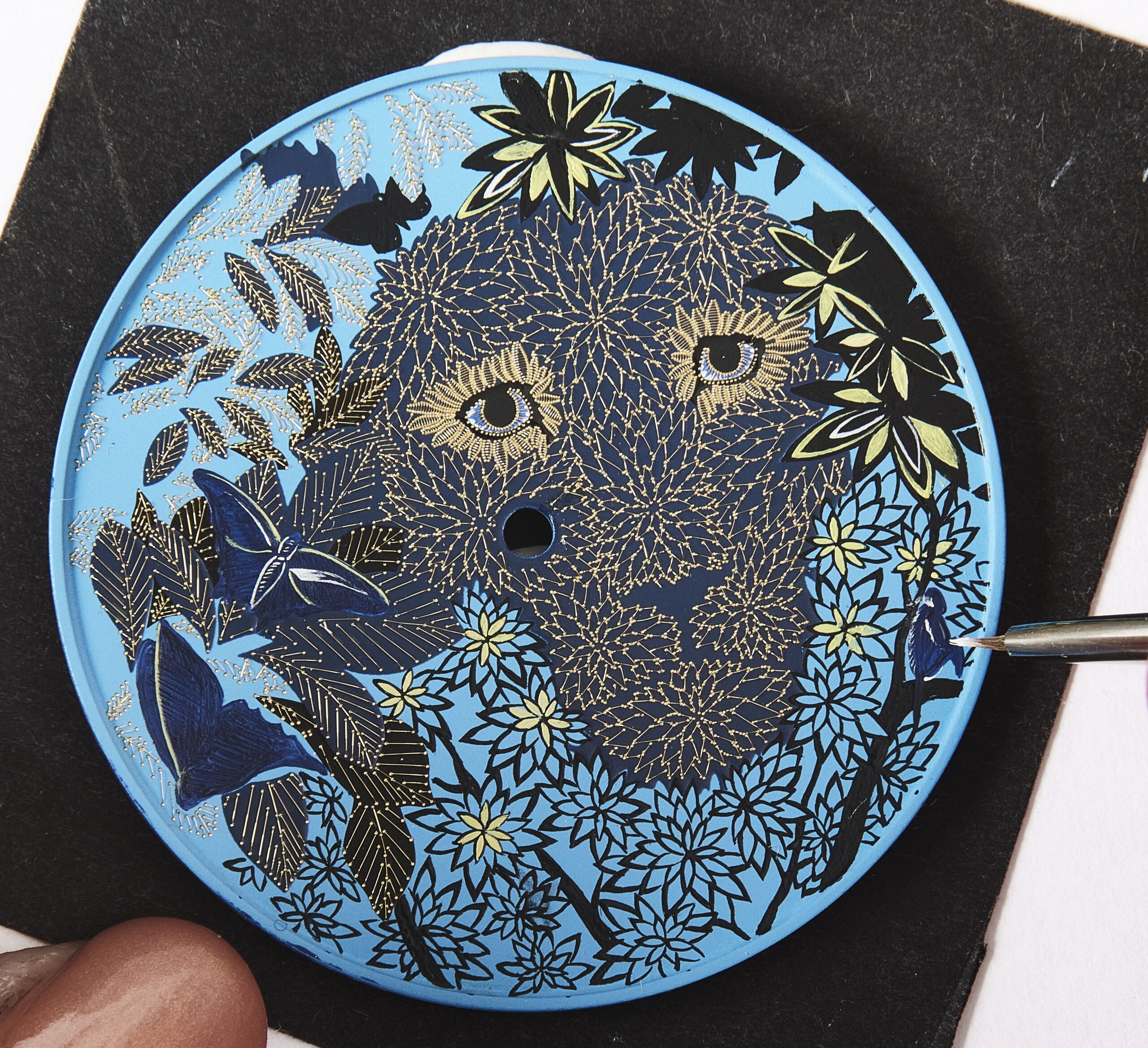 Artisans combine miniature painting with gold thread welding to depict the feline and its equatorial environment on the dial of the Arceau watch. Working on a gold base, a varnish is applied and the motif is transferred, before meticulous painting of the elements that will appear under and around the gold threads. Shapes and colours come to life through a multitude of layers of micro-painting, successively applied with a brush and dried in a hot kiln. Then, as if creating an embroidery, the artisan assembles on the dial surface a multitude of threads – three times finer than a human hair – giving depth to the scene.
This process involves first determining a starting and ending point for each thread, before hollowing out the holes (divots) required to accommodate the far ends. Finally, gold is poured into these attachment points that are then fused with the two ends of the thread. Each of the threads is placed in a specific order and position in order to create a play on transparency and light. After a week of patient work, the dial is fitted inside a white gold case measuring 41 mm in diameter and housing the Manufacture Hermès H1837 self-winding movement. An abyss blue matt alligator strap crafted in the Hermès Horloger workshops sets the perfect finishing touch tp to this creation and highlights its deep nuances.
Hermès Watch Arceau Wild Singapore