Hilton Nagasaki Conveniently located to the west of the Nagasaki Station
The 200-room hotel offers convenient access to new large-scale convention center and popular sightseeing spots in the city
Conveniently located to the west of the Nagasaki Station, Hilton Nagasaki's central location offers easy access to Nagasaki's most popular sights and landmarks such as Mount Inasa, as well as UNESCO World Heritage sites such as the Glover Garden and Oura Cathedral.
The 200-room hotel features expansive guest rooms, including four suites that span up to 97 square meters, all of which offer modern conveniences including Digital Key access and TVs which can be connected to smartphones, making the hotel an ideal choice for leisure and business travelers alike. Guests can also enjoy excellent facilities such as an executive lounge for guests staying on the executive floors, flexible banquet spaces, a wedding chapel, fitness center, and a hot bath to relax and unwind at.
Hilton Nagasaki features modern, contemporary designs that draw upon the rich history and heritage of Nagasaki as a trading port city. The cultural inspirations are reflected throughout the hotel's artwork and design motifs, embracing the city's local traditional crafts and materials. Surrounded by the sea, the hotel is also designed with a strong maritime influence and evokes a sense of being on a sailing ship, with blue design features woven throughout the hotel to symbolize the sea.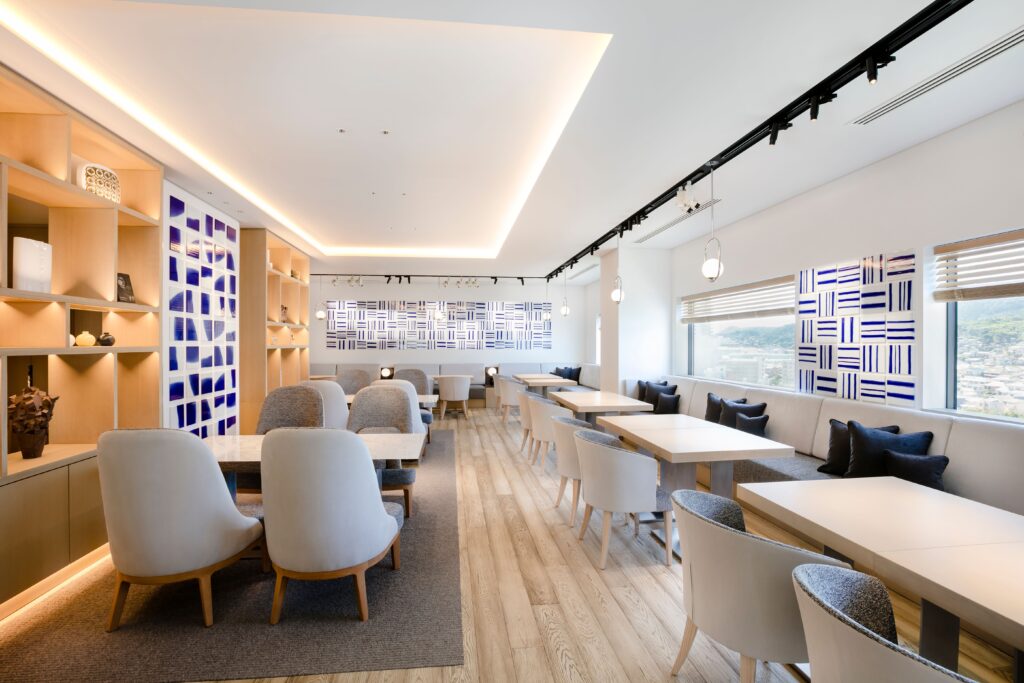 The design concept extends to the four dining outlets which include:
Japanese restaurant "Tamatsurumi" which serves teppanyaki, tempura and sushi with carefully selected ingredients sourced locally from Nagasaki and other parts of Japan.
Adorning an impressive red entrance, Chinese restaurant "Fukukairo", serves modern Chinese cuisine made with local ingredients from the nearby mountains and sea.
At the all-day dining restaurant "De Vaert", guests can enjoy a buffet with a wide variety of seasonal delicacies and dishes that reflect Nagasaki's food heritage, including a mix of Japanese, Chinese and Dutch cuisine.
Lounge and bar "Seven Seas" serves afternoon tea and evening cocktails.
Utmost priority is placed on safety and sanitization protocols throughout the guest experience. Hilton has introduced Hilton CleanStay, an industry-defining standard of cleanliness and disinfection, which is now present across all Hilton properties around the world.
The hotel is also part of Hilton Honors, the award-winning guest-loyalty program for Hilton's 18 distinct brands. Members who book directly on the Hilton website have access to instant benefits, including a flexible payment slider that allows members to choose nearly any combination of points and money to book a stay, an exclusive member discount, free standard Wi-Fi and the Hilton Honors mobile app. Members also have access to contactless technology exclusively through the industry-leading Hilton Honors mobile app, where Hilton Honors members can check-in, choose their room and access their room using Digital Key.
Hilton Nagasaki is located at 4-2 Onouemachi, Nagasaki, 850-0058, Japan.
Japanses Restaurant Teter