Hokkaido Culinary Gem Yakiniku KAGURA Debuts in All-New Landmark AIRSIDE
GMO-free Mirai Beef is Brought from Farm to Table in Authentic Yakiniku Gastronomic Wonders
Limited-Edition Dishes in Best-Cut Platters, Sukiyaki, Shabu Shabu, Steam Boxes and so much more.
Alfresco Dining & Happy Hour Offers for Moments to Remember
This October, Yakiniku KAGURA is bringing scrumptious yakiniku from the lush Hokkaido, Japan to all-new landmark, AIRSIDE. Its second overseas branch, KAGURA continues to uphold its "farm to table" ethos and highlights its premium breed of Mirai cattle, raised in KAGURA's very own farms. Embark on a gastronomic journey to Northern Japan with the restaurant's plethora of seasonal dishes and snacks.
A Mirai Beef Feast Tailored to Meat Lovers
Choose from KAGURA's signature 4 cuts of Mirai Beef including Forequarter, Rib and Loin, Plate and Hindquarter. Get the best of this premium breed with the daily special Assorted Mirai Beef Rare Parts Yakiniku Treasure Box (9 Types) (HK$238). Available on a first-come-first-served basis, the Treasure Box opens up to Rump Cap, Tri-Tip, Chuck Tender, Rib Eye Core and more. Meanwhile, Seasonal Vegetable & Mirai Beef Yakiniku Platter (4 Types) (HK$298) brings classic cuts such as Sirloin, Short Ribs, Lean Meat and Fore Shoulder Meat – all paired with fresh, seasonal vegetables for guilt-free pleasures.
Aside from the revered yakiniku, KAGURA also offers a plethora of appetisers, salads, entrees, soups and à la carte for all preferences and desires. Whet your appetite with the Slow-cooked Mirai Beef Salad (HK$98) and wash it down with Mirai Beef and Vegetable Soup (HK$88) before indulging in the Baked Mirai Beef Curry with Cheese and Baguette (HK$88).
AIRSIDE-Exclusive Fare of Mirai Beef Sukiyaki, Shabu Shabu and Steam Box
Located in the all-new landmark in Kai Tak, AIRSIDE, the latest KAGURA spans 1,700sqft with 48 indoor and 12 alfresco seats. Paying homage to its Hokkaido flagship with red brick interiors are the grey hues and wooden elements, which are also used as seat separators. Warm lighting is also employed to recreate a cosy, Japanese aesthetic.
KAGURA AIRSIDE will also bring a series of exclusive dishes ranging from Mirai Beef Sukiyaki (HK$238) and Mirai Beef Shabu Shabu (HK$208) to Mirai Beef Steam Box (HK$198) so to reveal the culinary wonders Mirai Beef bring.
To celebrate KAGURA AIRSIDE's grand opening, KAGURA in Elements offers the AIRSIDE New Store Grand Opening Special Yakiniku Set from today to 30 November 2023. Available on a first-come-first-served basis, the Set is priced at HK$998 (Originally valued at HK$1,132) and includes Assorted Kimchi (3 Types), Tartare Style Mirai Beef, Salted Cabbage Salad, Mirai Beef Rib Eye Cap, Mirai Beef Sirloin Noharayaki, Mirai Beef Prime Karubi, Mirai Beef Tri-Tip, Kamikomi Pork Belly, Hard Clams, Stone Pot Kimchi Mirai Beef Bibimbap and Selected Dessert.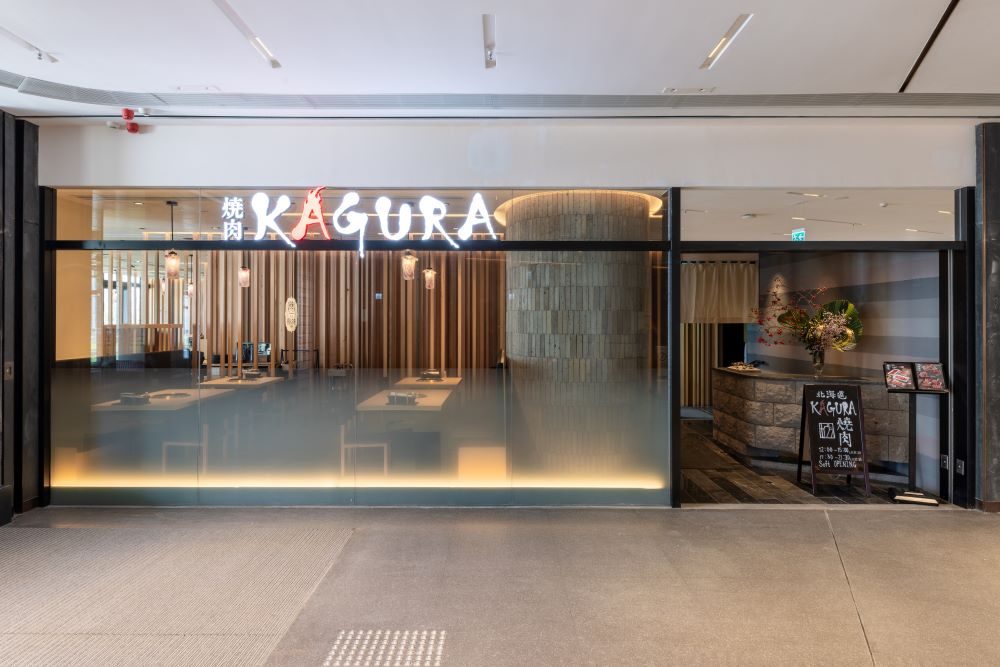 Alfresco Happy Hour Featuring Mirai Beef Snacks
Located in Kai Tak's all-new landmark, AIRSIDE, KAGURA looks out to spectacular views that perfectly marry urban landscapes and the great outdoors. Gather up your buddies for Happy Hour at one of KAGURA AIRSIDE's 12 outdoor seats and relish in Baked Mirai Beef in Cheese with Nachos (HK$68, originally valued at HK$88); Mirai Beef Cutlet Burger (HK$58, originally valued at HK$88); Mirai Beef Cutlet Skewer (HK$28, originally valued at HK$48) and more. This offer is only available from Monday to Friday from 5:30pm – 7pm (exclusive of public holidays).
Address: Shop L206, 2/F, Airside, 2 Concorde Road, Kai Tak, Kowloon
Reservations: +852 2667 1822
Opening Hours: Monday to Sunday, from 11:30am to 3:30pm, 5:30 to 10pm
Instagram: @kagurahk
Facebook: 燒肉 火蔵 Yakiniku Kagura
Hashtags: #KAGURAHK #KAGURAAIRSIDE