11 Aug 2022 By AWAY IN STYLE
Hotel Hotel, a Cultural Oasis in the Center of Lisbon
At Lisbon's new Hotel Hotel, creative collaborations take center stage. The interiors and exteriors alike have been custom created by local artists and designers, with unique site-specific artworks appearing throughout the hotel. A vibrant lobby gives way to an open-air courtyard and pool, while downstairs guests and locals come together in a room dedicated to immersive yoga experiences as well as a full-fledged tattoo studio. Click here to view Hotel Hotel on designhotels.com.
The newly opened Hotel Hotel, situated in the heart of Lisbon, a stone's throw from Avenida da Liberdade, is "not about traveling," says Original Alexandre Martins. Rather, "it's about feeling connected with a culture and with people." A creative hub for artists and culture-seekers from both near and far, Hotel Hotel reflects a new generation of hotels built with the expressed purpose of interpersonal connectivity. With this in mind, Martins invited artists and designers to collaborate with him every step of the way.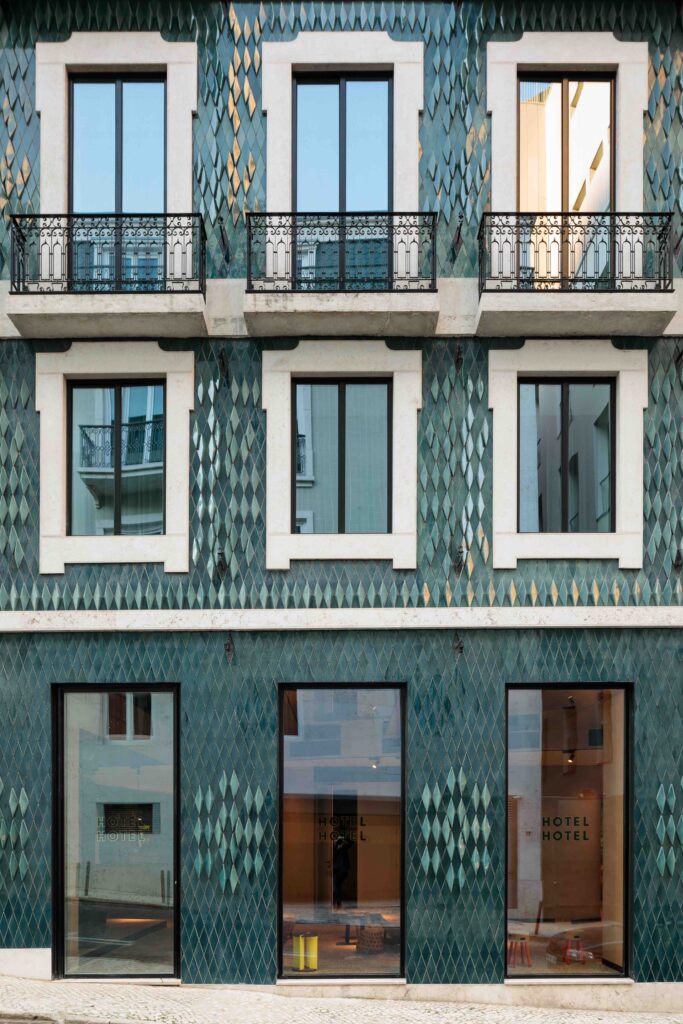 An art-led journey through Hotel Hotel begins with work by Maria Ana Vasco Costa, who was entrusted to create the building's façade; she produced and individually placed handmade tiles on the exterior in a scale-like 3-D pattern, resulting in a multifaceted, blue-green surface that catches and reflects sunlight to a dazzling effect. Inside, an open and airy lobby flows into a restaurant and open-air courtyard with a pool and lounge area, each with site-specific artworks by Clemens Behr, Wasted Rita, and Pastel, respectively. The design was helmed by Lisbon-based studio Pedrita, who established a warm color palette of burgundy, taupe, and navy, enlivened through a living wall in the courtyard and a verdant array of fresh botanicals throughout all spaces. The lobby also plays host to a whimsical collection of stools made and designed in Portugal by artists including Gonçalo Prudêncio for Ghome, Tiago Almeida for Fica, Luís Porém for Boa Safra, and Fernando Brizio for Temahome and Materia Amorim. Additional artworks placed throughout the property have been curated by Underdogs Gallery, aka Lisbon's street-art specialists.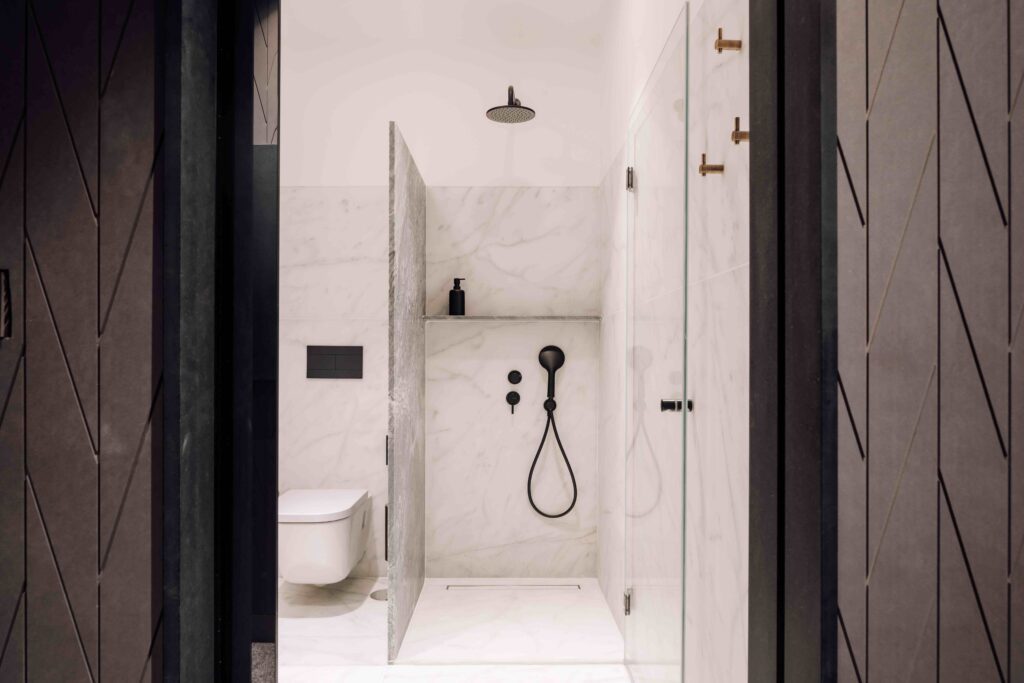 To reach the 36 rooms and four suites, guests are encouraged to take to take the stairs, lined with custom carpeting featuring a snake designed by Pedrita—although elevator doors also open to reveal mini galleries on each floor. Additional carpet, specially developed by EGE, lines the corridors and enters rooms before giving way to golden-hued white oak flooring and walls adorned with works by artists such as AkaCorleone, Teresa Esgaio, and André da Loba. In each room, Pedrita's color scheme is softened with sage, dusty blues, grays, and ochre, alongside bespoke furniture they also produced, including wood bedframes, desks, and light fixtures. The studio even designed the headboards, which feature textiles by Burel—a Portuguese producer whose wool blankets are also found in rooms, adding pops of color while simultaneously alluding to the country's rich textile and wool history. Additional natural materials, including speckled gray, red, and black marble and Valcromat, an engineered wood fiber, are featured throughout. Valcromat, for instance, has been used to make unique wall installations that, on a functional level, provide sound and thermal insulation but, on a more aesthetic level, also create an organic feeling with carved out lines emulating the shape of tree branches. In some suites, the Valcromat wall installations are augmented by a collaboration with artist Vanessa Barragão, who uses recycled waste to craft sculptural floor and wall tapestries. The bathrooms are sleek, with local gray veined marble defining the space and organic amenities by the Portuguese brand 8950—the neighboring postal code where the products are made. Beyond custom artist-made pieces, other brands featured in rooms include Muuto, Inclass Design, Fermob, Petite Friture, and Serax.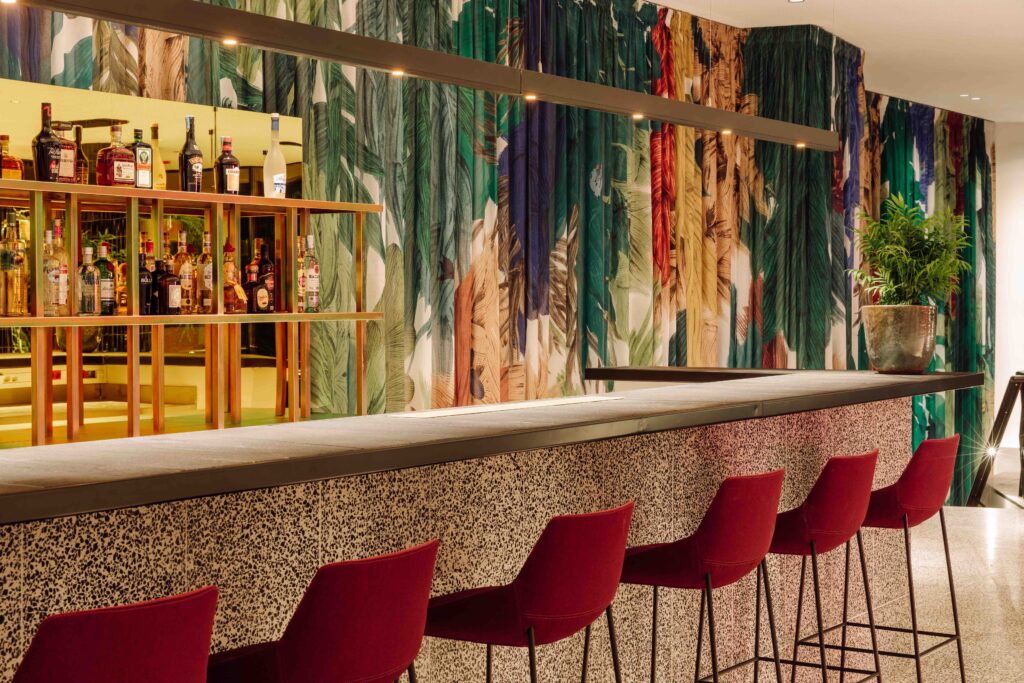 Back on the ground level, ANIMAL, the in-house restaurant, focuses on seasonal ingredients and aims to leave the most minimal footprint while creating maximum flavor. The kitchen thus operates according to a low-waste and bold-flavor ethos, with local and seasonal ingredients at the fore. Seating is available both inside and in the open-air courtyard, which doubles as a 110-square-meter green oasis. Looking up, the space is crowned by the black steel frame of the building's original roof, and the living wall features plants found in the nearby Botanical Garden of Príncipe Real. Looking down, the courtyard's pool is lined with striking black tiles.
Furthermore, a subterranean level is a living testament to Hotel Hotel's overarching mission: here, guests and locals alike converge in a yoga room and a specialty tattoo studio. In the former, teachers guide participants through various yoga, meditation, and sound healing classes in a space equipped with 360-degree sound and projection capabilities that create completely immersive experiences. Meanwhile, the tattoo studio is an authentic tattoo parlor where some of Lisbon's top ink artists work alongside international visitors.
Location
Hotel Hotel is located in the center of Lisbon, just steps away from one of the city's most famous streets, Avenida da Liberdade, and at the intersection of three different neighborhoods: Avenida da Liberdade, Restauradores/Rossio, and Bairro Alto/Príncipe Real. The area is renowned for old-world hotels and high-end shopping, but recent developments have brought an infusion of creativity seen in independent boutiques, coffee shops, cafes, and galleries. Two of Lisbon's three historical elevators are nearby, as are the city's oldest jazz club (Hot Club), the Botanical Garden of Príncipe Real, the Art Deco cinema São Jorge, and the Coliseu dos Recreios, which frequently hosts large-scale music events.