5 Apr 2022 By Betty Chung
I Love The Grammy Awards 2022
LAS VEGAS, NEVADA
WHO WEARS WHAT
at the 64th Annual Grammy Awards.
Dua Lipa attended the Grammy Awards in a bondage look from the Versace Fall-Winter 1992 collection.
Taken from the truly iconic "Miss S&M" collection of 1992,
the vintage Versace look features a transparent bustier with strap fastenings accented by golden buckles, and a fluid skirt.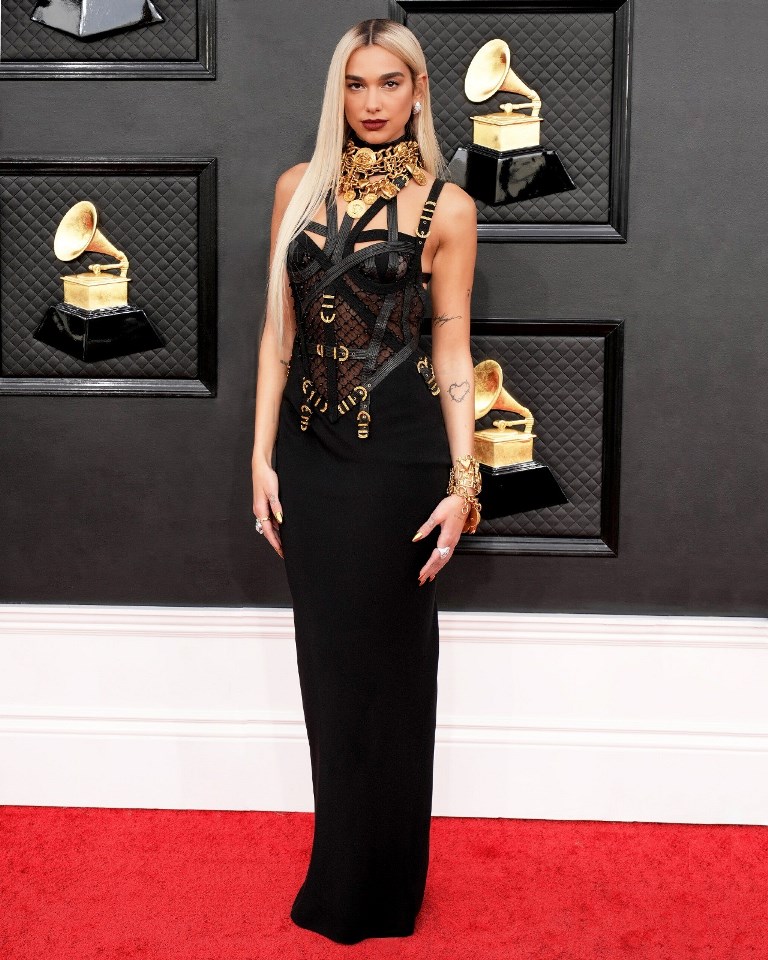 Doja Cat wore a custom Atelier Versace corset and crystal-embroidered dress to attend the Grammy Awards.
Taking 300 hours of construction time and an additional 175 hours of hand-embroidery,
a satin corset with crystal-embellished boning is layered with a tulle dress with wet-effect crystal embroidery.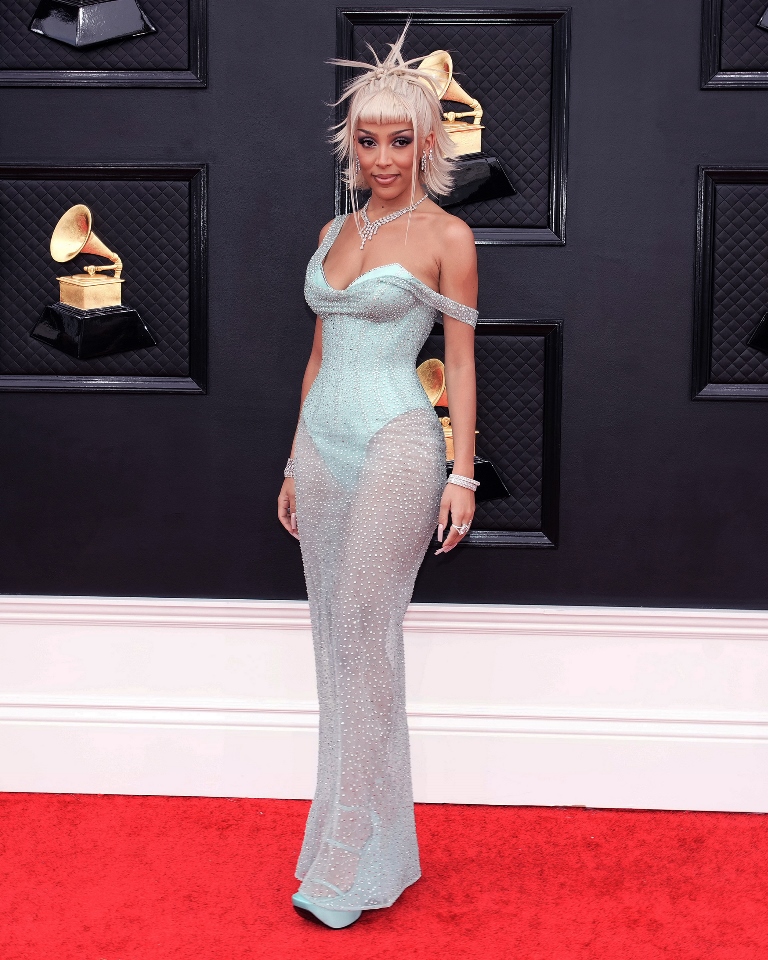 Snoh Aalegra attended the Grammy Awards in a custom Atelier Versace silver metal mesh dress.
Taking 800 hours to complete, the dress is constructed around an internal corset from silver metal mesh
and features cutaway sections at the legs with fraying mesh, chain and crystal finishes.
Dua Lipa and Megan Thee Stallion wore seemingly matching Atelier Versace dresses to the Grammy Awards before all was fabulously revealed.
Paying homage to the 1998 MTV VMAs when Whitney Houston and Mariah Carey had their "Diva-Off" moment,
Dua and Megan arrived to the stage in matching latex gloves and slip dresses with Versace Safety Pin fastenings and Greca chain straps,
before calling for Donatella to customize their outfits and reveal Dua's mini skirt and Megan's asymmetric pointed dress, both teamed with latex leggings.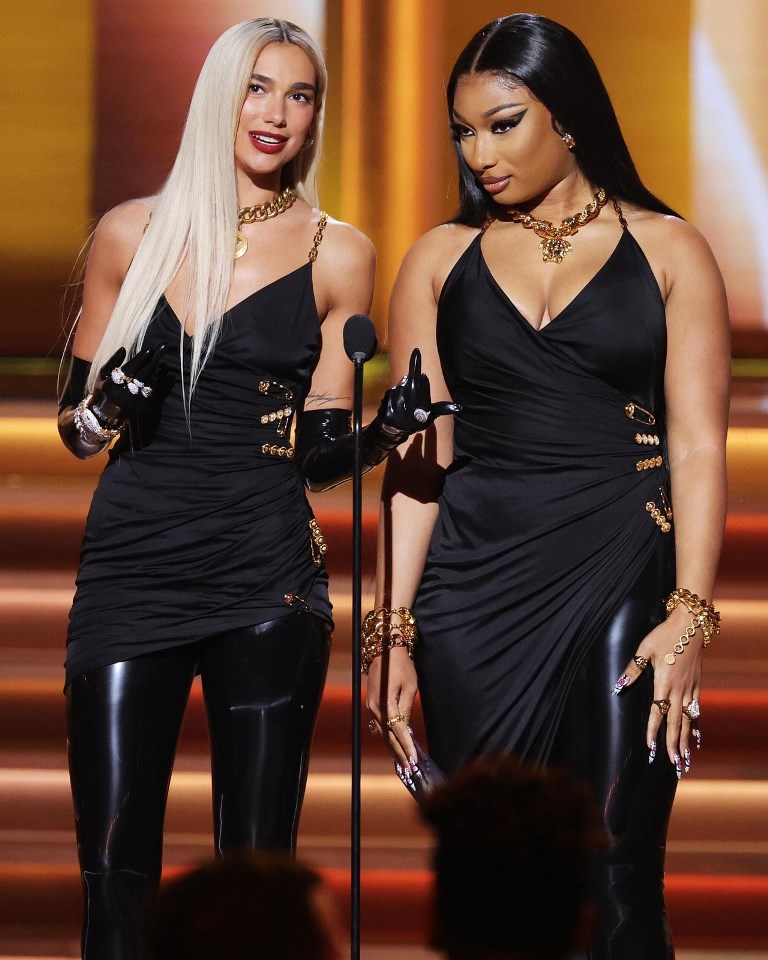 Giveon wore Chanel at the 64th annual Grammy Awards
Lady Gaga, Hailey Bieber, Rachel Zegler, Halsey, Travis Barker and Chloe Bailey all shone brightly dressed in Tiffany & Co. in Las Vegas on April 3rd, 2022, at The 64th Grammy Awards.
Lady Gaga dazzled in a Tiffany & Co. Schlumberger® Potager Leaves necklace from the 2022 Tiffany Blue Book Collection and Tiffany & Co. Schlumberger® Nest earrings at the Awards red carpet and then changed into the Tiffany & Co. Schlumberger® Fleurage earrings in platinum and 18k yellow gold with diamonds from the 2022 Tiffany Blue Book Collection during her performance.
Tiffany ambassador Hailey Bieber wore Elsa Peretti® Diamonds by the Yard® necklaces and earrings, and Tiffany T1 ring.
Rachel Zegler appeared wardrobed in a Tiffany & Co. Archives Platinum and Diamond Necklace, Earrings in platinum with tsavorites and diamonds, a ring in platinum with a green tourmaline of over 5 carats, and a ring in platinum with a diamond of over 5 carats during her grand entrance on the red carpet. Later in the evening, she wore the Tiffany Knot double row necklace, Tiffany solitaire diamond earrings and Tiffany Knot, Tiffany T and Tiffany & Co. Schlumberger® rings during her performance.
Halsey attended in a graduated line necklace, mixed cluster drop earrings, cluster tennis bracelet, and rings from the Tiffany Victoria® collection.
Musician Travis Barker was spotted in Tiffany HardWear graduated link necklaces, Tiffany HardWear link bracelets, Tiffany® diamond ring, and rings from the Tiffany T collection, while singer Chloe Bailey wore earrings in platinum with diamonds, a bracelet in platinum with a green tourmaline of over 9 carats and diamonds, and a variety of Tiffany Victoria® rings.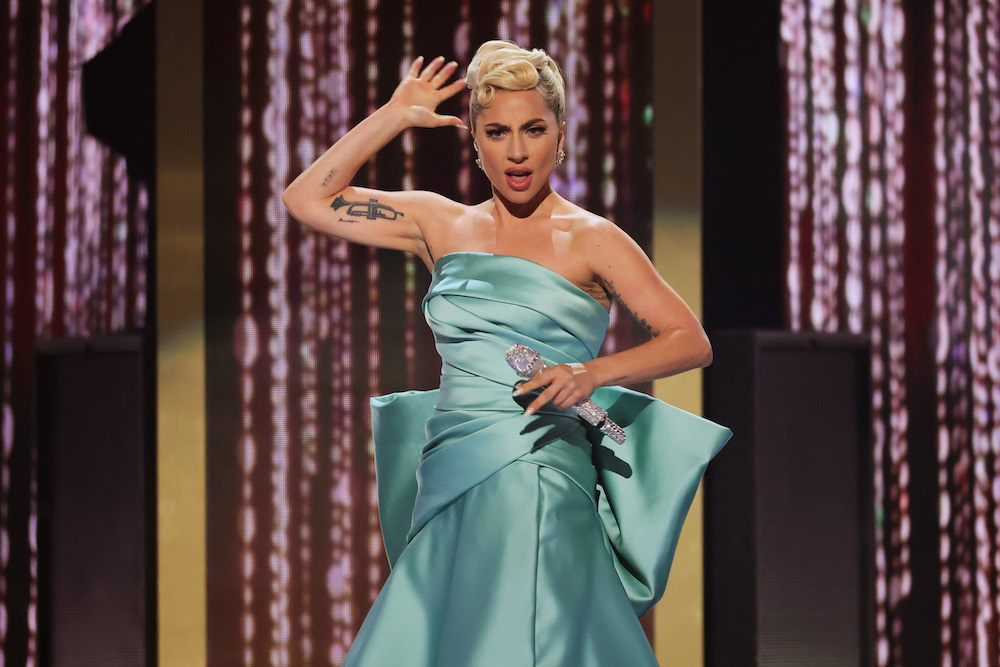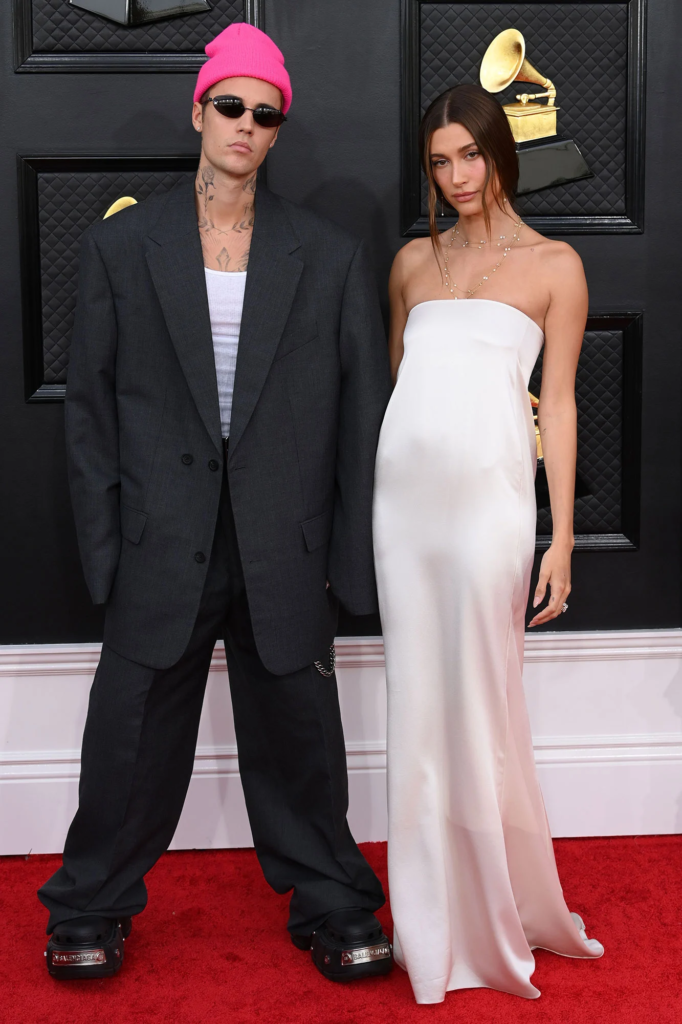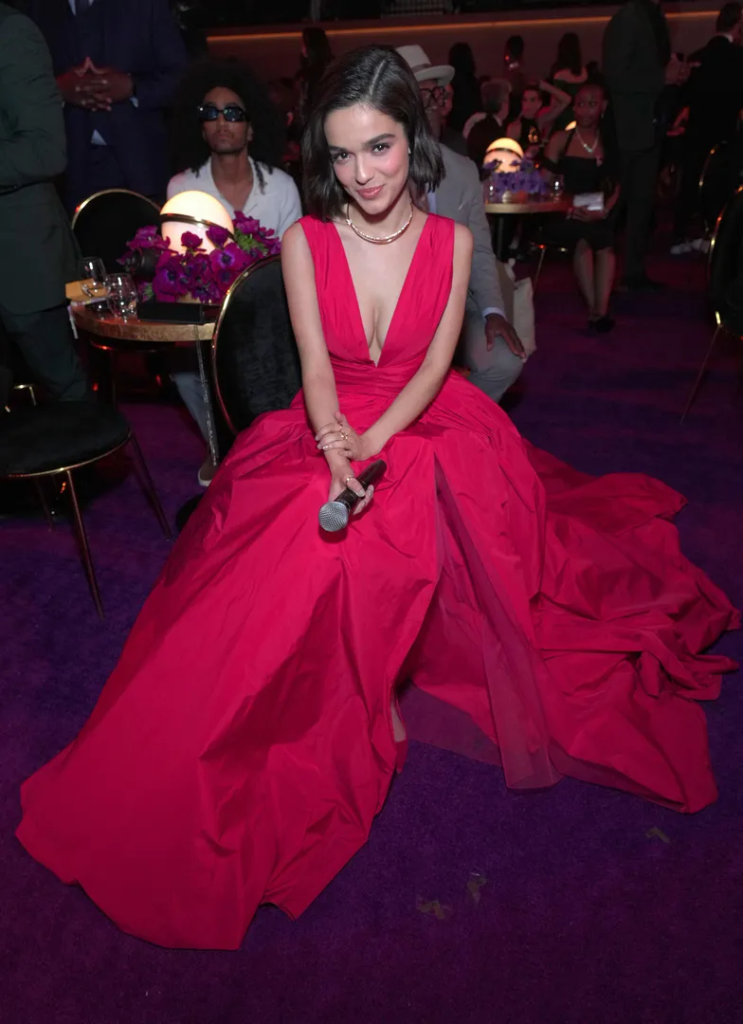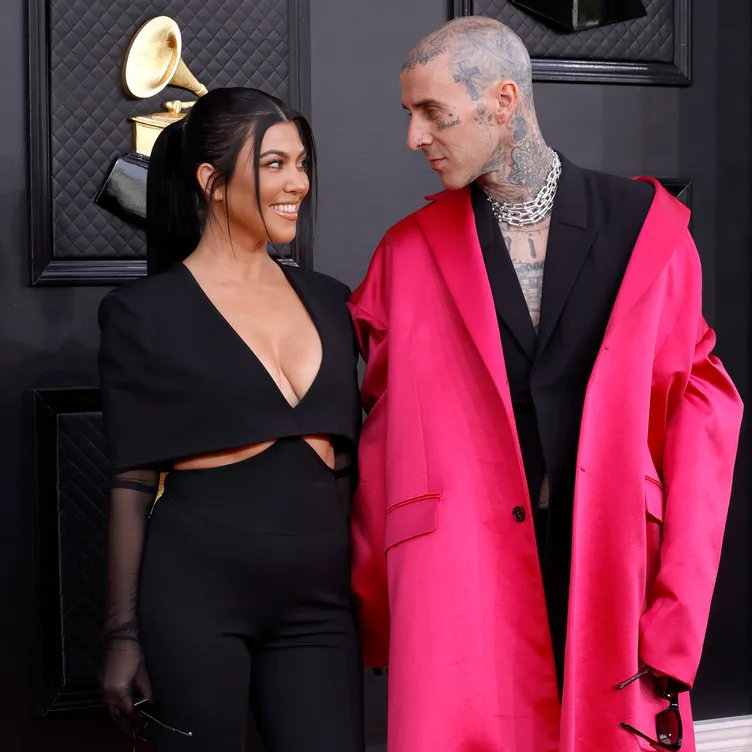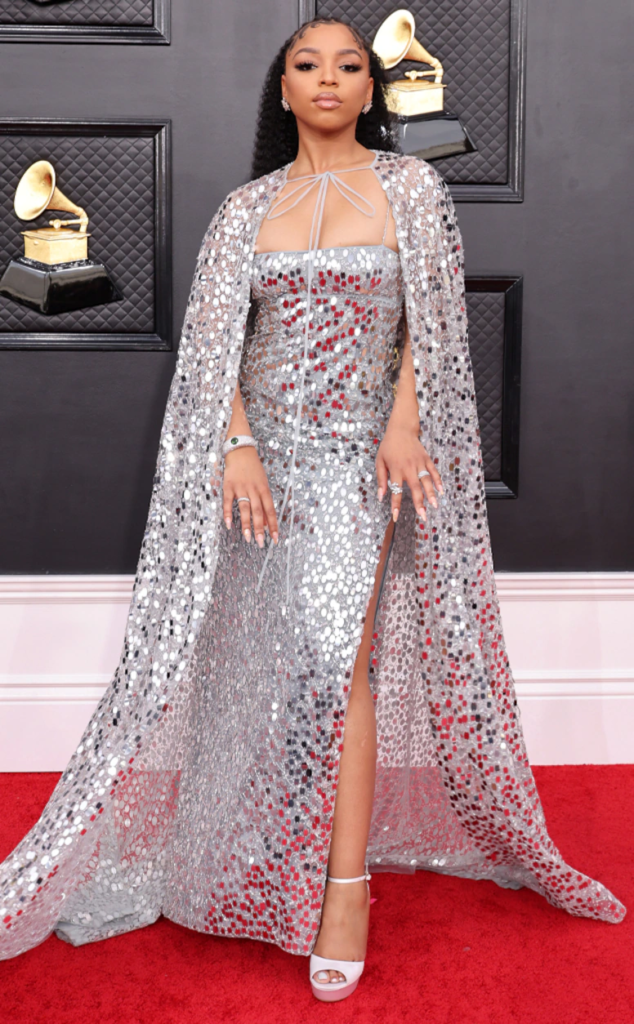 Winner for Best Alternative Music Album, St. Vincent wore Gucci Love Parade look 77 pink all-over sequin embroidered silk teardrop neckline gown with wide long sleeves, silk embroidered details and pink organza ruffle trimmed hem and cuffs. She completed her look with beige net stockings, natural python printed leather high heel platform sandals and a gold metallic leather clutch with tiger head closure.