ifc mall Hong Kong Joins Hands with Japanese Up-and-Coming Artist GAKU in His First Creative Art Installation Outside of Japan
Feel the Thrill of Life via 3 Awe-Inspiring Zones that Reveal the Mind of an Autistic Genius
Dive into a Perfect Combination of Visual Arts and Digital Interactive Installations whilst Supporting a Local Charity
@hkifcmall #ifcSummer #lifeisaplayground
This summer, Japanese up-and-coming artist GAKU joins hands with ifc mall in the artist's first creative art installation outside of Japan. From 1 to 28 August 2023, the Oval Atrium of ifc mall will transform into the "Life is a Playground" Creative Art Installation featuring 3 awe-inspiring zones – "The Colourful Carousel" Art Installation, "Create Your Own Playground" Digital Experience and "The Dream World of GAKU" Art Gallery – through which visitors can dive into the artist's autistic yet vibrant mind through his works in varying mediums, as well as interactive and Instagram-worthy installations!
Dive into the World of a Young Autistic Artist
Relish in His Passion for Every Moment in Life
21-year-old creative maven, GAKU, was diagnosed with severe autism at the age of 3, with only an IQ of 25. His lack of verbal communication skills didn't obstruct his creativity in expressing and communicating his positive views through his artwork. At 16 years old, GAKU toured the art museum with his teacher and was touched by famous Japanese artist Tarō Okamoto's works, sparking his fountain of creativity in depicting his passion for life and the endless possibilities it holds often expressed through Impressionist, vibrant geometric shapes.
The creative GAKU produces more than 200 pieces of work a year and hosted his first solo exhibition in 2019 at Setagaya Art Museum. To date, he has hosted more than 20 exhibitions and sold works topping more than 3 million Yen. Recognised as the rising star of the art realm, GAKU has also joined hands with countless brands.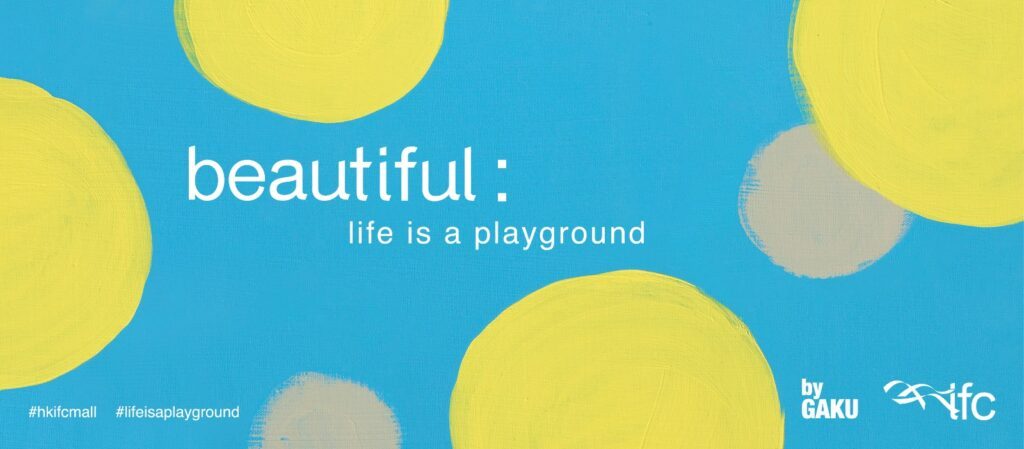 ifc mall Hong Kong is honoured to collaborate with GAKU in his first creative art installation outside of Japan that immerses visitors into his world of childlike wonder, welcoming them to reconnect with every moving moment in life.
Supporting Local Charities' Work for Autistic Children
GAKU overcame the shackles of autism to become the talented artist that he is today. Aside from his talent, GAKU also received immense support from his family members and teachers so he could realise his creativity without bounds. Committed to raise awareness for autistic individuals, ifc mall has also collaborated with local charity Autism Partnership Foundation. Donation machine will be available on site at the "Life is a Playground" Creative Art Installation so visitors can do good as they enjoy GAKU's esteemed works of art.
ifc mall Hong Kong Summer Shopping Privileges with Amazing Offers
Feel the artistic flair at the installation and enjoy ifc mall's shopping privileges. Please stay tuned to upcoming news!
"Life is a Playground" Creative Art Installation Details
Date: 1 August 2023 (Tuesday) – 28 August 2023 (Monday)
Time: 10:30am – 9pm
Location: Oval Atrium, Podium Level 1, ifc mall
Telephone: 2295 3308
Immerse into GAKU's Childlike Wonder via 3 Awe-Inspiring Digital & Interactive Art Experiences