Intervals Elevates Experience with Extended Menu Offering and In-Flight Takeaway Sets
Since opening in June 2023, Intervals, the newly launched cocktail bar located at Hong Kong International Airport, has set out to reinvent the airport experience by offering world-class cocktails and an elevated food programme set against the exceptional vantage point of the Skybridge.
In keeping with Plaza Premium Group's core mission of making travel better, Intervals is introducing takeaway options that are perfect for on-board dining, designed for travellers who have the shortest available interval of time and are unable to sit down for the experience. In addition, Intervals will be extending its opening hours and operating daily from 7am to 11pm and offering a full service menu from breakfast through to evening, from 31 July onwards.
Intervals' takeaway set is specifically designed to fit perfectly on an in-flight tray table, making it the ideal on-board dining option. The takeaway set includes a selection of four signature pinchos, with a choice of coffee, tea, or a canned version of Intervals' cocktails, created in collaboration with Young Master Brewery. As with all Plaza Premium Group ventures, a sense of place has been created by partnering with a homegrown Hong Kong brand. Priced from HKD 168 for the set, the canned cocktails can also be purchased individually for HKD 48.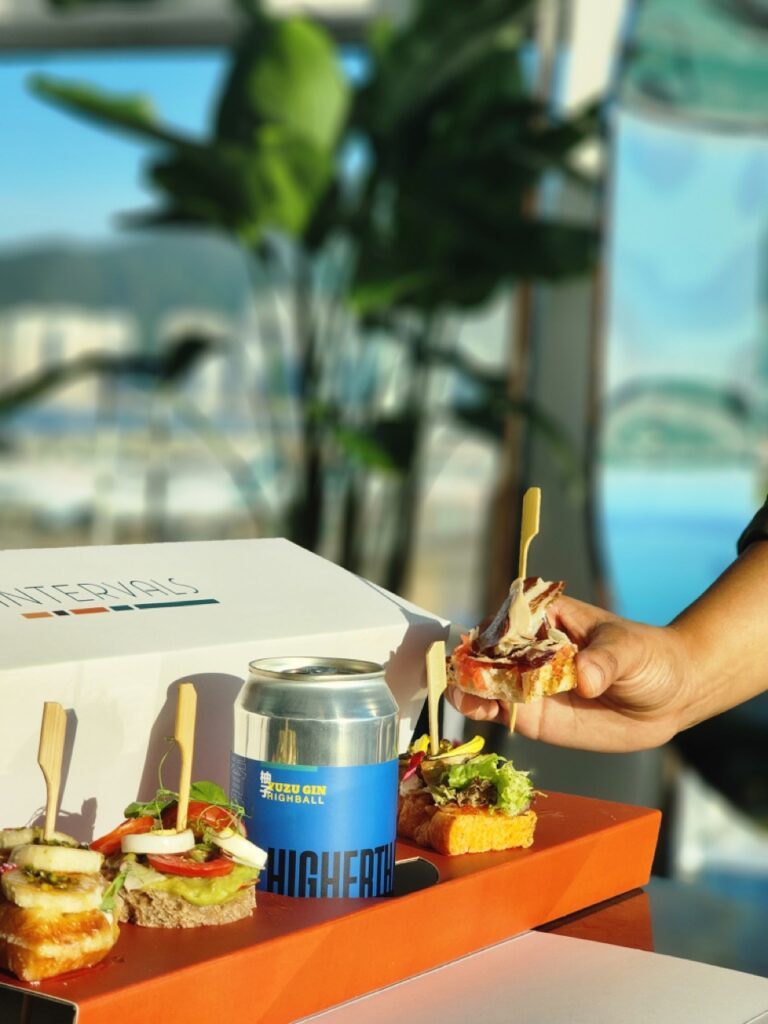 Guests can currently choose between three canned cocktails: Yuzu Gin, made with a Juniper berry heavy London Gin accompanied by a bright and zesty yuzu peel for a complex and bitter citrusy character; Salted Lime Highball, inspired by a classic Hong Kong diner drink, made simply with salt-cured lime, cane sugar and organic vodka, this crushable highball has uplifting sourness and nourishing minerality; or a Mala Mule, buzzing with fragrant and numbing Mala spices from Sichuan, this highball is an amped up Mule with fresh ginger and lime with organic vodka.
Intervals' extended food offering stays true to the bar's elevated and global take on "pinchos", while introducing new menu items for breakfast, lunch and dinner. For breakfast, guests can choose between Smoked Scottish Salmon Eggs Benedict, Intervals All Day Breakfast, Smashed Avocado Toast with Poached Egg or Classic French Toast, available from 7 to 11am. New main courses are available from 11am until closing, including Lobster & Prawn Spaghetti and an Omni Beef Burger served with sweet potato fries.
"Intervals represents an unparalleled airport F&B experience," says Mei Mei Song, Director of Global Brands and Transformation from Plaza Premium Group, "Our goal is to continue innovating and going beyond the expectations of what we can offer to travellers. We are excited to extend our offering and provide customers with the option to take a piece of our concept with them on their journey, even when they leave Hong Kong."
"Whilst there's no experience quite like enjoying a 'flight' of cocktails watching the planes on the runway from a seat at our bar, we want travellers to be able to experience the best of Intervals even on-the-go. We are delighted to now have a high-quality takeaway offer that reflects our brand's DNA and adds a little extra magic to your flight," adds Intervals' Creative Director Victoria Chow.
Intervals' takeaway sets can be ordered directly from the venue and will be prepared promptly by the team for travellers to pick up on-the-go. The extended hours of operation and takeaway sets will be in effect from 31 July onwards.