26 Oct 2021 By AWAY IN STYLE
Introducing a new shopping experience with Cathay
Explore thousands of carefully curated products, earn miles with every purchase and enjoy next-day delivery
Cathay is excited to introduce a new online shopping experience to its customers that enables them to elevate their lifestyle with a selection of carefully curated items and earn rewards along the way.
The new shopping platform is the fastest way to earn miles from online shopping, meaning customers can easily collect miles for their next staycation, much- desired purchase, dining experience and more. Customers can shop anytime, anywhere, and can even enjoy the flexibility of paying with Miles Plus Cash.
To mark the introduction of its new shopping experience, Cathay is holding a pop- up event for customers at Pacific Place shopping mall in Hong Kong from 22-31 October. All visitors to the pop-up will receive 20% off all the curated products on display. There will also be interactive games, fantastic giveaways, social media competitions, and 20,000 Asia Miles awarded to the top spender (cash component only) each day.
Cathay is also holding an exciting sale for the "Double 11" shopping festival with up to 45% off a collection of handpicked products and the ability to earn 1,100 miles for every HK$2,000 or 20,000 miles spent. The sale runs from 25 October to 11 November, giving customers even more reason to enjoy Cathay's new online shopping experience as early as possible.
Earn miles with every purchase
On the new shopping platform, customers can earn one Asia Mile for every HK$5 cash they spend. Additionally, holders of the new Standard Chartered Cathay Mastercard Credit Card can earn one extra Asia Mile for every HK$3 cash spent as well.
Next-day delivery in Hong Kong
Cathay is making online shopping even more convenient with deliveries in Hong Kong arriving within one business day*. The delivery charge is included in the price, so customers can be sure there are no surprises at checkout. *Terms and conditions apply.
A curated lifestyle
Customers can explore more than 10,000 carefully curated products and experiences from around the world across 10 popular categories, including Electronics, Home, Concert and Entertainment, Food and Wine, and Cathay Merchandise, among others.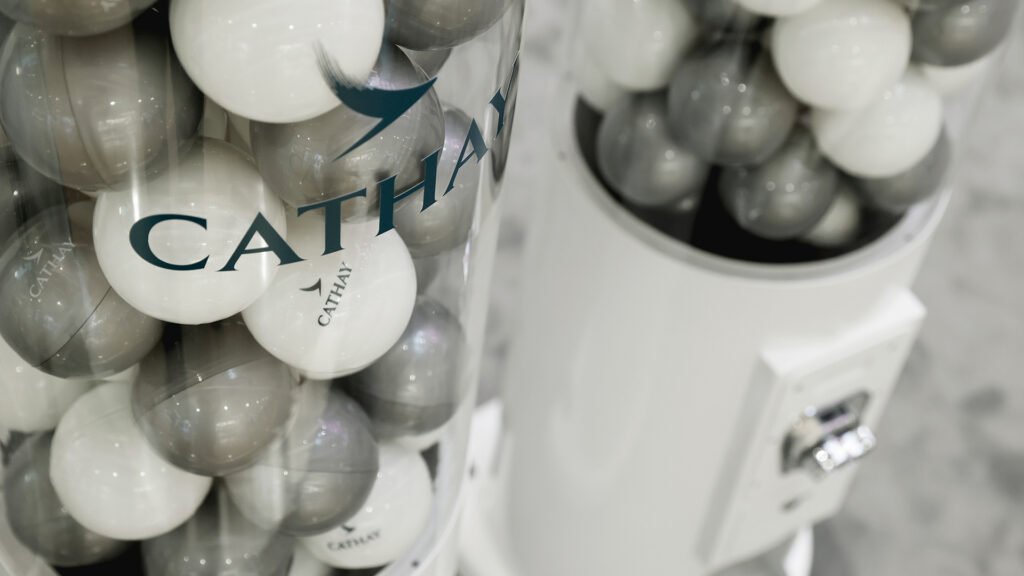 國泰推出全新網購平台
專享精選產品 輕鬆賺取里數 兼享翌日送遞服務
國泰推出全新網購平台,讓顧客可以隨時隨地選購我們精心搜羅的世界精品,躍昇 生活享受之餘,飛快盡享更多里數獎賞。
全新國泰購物平台讓顧客透過網上購物最便捷地賺取里數,更快投入更多生活體驗, 包括享受本地度假遊、購買心水產品或細嚐美酒佳餚等等。顧客不單可以隨時隨地 選購,並可靈活使用「里數加現金」組合付款。
國泰將於 10 月 22 日至 31 日於金鐘太古廣場舉行期間限定快閃店,展示網購平台精 選產品。顧客於快閃店購買在場展示的產品,均可享 8 折優惠。此外,現場還設有互 動遊戲、精彩贈品、社交媒體活動等等;而每天消費最高(只計算現金部分)的顧 客,更可獲贈 20,000 里數獎賞。
國泰更會舉行「雙 11 大購賞」,一系列精選精品低至 55 折優惠,而每消費港幣 2,000 元或 20,000 里數,更可賺取 1,100 里數獎賞。推廣期由 10 月 25 日至 11 月 11 日,給予顧客更多理由盡早享受國泰全新網購體驗。
輕鬆消費兼享里數獎賞
顧客於全新國泰網購平台購物,每消費港幣 5 元即可賺取 1 里數。此外,渣打國泰 Mastercard 信用卡持卡人,每消費現金港幣 3 元更可再尊享額外 1 里數。
香港翌日送遞服務
國泰致力使網上購物體驗更為便捷,推出一個工作天內送遞服務*,而貨品價格亦已 包含運費,不會再徵收額外費用。
*需符合條款及細則 躍昇生活享受
國泰在十個不同精選類別,細心挑選超過一萬件來自世界各地的產品和生活體驗, 供顧客選購,包括電子產品、家品傢俬、演唱會及娛樂活動、佳餚美酒,以及國泰 珍藏精選等等。請按此瀏覽。