3 Dec 2021 By AWAY IN STYLE
Jean-Michel Gathy's Exceptional Architecture | One & Only Portonovi, Montenegro
Jean-Michel Gathy's Exceptional Architecture, Landscape and Internal Design
Continues at One & Only Portonovi, Montenegro
Jean-Michel Gathy's designs have revolutionised tourism and the tourism economy of several countries – breaking new ground in location and creative dynamism. He pioneered the use of tents as luxury accommodation at Amanwana in Indonesia and spearheaded luxury tourism in Oman with the Chedi Muscat (voted the best hotel in the world three times). Inaugurated in early May 2021, the One & Only Portonovi, Montenegro aims, similarly, to put a little-known European destination firmly back on the luxury travel map.
Jean-Michel Gathy was the original architect, interior designer and landscape designer for this project. A second architectural practice monitored architectural processes and, in some cases, they provided alternative finishes, but the design is true to Denniston's original concept, based on the Ottoman history of the region, and its place on the old trading routes to Venice via the Adriatic Sea.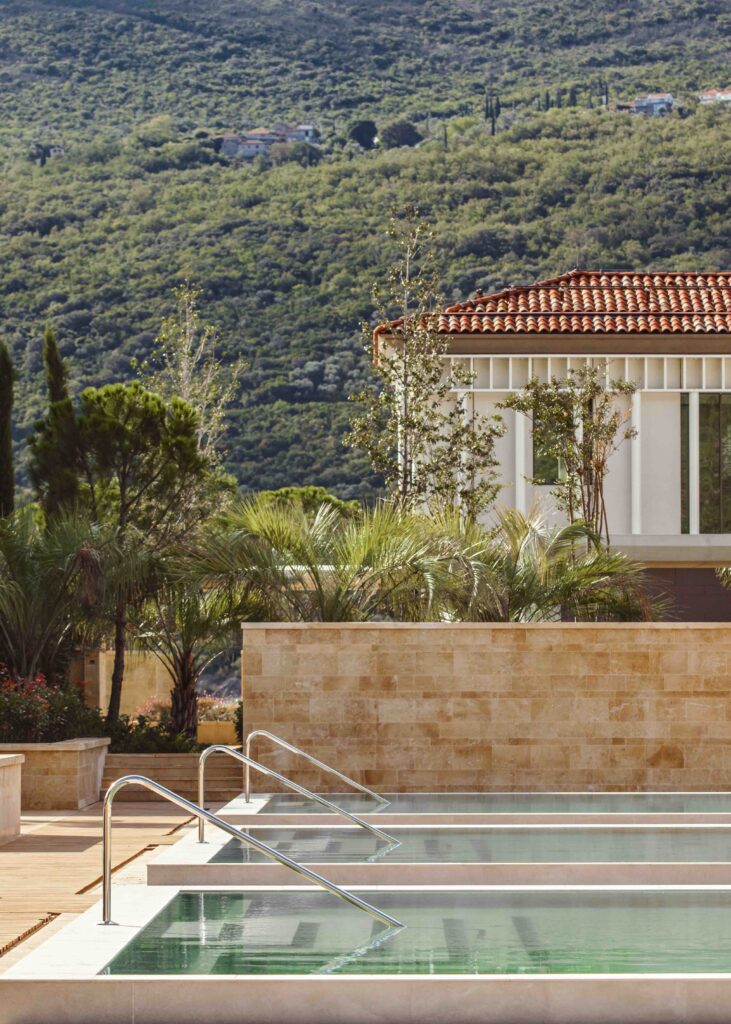 Located at the entrance of Boka Bay, one of the most stunning bays in Montenegro, guests of One&Only Portonovi can journey between the many secluded beaches and ancient towns that have preserved their original architecture and charm with the resort's own private boat. Taking cues from the culture, history and geography of the destination, the hotel has been designed to incorporate the grand façades, majestic colonnades, and gabled terracotta rooftops, symbolic of Montenegrin architecture. Interiors are elegantly styled, inspired by the baroque palazzos of Kotor, and the nearby Venetian-built port of Perast.
The hotel has a dramatic entry with stunning dimensions and with lofty, oversized pendant lamps for the reception and bar. Its colour scheme has oranges, reds and golds meeting blues, with an Ottoman spa flanked by columns and arches and a swimming pool designed within a structure inspired by the shape of Montenegran churches.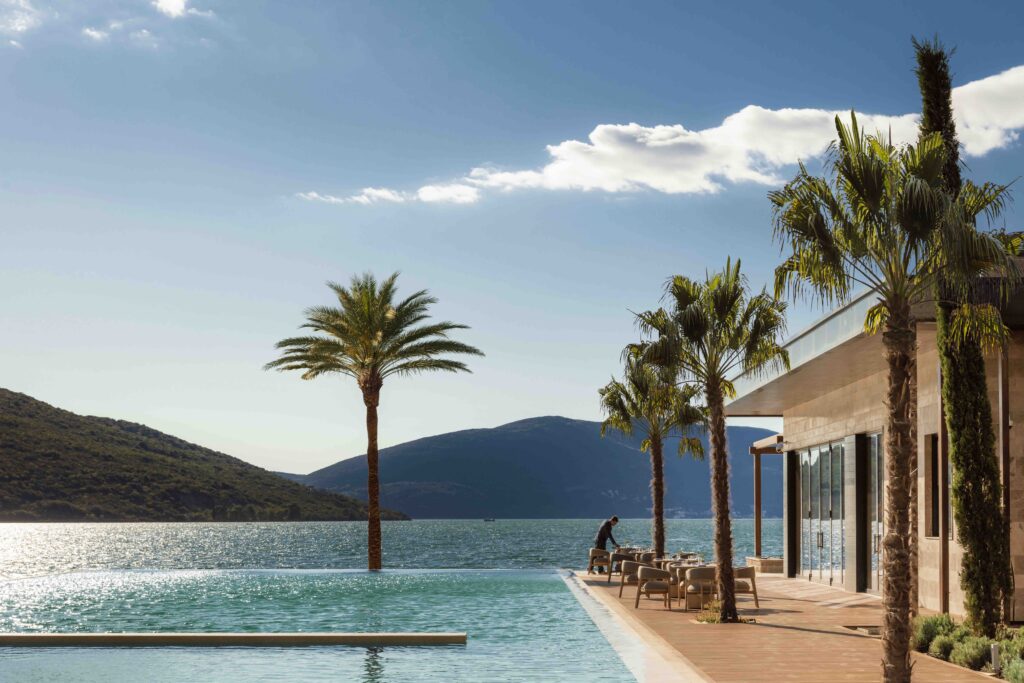 Inspired by cerulean seas and emerald valleys, terracotta rooftops and crisp silver mountainsides, the guestrooms and suites perfectly reflect and amplify the beauty of Boka Bay. With an inventive design inspired by the breath-taking views and rich heritage, each room affords utmost seclusion and the perfect balance of indoor-outdoor living, featuring a foyer and a balcony or terrace. The fully equipped bathrooms are conceived as libraries, with day beds that transform into baths and screens reminiscent of the Italian Renaissance to occlude the shower areas – each contains an exceptional yet enclosed central open fire that joins the vast open-plan bathroom, bedroom and seating areas.
Housing 113 guestrooms & suites and 10 luxury One & Only private homes, One & Only Portonovi, Montenegro integrates the touch of Jean-Michel Gathy throughout his design and concept inspired by the beauty of Montenegro's natural elements.
Images: "Courtesy of One&Only Resorts, One&Only Portonovi in Montenegro"
One & Only Portonovi, Montenegro