29 Aug 2022 By AWAY IN STYLE
JIMBARAN PURI, A BELMOND HOTEL
Jimbaran Puri, A Belmond Hotel, Bali continues to elevate authentic experiences and celebrate local craftsmanship through its collaborations with Bali-based artisans throughout different aspects of the resort. Jimbaran Puri will reveal the completion of Nelayan Restaurant's refurbishment in September which will showcase the works of Sanss Studio, Ong Cen Kuang, Kevala Ceramics and Werdhi Budaya.
Offering guests mesmerising views at the heart of Jimbaran Beach, the sustainably sourced menu at Nelayan Restaurant combines rich Indonesian spices for a gastronomic immersion that celebrates the best culinary traditions of the country. Legendary local flavours are enhanced at Nelayan Restaurant with a menu highlighting a tempting choice of freshly caught seafood from Jimbaran Bay. Jimbaran Puri is proud of its local sourcing of vegetables, fruits and spices all grown at Bali's famous Bedugul farms and through working with quality local meat suppliers providing natural grass-fed beef and poultry. All of these are combined with an enviable setting on the velvety sands of Jimbaran Beach famously known for its stunning sunset and views of the Indian Ocean, allowing guests to take in the sights, sounds and tastes of Bali.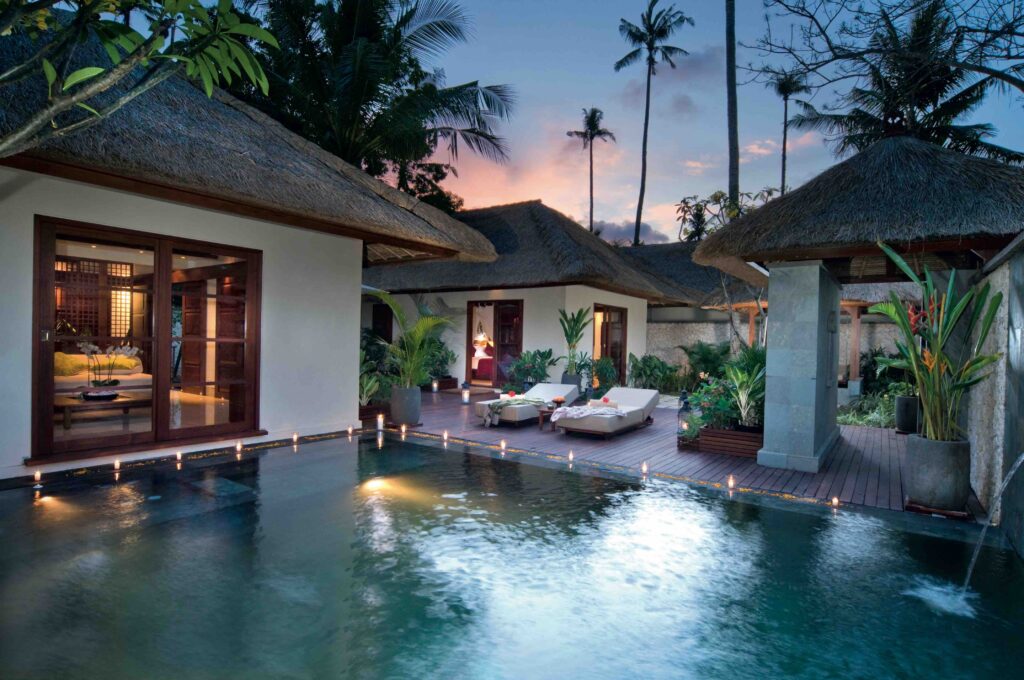 The new interior aesthetic of Nelayan Restaurant features fabric patterns and hand stitched linens by Sanss Studio as well as at the Beach spa at Jimbaran Puri. Each item is hand printed, taking inspiration from Bali's water jasmine, palm trees, rice paddies, star anise, flowers and the golden sand of the beach. A cobalt blue, golden sand and white colour palette are embellished at Nelayan Restaurant and Puri Bar, while olive green was selected for the spa to provide a calming and relaxing atmosphere for guests. Established in 2021, Sanss Studio champions skillful female artisans from surrounding villages who reflect a modern design inspiration in their work. Passionate about art and textiles, Sanss Studio produces high quality fabrics that embody the beauty of Indonesian culture. Nelayan Restaurant's menu design also displays the creative work from Jimbaran Puri's  talented in-house staff with the water colour painting and handwritten calligraphy.
To further enrich the experience, Jimbaran Puri collaborated with Werdhi Budaya, a family-run art centre in Bali, focusing on the various traditions and beauty of the island, in creating the cushions and bed runners using ikat technique. Werdhi Budaya has close connections with the royal family of Klungkung and they have a deep understanding of the culture and is regarded as one of Bali's most respected art centres. With everything being hand-made, attention to detail and intricate design, Werdhi Budaya ensures high quality for each of the craft.
Hand-crafted lighting from Ong Cen Kuang perfectly illuminates an atmosphere of beauty and comfort created by using unique and tactile materials that speak for themselves. Timeless and innovative lighting design at Jimbaran Puri fuses traditional craft with modern elements, resulting in pieces filled with stories and soul. Inspired by nature, the island and open spaces, each creation of Ong Cen Kuang at Nelayan Restaurant elevates the elegant dining experience. In line with Jimbaran Puri's sustainable initiatives, Ong Cen Kuang has used locally sourced and produced materials such as bamboo, alang-alang, yarn and recycled glass as well as introduced solar powered lights for an evening dining on the sand to reduce their carbon footprint, priding themselves in their achievement which has been the driving force behind the brand.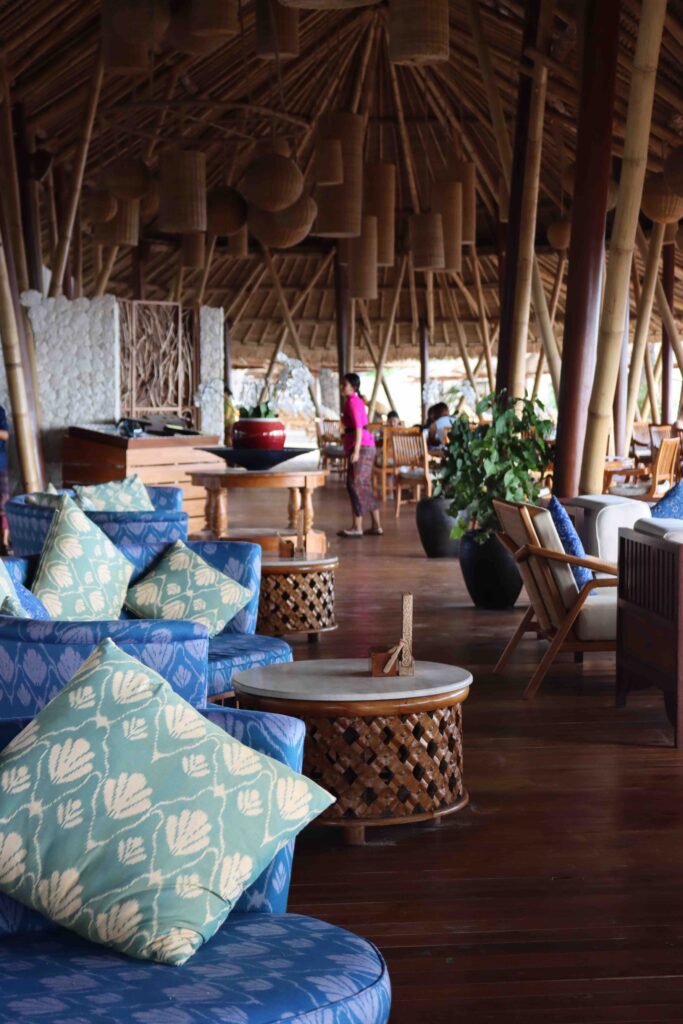 The tableware is handcrafted by Kevala Ceramics, the leading ceramic producer in Bali that makes handcrafted, original designs of stoneware products with a vision to build a business centered around the unrivalled talent of local artisans. Each piece is individually crafted and unique using clay that is formulated from quality materials sourced from all over the world. Traditional and modern tooling combined resulted in products that last lifetime and durable. Kevala works with over 100 Balinese artisans, drawn from a region famous for its skilled craftspeople.
These collaborations with local artisans are also empowering the local community. Ong Cen Kuang collaborates with Balinese artisan and crafters. Meanwhile, Sanss Studio provides a platform for moms in Bali who have lost jobs during covid to bring out their talents through hand-crafts and 90% of staff at Werdhi Budaya Ikat are moms in Klungkung area.