1 Jun 2022 By AWAY IN STYLE
LA VACANZA 2022 CAMPAIGN – Starring Iris Law
巴洛克印花比堅尼、極高的厚底高跟鞋、色彩奪目的迷你手袋,吹氣沙灘波……立即以Very Versace的方式收拾行裝,迎接今年的La Vacanza海灘假期。
「夏日假期的奢華造型應該漂亮又性感,同時充滿表現力和有趣。Iris是我們的耀眼明星,她的獨特個性體現了這些特質,我很高興她參與拍攝這輯形象廣告,並成為Versace大家庭的一份子!」
– Donatella Versace
在攝影師Camille Summers-Valli色彩鮮明懾人的照片中,首度拍攝Versace形象廣告的Iris Law成為迷人的主角。照片捕捉一班魅力迷人、活潑愛玩的好友享受海灘假期,全面擁抱Versace的度假方式,同時演繹風格出眾的夏季造型。
巴洛克印花遍佈比堅尼套裝、絲質襯衫和泳褲,而印花絲巾則繫於全新La Medusa藤籃上。闊大的帆布手挽袋添上Versace標誌和Medusa飾牌,並採用一致的紅色、黃色或DV藍色,是前往海灘或出席不同場的百搭之選。La Medusa迷你手袋小巧玲瓏,色彩奪目,男女裝涼鞋亦採用同樣亮眼的繽紛色彩。全新皮革涼鞋則配以輕巧的橡膠鞋底及金色Medusa Biggie圓章金屬細節,而新穎的Medusa Dimension拖鞋亦以超輕的模塑橡膠製成,配以迴旋巴洛克花紋,獨樹一幟。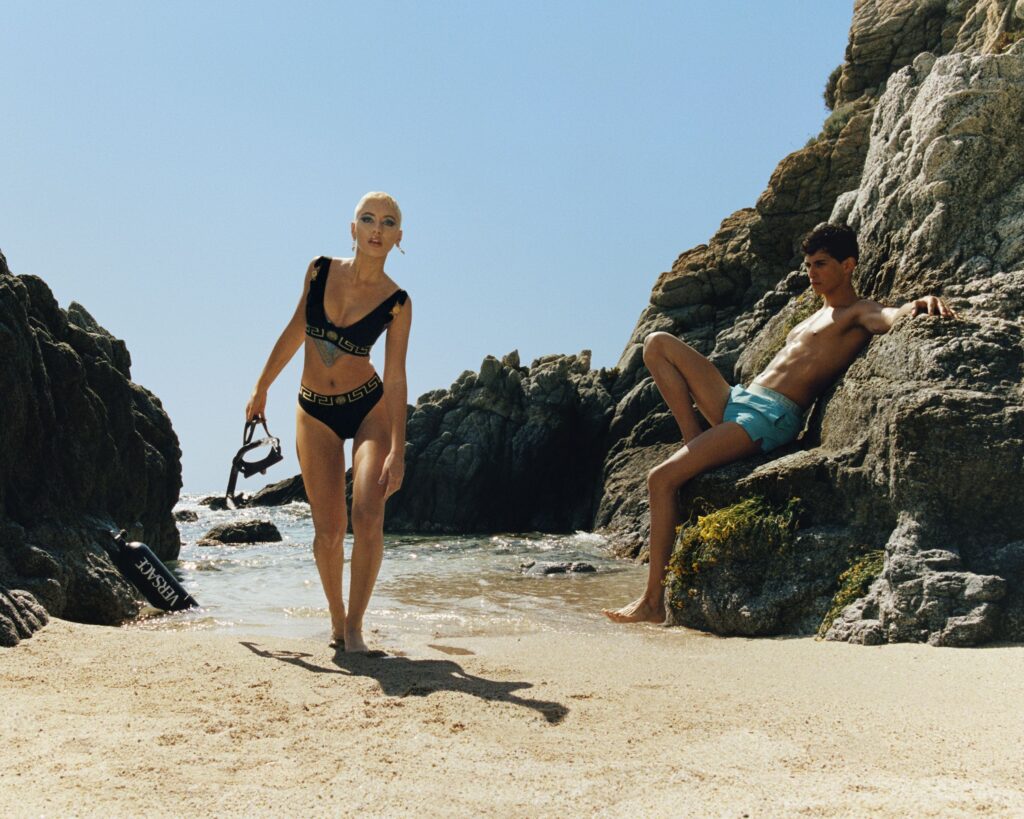 Barocco print bikini, towering platform pumps, pop-color mini bag, inflatable beach ball—pack your bags the Very Versace way for this year's La Vacanza beach vacation.
"Summer vacation luxury should look beautiful and seductive, but also be expressive and fun. We have a star in Iris whose unique attitude has all of these elements and I'm really excited that she's part of this campaign and now part of the Versace family!"
– Donatella Versace
Iris Law stars in her first  Versace  campaign  with  a  series  of  searingly  bright  and fiery images from photographer Camille Summers-Valli. A group beach holiday with unapologetic flair and energetic fun fully embraces the Versace vacation lifestyle, reflecting the latest vibrant summer styles.
Barocco prints spread across coordinated bikinis, silk  shirts  and  swimming  trunks, while printed silk scarves are tied around the new La Medusa wicker basket bag. Wide canvas tote bags feature the Versace logo and Medusa plaque in full tonal colorways of red, yellow and DV blue, and are truly versatile styles for the beach and beyond. The La Medusa mini bag is a pop of color in fun miniature form. Women's and men's sandals are equally bright and colorful. New leather options are finished with  light rubber soles and the golden Medusa Biggie medallion hardware, while the innovative Medusa Dimension sliders are made from molded super-lightweight  rubber  with swirling Baroque flourishes.