LAKH and LAFAYETTE collaborate once again for the Spring Summer 23 collection
Founded in 2016, LAKH is a brand that revolves around the concept of "Innovation Matters." Initially focusing on denim clothing, the brand later expanded its offerings to meet the needs of sneaker enthusiasts, creating the Pinroll Jogger pants that complement sneakers perfectly. This innovation led to the acquisition of a patent and garnered immediate attention and admiration from sneaker lovers. Since its establishment, the brand has continued to evolve in diverse directions, collaborating with various entities such as LAFAYETTE, WISDOM, TEAM, TOPOLOGIE, and OWDEN Eyewear. It has also established themes for different quarters to explore new ideas, using the guidelines of "SUPPLY" and "SIGNATURE" to create unique clothing atmospheres blending simplicity and rich elements, catering to shoe enthusiasts.
As for LAFAYETTE, a Japanese streetwear brand with a 20-year history, it has consistently embodied a strong American style. Inspired by New York street culture, the brand's philosophy and design are rooted in the streets of New York. The founder, Kaneko Junhiro, aims to present the culture of New York through the brand, resulting in collections with a distinct American streetwear vibe, incorporating elements like hip-hop, skateboarding, and graffiti in their designs. LAKH and LAFAYETTE first collaborated in 2020 due to LAKH's respect for the hip-hop culture promoted by LAFAYETTE, and LAFAYETTE's appreciation for LAKH's flexible use of denim clothing, particularly their signature product, Ten Pockets Cargo Pants. The successful collaboration led to another joint effort, this time using workwear elements for a new collection that blends with daily wear.
In the spring and summer of 2023, continuing their collaborative relationship, the two brands celebrate LAFAYETTE's 20th anniversary by using recycled cotton denim material, REPREVE®, to recreate the iconic pieces from LAKH's SIGNATURE "EXPANSION" series, namely, the Functional Ten Pockets Cargo Shorts and Functional Ten Pockets Cargo Pants. They present the denim fabric in two ways, showing both sides with different shades, resulting in distinct visual appearances and unique details for both pieces.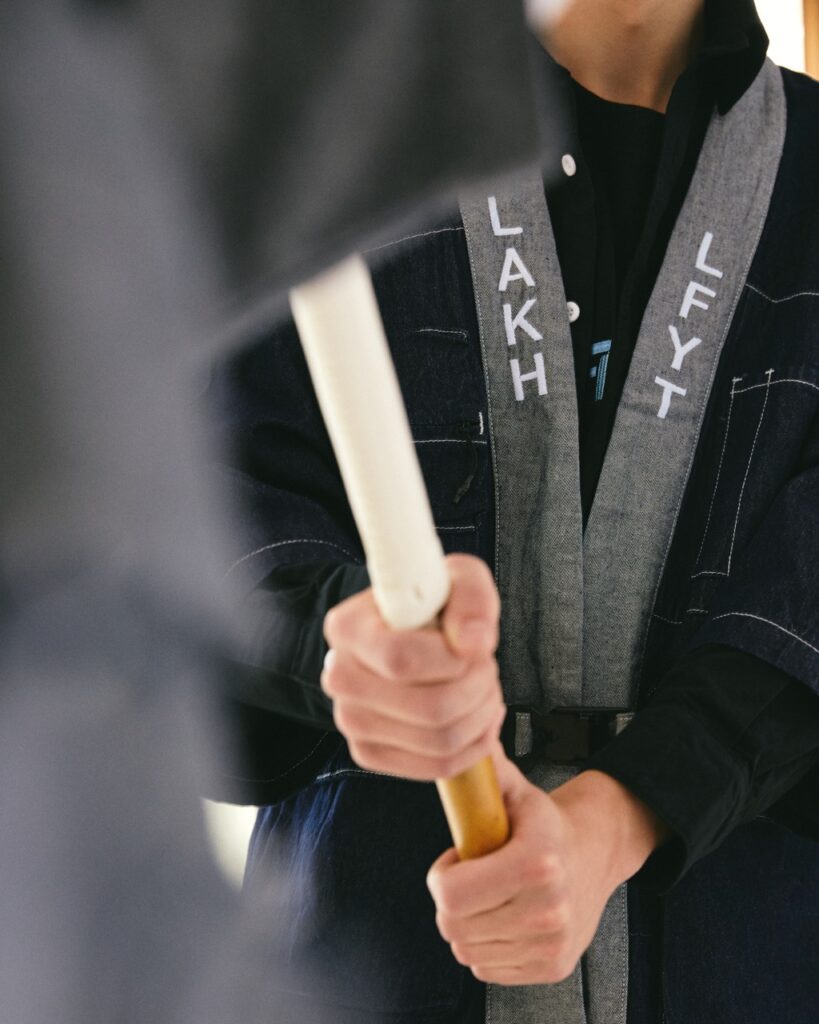 In addition to the pants and shorts, this joint collection also features an improved version of the Packable Lightweight Kimono, now with a loose fit and ten functional pockets, enhanced with FIDLOCK® magnetic buckles for added functionality. Complementing the kimono is a new embroidered pattern T-SHIRT, which is a collaboration between LAKH and LFYT, expressing the essence of the joint effort with a simple yet stylish design.
The LAKH | LFYT Spring & Summer 23 Collection will be available at LAKH ARCADE, LAKH SELECT, and the LAKH website from July 21.
Product Prices:
Recycled Denim Functional Kimono (Navy / Blue) – $988 each
Recycled Denim Functional Ten Pockets Cargo Pants (Navy / Blue) – $968 each
Recycled Denim Functional Ten Pockets Cargo Shorts (Navy / Blue) – $788 each
Embroidered Signature Logo Tee (White / Black) – $468 each
Store Locations:
LAKH ARCADE
G/F, No.70 Fa Yuen Street, Mong Kok, Kowloon
LAKH SELECT
L116, The ONE, 100 Nathan Road, Tsim Sha Tsui