Loro Piana Fall Winter 2022 Men's Collection
The Loro Piana man, by his very nature, nurtures a dual personality. On one hand, he is an adventurer, a lover of the outdoors and life in contact with the elements, on the other he cultivates a soft sense of formality, a bond with the highest tradition of men's dressing. Within this frame, an ulster coat in Baby Cashmere and a cashmere Storm System® windbreaker or parka are just as telling of a very personal, spontaneous take on style. The dualism is both apparent and subtle, not least because the two personalities do constantly dialogue one with the other: the outdoorsy spirit mediates the classicism, while even at the peak of informality, a certain properness comes through, gently, as an ineffable signature.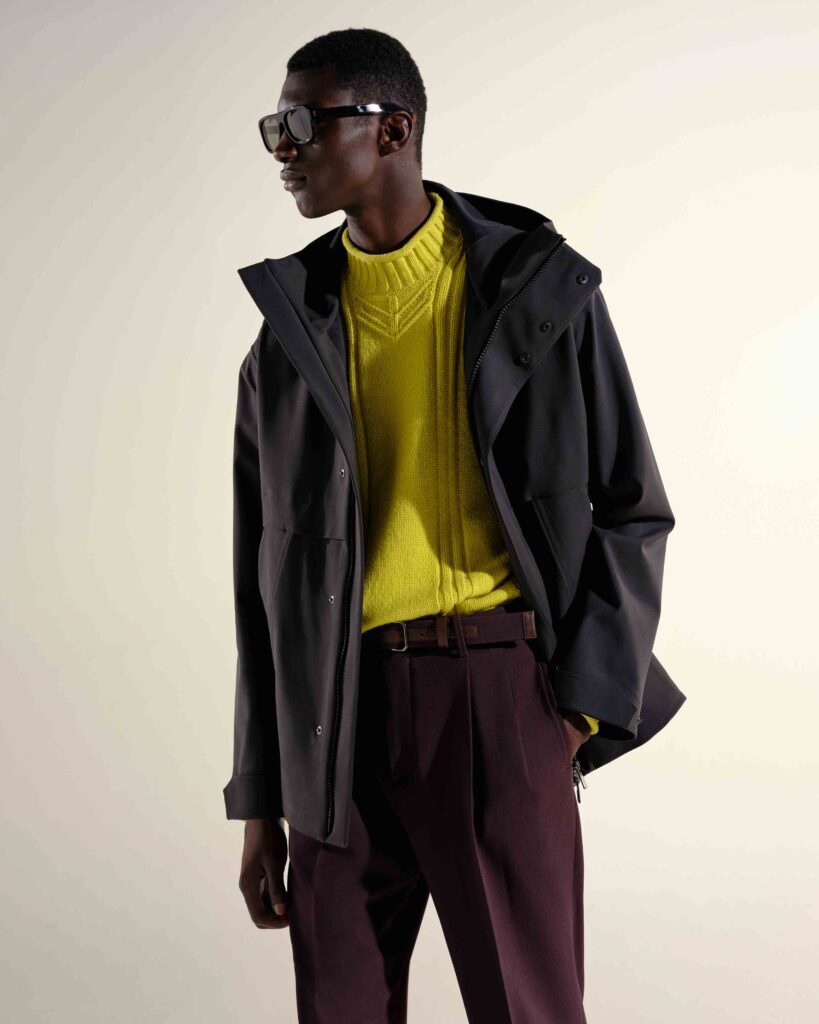 The Fall Winter 2022-2023 Collection is a further exploration of this harmonious dichotomy, with an eye on adventure, interpreted through Loro Piana's trademark sense of ease, and lightness in construction. It consists of an essential editing of staples suited for different occasions and moments of the day, meant to be interpreted according to the will and instincts of the wearer. A wardrobe that is both adaptable and concise unfolds in the succession of single and double breasted coats and long parkas; of zip-up hooded blousons and calfskin bombers; of single and double breasted suits that are formally worn with a necktie or informally paired with a polo neck jumper. Thick ribbed pullovers, softly collared polo shirts, corduroy pants and denim pants bring a leisure spirit to the everyday. Accessories are white sneakers with contrasting details, calfskin boots with a tick white sole, and then beanies and bucket hats.
The color palette is a mix of formal tones of Gray, Navy Blue, Onyx with deep hues of Sugar Plum, Graphite, Dark Claret and natural notes of White, Dusty Beige, Desert Mist, Dill Green, Forest Green. Bright accents of Flaxen and Fluorescent Yellow add movement. The choice of fabrics is quintessentially Loro Piana in the mix of luxurious and outdoorsy textures: cashmere, Baby Cashmere, cashmere and Baby Suri alpaca, Storm System® wool, calfskin, treated cotton, corduroy.
An adventurous spirit with a classical soul materializes, effortlessly.