5 Jul 2022 By AWAY IN STYLE
Loro Piana Unveils The Iconic White Sole Pop-Up Store in Hong Kong
2022年7月4日,香港 — Loro Piana 於6月30日至7月17日期間假香港Elements圓方開設「The Iconic White Sole期間限定店」,以獨特的陳列空間,展示品牌經典White Sole鞋款。期間限定店的主角為 Open Walk 踝靴、Summer Walk 莫卡辛鞋(於2006年在意大利小漁村菲諾港的設計,休閒優雅風格的莫卡辛鞋,是經典帆船鞋的另一選擇),以及獨家的 Summer On The Go 膠囊系列,當中包括新款 Summer Charms Walk 鞋款及拖鞋款式。
Loro Piana 於 6 月 30 日在Elements圓方舉行開幕活動,應邀出席的嘉賓繼有張敬軒、MARF @Collar、Ivy So @Collar及倪晨曦等一眾城中時尚型人。他們率先欣賞各款鞋履設計,並挑選最新推出的吊飾,塑造屬於自己獨有的風格。
期間限定店採用的建築、設計,還有白色、綠松石色和金黃色等顏色,都讓人聯想到航海活動,這亦正是 Loro Piana 一開始設計出White Sole的靈感來源。Loro Piana使用頂級耐磨天然橡膠,配合品牌獨有的技術元素,製作出富有彈性又防滑的鞋底,不會在船上的木頭甲板留下任何痕跡。
Loro Piana 發揮精湛工藝,一如既往地在意大利生產 Summer On The Go 膠囊系列的鞋款,而經防水抗污處理的高級無襯裡麂皮,使用了最優質的翻面全粒面皮革,擁有特別柔軟的手感。從珊瑚色(coral) 到電光藍色 (electric blue) 等明亮誘人的新顏色,飾帶還加上以琺瑯工藝製成的熱氣球、手提箱、飛機、明信片等吊飾,細膩地表達出夏天的活力和旅行的靈感。
Loro Piana 精心挑選材料和顏色來量身製定每一款White Sole,還能在鞋底刻上個人名字,這個細節靈感來自於過去的傳統中,水手們在啟航前會將所有鞋子放入大籃子,藉此輕鬆辨認自己的鞋履。
典雅動感、輕盈舒適、實用百搭,Loro Piana 透過經典White Sole鞋款展現的休閒優雅,成為全球公認的品牌標誌。
Loro Piana The Iconic White Sole期間限定店隨後亦將於東京、大阪及杭州舉行。
Loro Piana The Iconic White Sole期間限定店
日期 :               2022年6月30日至7月17日
開放時間 :        上午11時至晚上7時半
電話:                +852 3904 0860
地點:             九龍尖沙咀柯士甸道西一號Elements圓方1樓金區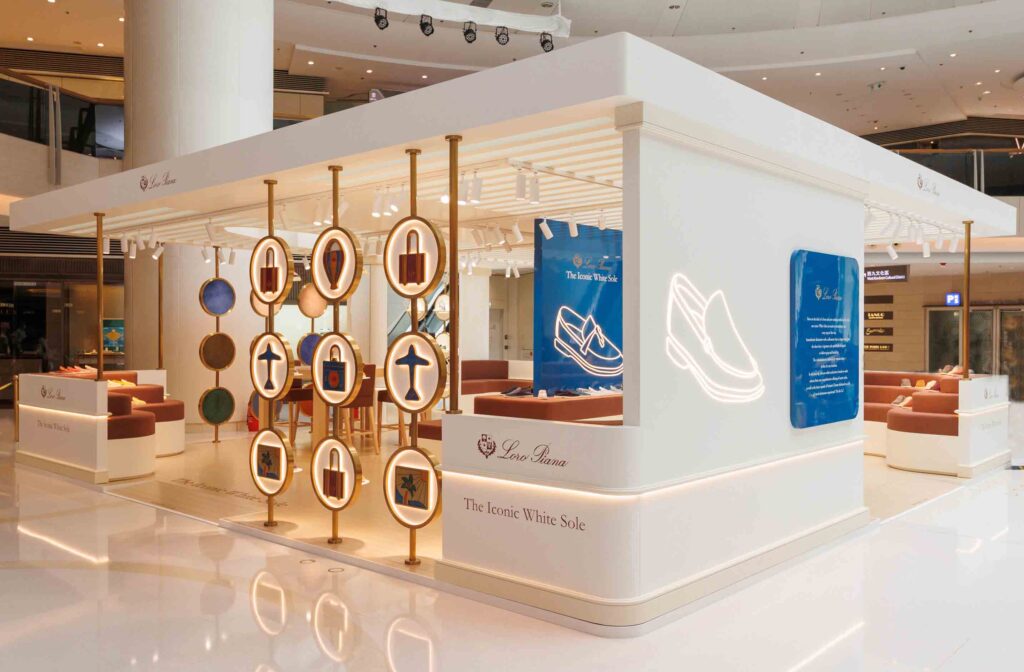 Loro Piana Unveils The Iconic White Sole Pop-Up Store in Hong Kong
 Hins Cheung, MARF @Collar, Ivy So @Collar And Elva Ni Join the Celebrations
 4th July 2022, Hong Kong – Loro Piana inaugurates "The Iconic White Sole Pop-Up Store" from June 30th to July 17th at Elements a unique space dedicated to the world of white soles, the maison's iconic footwear. A special opening ceremony was held at Elements with a glittering list of celebrities and the city's trendsetters which included Hins Cheung, MARF @Collar, Ivy So @Collar and Elva Ni.
The pop-up store's architecture, design and colours – white, turquoise and kummel – evoke the nautical sphere, Loro Piana's initial source of inspiration for the creation of white sole shoes. Indeed, the shoes are distinguished by an exclusive, anti-slip white sole, which is flexible and transparent thanks to a special blend of natural rubber and technical elements exclusive to the maison, designed to leave no marks on wooden boat decks.
Key protagonists are the Open Walk ankle boots, Summer Walk moccasins, created in 2006 in Portofino as an effortlessly elegant alternative to classic boat shoes, and the exclusive Summer On The Go capsule collection, which consists of a new Summer Charms Walk and its slipper version.
The models in the Summer On The Go capsule collection, produced as always in Italy with artisanal savoir-faire and superior materials, are available in the finest unlined suede, with water-repellent and stain-repellent treatment, especially soft thanks to the use of full-grain leather – the highest-quality type – turned inside-out. The bright, inviting new colours, from coral to electric blue, and the decorative band with enamel charms – a hot-air balloon, a suitcase, an airplane, a postcard – express all the vibrant energy of summer and the inspiration to travel.
All of Loro Piana's white sole shoes are made to measure in selected materials and colours and can be personalised with the wearer's name – a detail inspired, again, by sailors who put their shoes all together into large baskets before setting sail.
Elegant and sporty, light and comfortable, practical and versatile, white sole shoes are a symbol of a maison that has made casual elegance a signature recognised worldwide.
The Iconic White Sole Pop-Up Store will also travel to Tokyo, Osaka and Hangzhou.
Loro Piana The Iconic White Sole Pop-Up Store
Date:                           30 June – 17 July, 2022
Opening Hours:             11:00am – 7:30pm
Phone:                          +852 3904 0860
Location:                      1/F Metal Zone, ELEMENTS, 1 Austin Road West, Kowloon, Hong Kong