5 Feb 2022 By AWAY IN STYLE
Love At The Intercontinental Danang Sun Peninsula Resort
Write a New Chapter in Your Love Story this February, with Personalised Experiences at InterContinental Danang Sun Peninsula Resort
InterContinental Danang Sun Peninsula Resort is a haven of luxury, tranquility and romance beyond compare. Nestled in a pristine natural reserve on Vietnam's Son Tra Peninsula, overlooking the endless ocean, this dreamy destination is the perfect place to spoil your partner and write a new chapter in your personal love story.
To mark the "Month of Love" this February, this beautiful Bill Bensley-designed beachfront retreat has crafted a series of magical and meaningful experiences that will help every couple to grow closer together. Whether you're in the exciting early stages of your relationship, planning a proposal, celebrating a major anniversary, or simply want to reaffirm your love and devotion to each other in a spectacular setting, InterContinental Danang sets the stage for life's most memorable moments.
To celebrate Valentine's Day, these exquisite activities are sure to fan the flames of romance…
A morning hike to the banyan tree promises to be an exhilarating and inspiring adventure. This moderately challenging two- to three-hour hike will create a spirit of shared accomplishment, while panoramic coastline views along the way will provide sensational selfie opportunities. The end reward is to soak up the splendour of a 800-year-old banyan tree.
Shared memories are often made when couples learn a new skill together. A Vietnamese cooking class will see the resort's expert chef craft a special menu just for you and your partner. Visit the resort's organic garden to find fresh herbs and spices, then learn the art of making your favourite Vietnamese dishes. It's fun, fulfilling and unforgettable.
Spend a carefree afternoon sharing a couple's spa experience. The Ultimate Indulgence Package at The Lagoon Spa lets loved ones unwind and leave their cares behind. An aromatic foot bath is followed by an invigorating body exfoliation, a full body therapy and a rose oil scalp massage. Afterwards, share Champagne and canapés in the comfort of a spa villa. Pure bliss!
As the sun sets, the resort takes on an enchanting, otherworldly glow. The gardens and forest are quiet and atmospheric, and Bill Bensley's breath-taking architecture appears almost ethereal in the dusk. Invite your partner to take a gentle sunset stroll around the resort and end up at the beach for a cool cocktail at the Long Bar. What a wonderful way to end a delightful day!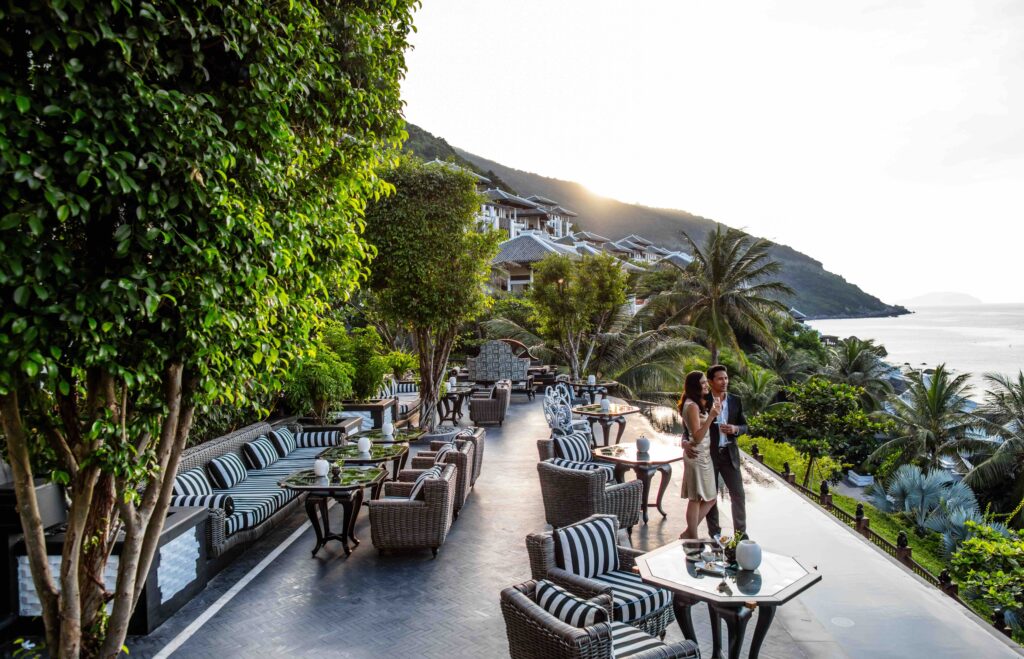 The resort's stunning 700-metre-long private beach sets the scene for romance. Guests seeking a truly alluring evening can savour a beachfront barbecue dinner under the stars, created by the resort's chefs and served at a secluded table-for-two on the shore. Sensational steaks and sumptuous seafood are cooked to perfection, as the waves lap softly on the sand.
A candlelit dinner at La Maison 1888 is an extraordinary epicurean adventure. The multi-award-winning restaurant features a mouth-watering menu by the legendary Michelin-starred chef, Pierre Gagnaire. In a classical French mansion surrounded by lush tropical forest, this is an evening that will enflame the emotions and stimulate the senses.
After dinner, how about cuddling up with a private cinema night? Movie nights always ensure intimate moments and InterContinental Danang Sun Peninsula Resort can set up an exclusive solo screening in its remarkable movie theatre. Add some popcorn, canapés and maybe even a bottle of bubbly to create the ultimate date night!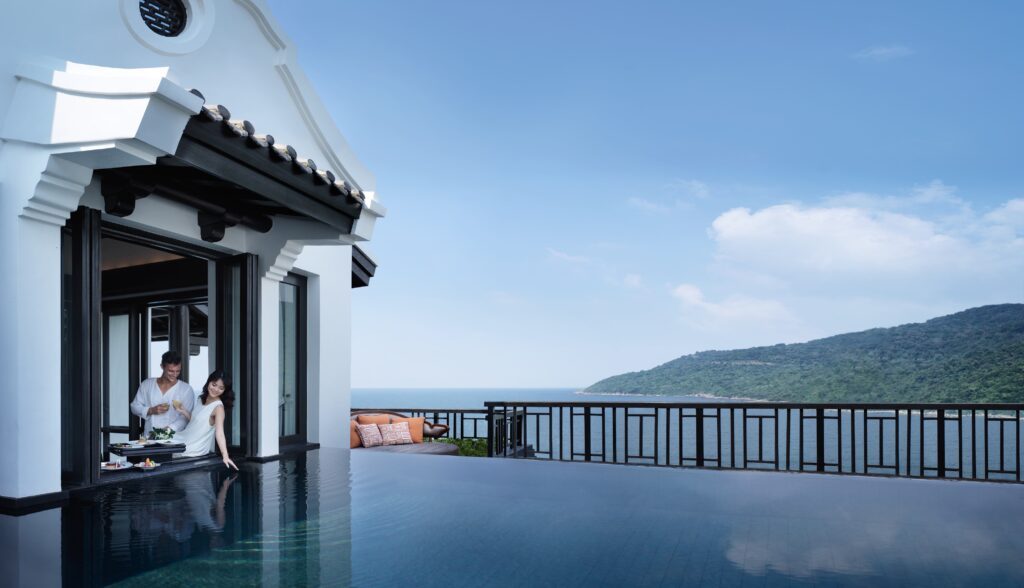 Back in the comfort and luxury of your room or suite, slip into a blissful bubble bath and let the cares of the outside world simply float away. Magnificent marble bathrooms and oversized oval tubs are ideal for couples who want to sink into the warm bubbles together. The resort's team can even set it up with rose petals and a mountain of sparkling suds!
The next morning, there's no rush to get up! Instead of heading to the restaurant, why not simply cuddle up together and order breakfast in bed? With the sound of ocean waves in the background, the resort's team will deliver your favourite Vietnamese, international or healthy breakfast dishes straight to your room. What a dreamy way to start the day.
For the ultimate morning indulgence, plunge into your private pool and enjoy a beautiful floating breakfast. Each villa and penthouse at InterContinental Danang Sun Peninsula Resort features a private plunge pool or full-size swimming pool with breath-taking views of the bay. Fancy a longer lie in? A floating afternoon tea can also be arranged later in the day!
Rates start from USD 350++ per room per night, based on double occupancy and including breakfast.