LUSH Christmas Gifts Collection 2021
This year, the Lush Christmas range has been created with the idea of togetherness in mind after such long periods apart from loved ones, and designed with the intention of providing joy for all who receive them.
We transform trash into treasure, by giving "waste" materials new life! 81% of the Christmas packaging is made from "trash" – household & industry waste paper, drinks bottles and t-shirt offcuts are metamorphosed into marvellous gift packaging moments.
The Lush Christmas collection is now available online and in stores. Free shipping will be offered upon HKD 500 purchase at Lush.com. Enjoy same-day delivery upon HKD 800 purchase (order placed before 12:00nn; except Sunday and public holidays). Let's take the new arrivals home – just one click away!
DREAMLAND GIFT (HKD 750)

This Christmas gift contains a combination of best selling products from our all year round range, exclusives from Christmas 2021, and a 100% organic cotton luxury eye mask, as well as Sleepy bath bomb – a gift exclusive!
Contains: Sleepy Bear Bath Bomb, Sleepy Bath Bomb (exclusive product), Sleepy Body Lotion 45g, Sleepy Shower Gel 100g, Twilight Body Spray 100ml, Sleepy Bubble Bar, Organic Cotton Eye Mask (gift exclusive)

A VERY HAPPY LUSH CHRISTMAS GIFT (HKD450)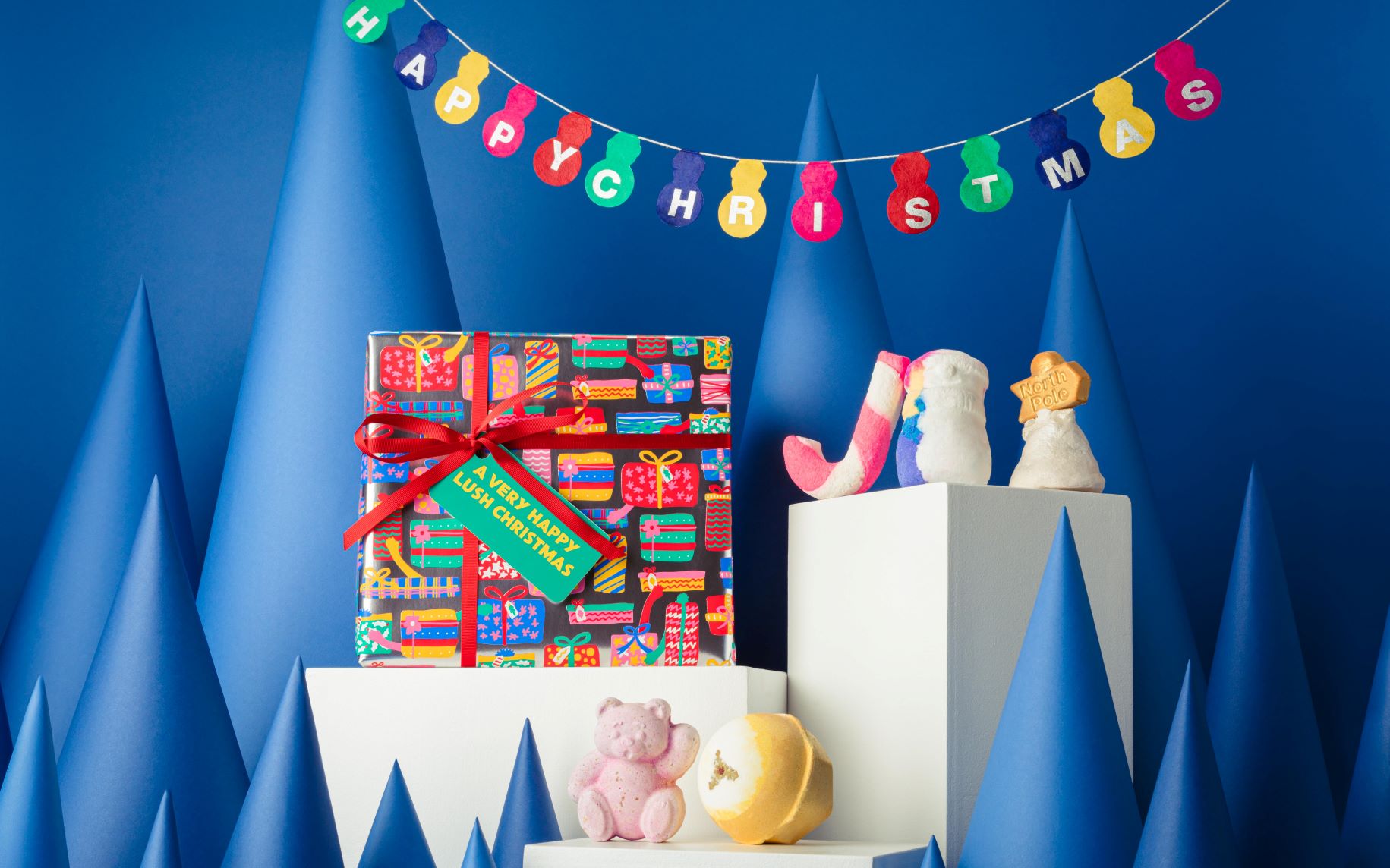 Something for every bath, it's a Lush Christmas gift that really keeps on giving, with activities and games to share with family and friends when you're not enjoying a soak in the tub!
Contents: North Pole Bubble Bar, Candy Cane Reusable Bubble Bar, Snowman Dreaming Bath Bomb, The Golden Pudding Bath Bomb, Butterbear Bath Bomb, Happy Christmas Lokta Paper Banner
LUSH Christmas Gifts Collection 2021
LUSH Christmas Gifts Collection 2021