16 Feb 2022 By AWAY IN STYLE
Moncler steals the show with DingYun Zhang
MONCLER + DINGYUN ZHANG Underwater futurism
Born in China, Central Saint Martins' MA graduate DingYun Zhang launched his eponymous label in February 2021, grabbing the attention of the fashion community with his futuristic collection showcasing gigantic volumes and gargantuan puffers. Zhang's interest in function, padding and volume made him an ideal fit for Moncler. The collection he has devised merges Zhang's futuristic aesthetic with Moncler's unique craft, featuring padding obtained through thermo-glued irregular quilting.
Underpinning the endeavor is a rewiring of the relationship between garment and wearer, with inflated volumes floating around the body and transforming it in sculptural fashion. Playing with contrasts, Zhang took inspirations not from the mountains, Moncler's original environment, but from the depths of the underwater world, and the spineless sea creatures that, with their organic forms, inhabit it. The collection represents the combination of human and animal activity in extreme conditions, with designs inspired by the way ice fishing tents and inflatable pools and vests can suspend themselves in aquatic environments, and how the sculptures in the underwater realm can be transformed with the fusion of sea life and the natural growth of coral.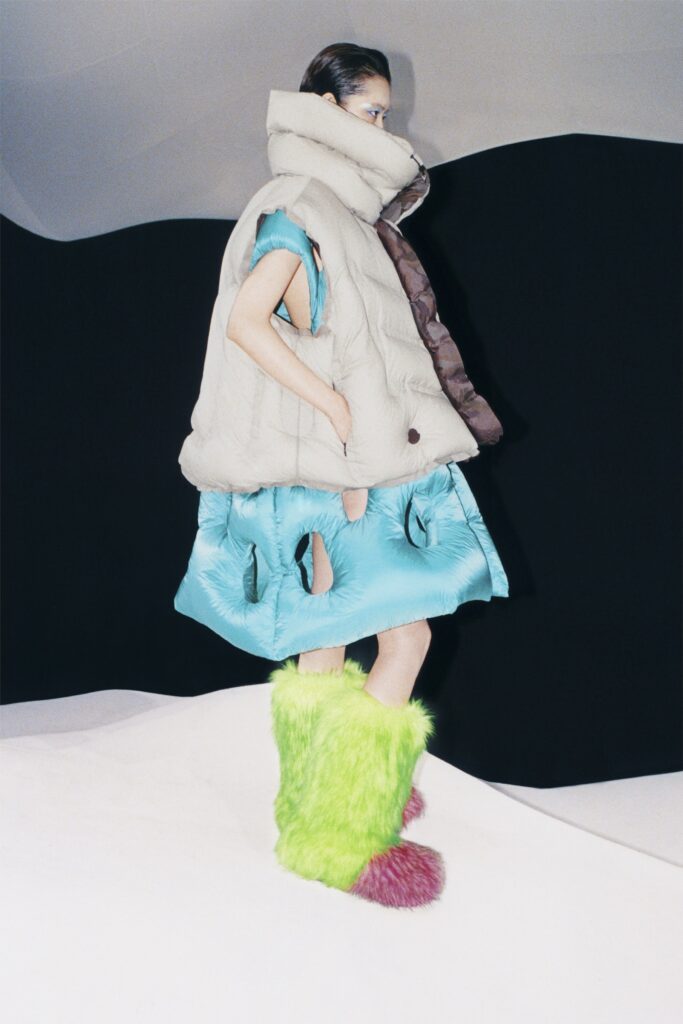 The thought process behind the collection is rich and layered and the result is immediate and eye-catching, with details such as adjustable Chinese style knotted button, hidden zips and thumb-hole ribbed cuffs adding functionality. Huge volumes are obtained through extremely lightweight fabrics. The line-up includes coats, padded vests and cropped blousons either with or without a hood, made of shiny ultra-light crinkled nylon, completed with exaggerated padded face masks, cycling shorts and leggings. The color palette – a mix of brown, light green, light grey, sand, blue and earth tones – resembles the coral and fungi that naturally grow on top of sculptures submerged in the deep sea. The organic tones are translated into an abstract print, and color blocked layers are exposed by holes in the garments.
盟可睞MONCLER+DINGYUN ZHANG聯名系列 水下未來主義
全新盟可睞Moncler + DingYun Zhang聯名系列重磅推出。出生於中國,設計師張鼎昀碩士畢業於 中央聖馬丁藝術與設計學院,於2021年2月正式推出個人同名品牌。他的未來主義系列以巨大廓 形與超膨脹質感為亮點,一經推出便贏得時尚界的廣泛關注。張鼎昀對性能、填充和廓形的自如 運用能力與盟可睞Moncler一拍即合。由其操刀的全新系列,以熱粘技術造就不規則填充絎縫細 節,巧妙融合設計師本人的未來主義美學與盟可睞Moncler的獨到工藝。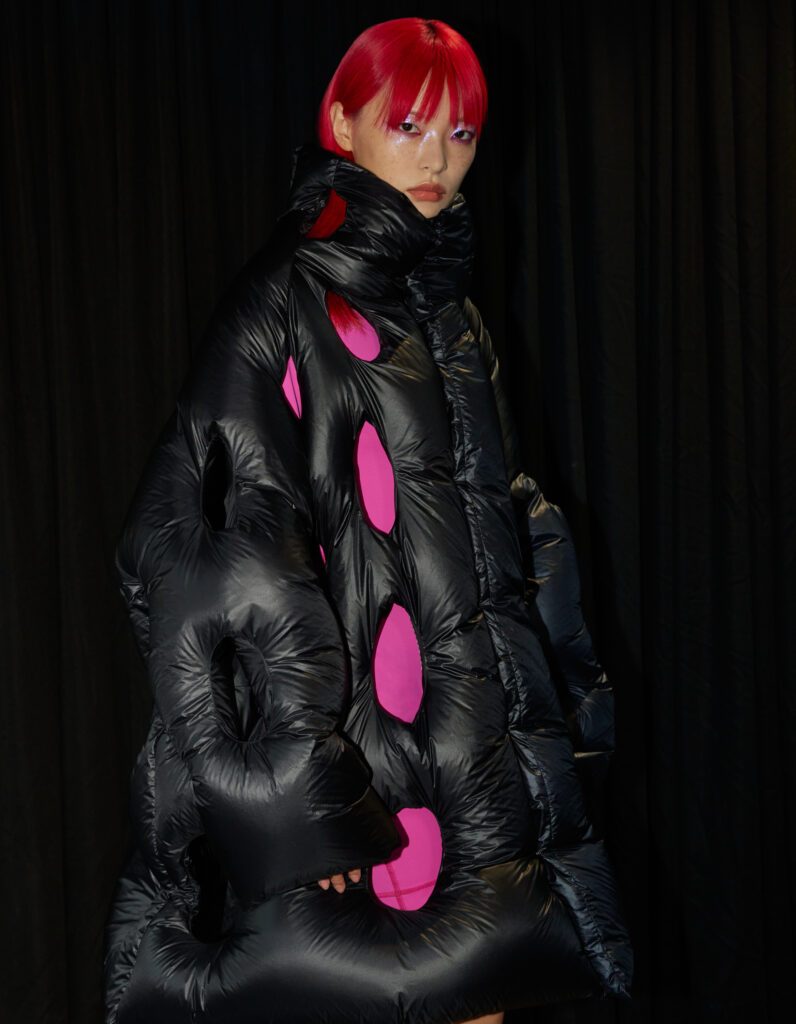 聯名系列旨在重塑服裝與穿著者之間的關係,以膨脹衣身漂浮於身體周圍,打造如雕塑般的時尚 服裝。本系列設計靈感並非源於盟可睞Moncler的經典雪山環境,而是來自深不見底的水下世界, 從海洋無脊椎生物的生活形態中汲取豐沛創意。該系列著重探索極端環境下人與自然和諧相處 的可能性。設計靈感來源於冰釣帳篷、充氣水池、充氣背心在水上懸浮的方式,以及水下雕塑在 與珊瑚等海洋生物融合共生後,產生的滄桑變化。
諸多層面的細緻考量與潛心斟酌,最終造就一個令人耳目一新的全新系列。可調節的中式結扣、 隱形拉鍊、帶拇指孔的針織袖口等細節平添功能特性,並以質地輕盈的面料匠心造就超大廓形。 全新系列包括大衣、填充背心和連帽或非連帽短夾克,以質地輕盈的亮面褶皺尼龍精製而成,並 搭配上誇張的填充面罩、騎行短褲和緊身褲。巧妙糅合棕色、淺綠色、淺灰色、沙色、藍色和大 地色系,生動再現深海雕塑上珊瑚和真菌的自然生長形態。此外,張鼎昀還靈活運用生物色系抽 像印花和富有層次感的鏤空色塊,如此考究細節,盡顯不凡匠心。
盟可睞 Moncler + DingYun Zhang 聯名系列將於 2 月 10 日於海港城旗艦店獨家發售。