30 Jan 2022 By Betty Chung
MORA, NEW FRENCH-CHINESE RESTAURANT BY CHEF OWNER VICKY LAU
MORA (摩), the intimate 28-seater modern French Chinese restaurant founded by Vicky Lau, together with co-founder Romain Herbreteau and Head Chef Percy Ho, is now open at the historic street of Upper Lascar Row (摩羅上街), Sheung Wan, Hong Kong. This iconic location connects MORA and Hong Kong's fascinating history with the Chinese character 摩, representing "texture", which will be the common thread of the texture-inspired menu rooted in one of Hong Kong's oldest culinary traditions: soy food.
MORA is now serving its CHARACTERS OF SOY soft opening tasting menu. The modern French Chinese menu is far from conventional, straying from the traditional format of appetisers, entrees and desserts, and instead separating courses by textural nuances. Every soy-based dish is served in tasteful portion sizes and with consciously selected ingredients in a bid to minimise food wastage and reduce carbon footprint as much as possible.
What is MORA?
The restaurant pays tribute to the culinary significance of the humble and versatile soy, an ingredient considered to be pillar to Asian cuisines and cultures. Not only does soy play an important role in Asian diets, but is a driving force for heritage, tradition, and mindfulness. Its fragility in cuisine can endure time and temperature, while also being fleeting and subtle. When paired with other ingredients in cooking, the possibilities with soy food are surprising as they are abundant.
The myriad nutritious forms in which soy exists in food cultures across Asia are astounding and symbolic, and Chef Vicky has set out to push all boundaries through a menu derived from all-soy products. Most soy food products found on the menu will also soon be created in MORA's own factory in Hong Kong, which utilises a new technology of extracting soy milk with a thicker texture and more intense flavours.
MORA endeavours to introduce yet preserve the historical and cultural significance of soy-based delicacies, with dishes inspired from Chef Vicky Lau's French x Chinese cooking roots. A world of opportunities exists with the ingredient of soy – with its ability to take on an endless variety of shapes, flavours, aromas and textures. Without advocating a fully plant-based, vegetarian or vegan diet, MORA seeks to modernise the way we view and consume soy – as a delicious, nutritious and elevated alternative to other, less-sustainable ingredients and cooking methods. Furthermore, MORA aims to prove that an outstanding meal doesn't require so many meat and seafood ingredients.
"Tofu, bean curd and other foods derived from soy have always been such an integral part of my diet and upbringing. As a chef, the more I learn about soy, the more I seem to fall in love with it. My exploration of soy began at TATE Dining Room from our lunch menu, Ode to Tofu back in June 2020, when I was able to forge relationships with some of Hong Kong's most skilled local artisans and crafters of soy food products. At MORA, I aim to create an entirely new genre of soy-based dishes from all my learnings in and out of the kitchen, bridging emotions and memories with bistro-inspired cooking techniques." says Chef Owner Vicky Lau.
MORA's Sustainability Approach
While tofu and soy products are historically ingrained in Chinese cooking practices as alternatives to meat, Chef Vicky Lau and Chef Percy Ho explores the versatility of soy with a new sustainable approach.
Without preaching against the consumption of meat and seafood, MORA is a revelation into the wonders of soy dishes and the spectrum of textures available to them that simply cannot be replicated by meat. MORA is the first restaurant in the world to showcase the versatility of soy products with French Chinese flavours.
MORA is proud to have built strong relationships with local farmers and producers and seeks to empower the community by sourcing locally (within 160km radius of Hong Kong) as much as possible with almost all ingredients are sourced sustainably, from the wine to its fish and non-GMO soybeans.
MORA's location in Upper Lascar Row, known for its collection of Chinese calligraphy, arts, antiques and vintage stores, is significant for its preservation of cultural and historic relics. MORA aims to do the same through its exploration of soy – a food product that has been part of the Chinese diet for over three thousand years.
One of the key areas of restaurant sustainability that is often overlooked is employee welfare, and MORA takes the welfare of its staff seriously. MORA's dedication to support the local community extends internally to its fair treatment of staff.
Aware of the role that the F&B industry plays in global greenhouse gas emissions, MORA is committed to its goal of reducing its carbon footprint and implementing effective waste management.
Portions are designed to reduce needless waste and leftovers, and come April, MORA will be using tofu made in-house while fully utilising leftover soy products. With the knowledge that commercial kitchens are one of the most energy-intensive building spaces, MORA's all-electric kitchen offers energy and carbon savings over the use of natural gas (methane) – whose global warming potential is 28 times higher than that of CO2.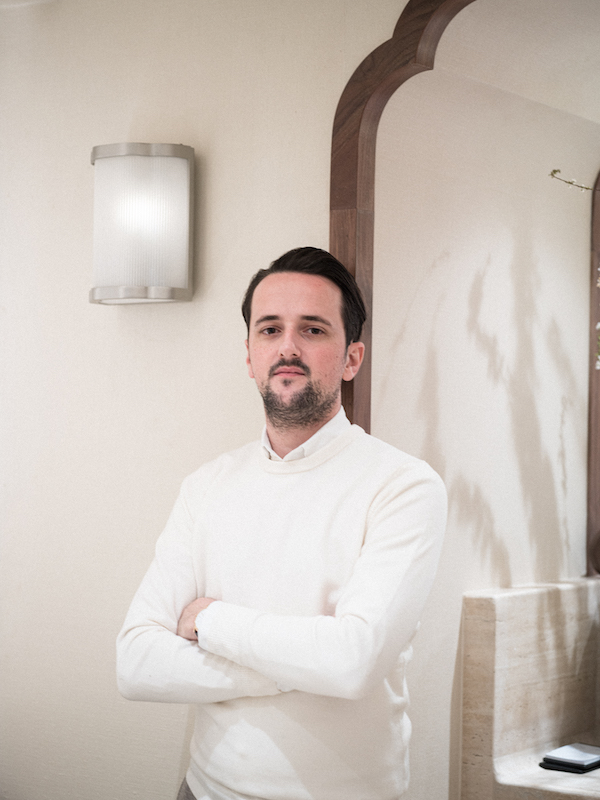 Soy-based Cuisine at MORA
Now open for lunch only from Tuesday – Saturday due to current dine-in restrictions, MORA unveils its very first lunch tasting menu by Chef Vicky Lau and Chef Percy Ho. The menu offers a unique beverage pairing of discerning and sustainable French wines, highly pure sakes, and specialty Chinese teas with character.
The degustation journey begins with the first textural category, SILKEN, which features a refreshing selection of dishes that can be enjoyed with a glass of cold-brewed Gong Mei white tea, a glass of mineral Champagne, or Junmai Dai Ginjo: homemade tofu served with condiments, shima-aji tartare served with bean curd puff stick – chosen over its traditional beef counterpart due to its lower carbon footprint, and pickled seasonal mushrooms salad with brioche cube and whipped soy cream.
The second category, CRISP, offers one of the most delightful sensory textures. Soy-inspired dishes include crispy local threadfin with tofu skin fish fumet, deep-fried tofu cubes with Iberico ham, and Obsiblue shrimp bean curd croustillant. The suggested wine for this texture category is 2019 Yves Cuilleron, Saint-Joseph Lyseras, a white wine from the northern Rhone Valley chosen for its luscious, floral and fruity characteristics.
The soy journey continues with the texture of JADE, which features hand-pulled cold udon noodle in soy milk chicken bouillon with a spicy bean paste, and a deep fried crispy red bean curd local chicken. Red bean curd is a mixture of bean curd, red rice yeast, and chilli, which is fermented until creamy, and is typically used to elevate meat dishes with a new layer of complex umami flavour. Rice-scented pu'erh is the suggested tea choice, a tea traditionally consumed not just for its flavour but to reduce cholesterol levels and stimulate blood circulation with its oxidative properties.
The category of DEW offers MORA's seasonal changing house mapo tofu. For the first menu, the mapo tofu features two types of tofu (hard and soft), to be served with Brittany blue lobster. Enjoy with a tannic and earthy glass of 2017 Nicolas Rossignol, Savigny-les-Beaune, an exceptional Pinot Noir from Bourgogne.
The final category, ICE, is a celebration of sweets. Conclude the lunch on a refreshing note with a winter dessert of sweet potato brulée with homemade soy milk ice cream, best enjoyed with a soothing brew of malty and bright Yunnan Gushu golden tips tea.