5 Apr 2022 By AWAY IN STYLE
Nike retains title as world's most valuable apparel brand
Changing consumer and industry pressures are changing the appearance of the apparel industry as sports and luxury clothing brands surge, and cheap fast-fashion brands contract, according to a new report from leading global brand consultancy, Brand Finance. The new report finds that amongst the top 50 apparel industry brands, the aggregate brand value of luxury apparel brands has grown 21% this year (from US$103 billion to US$125 billion), sportswear brands have grown 10% this year (from US$68 billion to US$74 billion) while fast fashion brands have dropped 7% (from US$44 billion to US$41 billion).
Every year, leading brand valuation consultancy Brand Finance puts 5,000 of the biggest brands to the test, and publishes around 100 reports, ranking brands across all sectors and countries. The apparel industry's top 50 most valuable and strongest brands in the world are included in the annual Brand Finance Apparel 50 ranking.
Over the course of the pandemic, sportswear and athleisure brands have seen a steady growth in brand value as consumers spent more time at home as consumers selected brands for comfort rather than style.
As a result of increased consumer demand for sportswear, brands in the sector achieved significant brand value growth: Nike (brand value up 9% to US$33.2 billion), Adidas(brand value up 2% to US$14.6 billion), Puma (brand value up 13% to US$4.5 billion), and Lululemon (brand value up 28% to US$4.2 billion). Nike retains the top spot as the most valuable brand in the ranking since the rankings were instituted.
Smaller sportswear brands are amongst the fastest growing brands in the ranking with Skechers (brand value up 68% to US$3.2 billion) and Li Ning (brand value also up 68% to US$2.0 billion).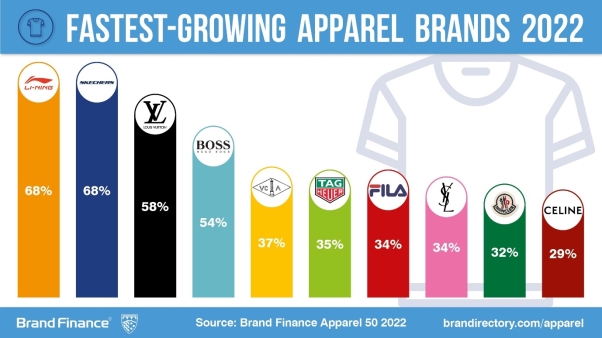 Richard Haigh, Managing Director of Brand Finance, commented:
"Since the onset of the pandemic, market dynamics in the apparel industry have changed monumentally. With convenience at the centre of marketing strategy, luxury and sports brands have mastered online delivery fulfilment. Focusing on social-first marketing campaigns have enabled brands to remain successful through the pandemic and supply chain issues."
Fast fashion brands decline in value
Fast fashion brands such as ZARA (brand value down 1% to US$13.0 billion), H&M(brand value up 3% to US$12.7 billion), UNIQLO (brand value down 26% to US$9.6 billion), and Primark/Penneys (brand value down 10% to US$2.2 billion) have faced tough years with brand value remaining steady or dropping this year.
During the pandemic, consumer demand for online shopping increased as individuals have been bound to their homes and stores closed their doors, while the convenience of online shopping grew in popularity across much of the economy. With many consumers unable to shop at bricks and mortar stores, they made the switch to purchasing on-line.
Many fast fashion apparel brands rely on physical stores for high volumes of sales, but stores needed to close due to pandemic induced restrictions. Fast fashion apparel brands faced difficulty with the fundamental disruption of their brand model as the difficulty of selling low-margin products online is further exacerbated by the additional logistics and delivery costs. This caused the drop in value of brands in the fast fashion sector of the apparel industry.
Recovery in consumer sentiment post- COVID results in surge in brand value of high-end luxury brands
Nine of the top ten luxury brands are now bouncing back into growth as the sector recovers after losing significant value over the previous two years. Consumer sentiment is strengthening with a higher spending on clothing as people have been unable to spend on luxurious vacations. Like across many other sectors of the economy, with people unable to spend money on events such as travel, more consumer discretionary spending has been dedicated to things such as clothing, especially in high-end luxury products. As opposed to fast fashion brands, luxury brands in the ranking were more resilient to the dramatic changes the industry went through during the pandemic.
Luxury brands like Louis Vuitton (brand value up 58% to US$23.4 billion), GUCCI (brand value up 16% to US$18.1 billion) and Armani (brand value up 9% to US$3.3 billion) surged in terms of brand value. Additionally, new entrants into the top 50 apparel ranking are dominated by luxury brands: BOSS (brand value up 54% to US$1.7 billion), Bottega Veneta (brand value up 25% to US$1.7 billion) and luxury jewellery brand Van Cleef & Arpels (brand value up 37% to US$1.7 billion as well).
BOSS is a new brand that has arisen out of the split of Hugo Boss into two separate brands: Hugo and BOSS. To promote the brand during the pandemic, BOSS launched its range of athletic wear with a 'phygital' campaign that leveraged their online social media platforms such as TikTok and e-commerce marketplaces. The campaign resulted in a boost in social media following and impressions and resulted in high volumes of sales. By increasing accessibility via online shopping many luxury brands like Louis Vuitton and Armani welcomed a new demographic of customers during the pandemic.
Luxury brand Dior defends world's strongest apparel brand title with elite AAA brand strength rating
In addition to calculating brand value, Brand Finance also determines the relative strength of brands through a balanced scorecard of metrics evaluating marketing investment, stakeholder equity, and business performance. Compliant with ISO 20671, Brand Finance's assessment of stakeholder equity incorporates original market research data from over 100,000 respondents in more than 35 countries and across nearly 30 sectors. Dior is named the strongest apparel brand in the ranking with AAA brand rating and a corresponding Brand Strength Index (BSI) score of 88.4 out of 100. The brand performed exceedingly well in 2022, going from the 12th rank in 2021 to the top of the table. The luxury fashion brand continued to host socially distanced fashion shows and events to launch new collections.
Over the past year, Dior engaged in a number of digital campaigns to engage with customers online. Most importantly, the brand leveraged the online medium to a great capacity with influencer marketing campaigns on YouTube, Tiktok, Douyin, the Chinese version of TikTok and Chinese video sharing mobile application Bilibili.