18 Dec 2022 By AWAY IN STYLE
NOW OPEN: JOURNEY THROUGH SOUND at KEF Music Gallery
Celebrating the World of Generative Audio Art
Pioneering British audio brand KEF is proud to unveil Absorbed, an inaugural series of unique generative artworks marking the first stage of the brand's Journey Through Sound. Following the successful launch of the collection, the very first of its kind from an audio brand, KEF is now curating and hosting an exhibition to celebrate Absorbed and the world of generative audio art. The inaugural exhibition in Hong Kong is open to the public at KEF Music Gallery until 30 December 2022.
Journey Through Sound is the first in a series of future global events and NFT collections celebrating and exploring the notion of sound in generative art. Organised in partnership with design collective Parameta and generative art platform fx(hash), the exhibition showcases KEF'sAbsorbed collection along with other collections from key emerging generative artists.
To mark the exhibition opening, a vernissage was held on 12 December 2022 for industry guests, friends of KEF as well as the arts and culture community. The private event featured a live panel with Parameta Founder Gus Lee, fx(hash) and prominent generative artists, discussing their work and the future of the space.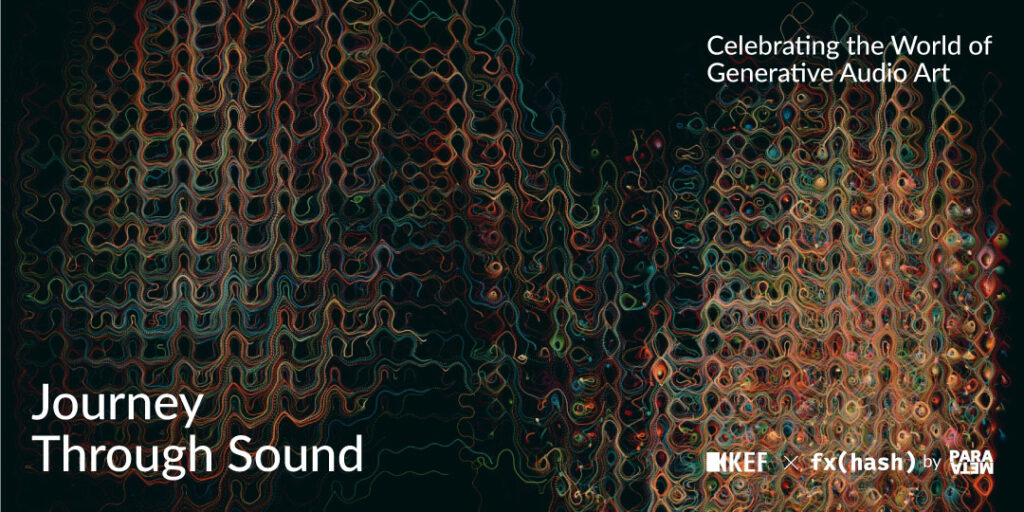 Several artists have designed unique NFT collections for live minting exclusively at the exhibition. From now until 30 December, in-person visitors will have a chance to mint a limited number of specially-reserved Absorbed artworks.
Having firmly established themselves at the forefront of audio excellence with category-shifting technological innovation, design and craftsmanship, KEF is now on a mission to heighten emotional experiences. By uniting sound lovers and immersive explorers on a journey to discover the power of great sound, they hope to bring the virtual world to the comfort of home. KEF is bringing their technology to the forefront of arts and culture by empowering creatives in the Web3 space via strategic collaborations and sponsorships.
As an entrance into the limitless virtual and digital worlds, KEF collaborated with creative studio Parameta and generative artist Hieroglyphica to create a series of NFTs which embody the process of noise becoming sound through KEF's award-winning Metamaterial Absorption Technology. Inspired by the pursuit of high-fidelity, this collection of intricate generative artworks entitled Absorbed explores and animates the battle between signal and noise, order and randomness, where noise is absorbed and high-fidelity is found.
Learn more: https://kef.world/metaverse
Join KEF on Discord: https://kef.world/discord
Visit the exhibition at KEF Music Gallery: 12/F, 1 Duddell Street, 1 Duddell St, Central
Opening Hours:
Monday – Saturday, 10:30AM – 7:30PM
Sunday, 12PM – 6PM
Instagram | Twitter | Facebook | YouTube | LinkedIn
#KEF #KEFListenandbelieve #KEFLS60Wireless #KEFAbsorbed