Oceania Cruises Offers a Taste of the Tropics with a Collection of Voyages Sailing Exotic Tahiti and the Caribbean
The Ultimate in Luxurious Small Ship Experiences Meets Expertly Curated Excursions
Exploring Hidden Island Gems on 100 Voyages in 2024 and Beyond
Oceania Cruises, the world's leading culinary- and destination-focused cruise line, is offering a captivating array of 100 sailings in Tahiti and the Caribbean in 2024 and 2025, charting lesser-known coastlines and taking travellers to boutique ports and off-the-beaten-track islands thanks to the line's small, luxurious ships. Must-sees in French Polynesia include vibrant Papeete, the paradise island of Nuku Hiva, and Bora Bora, the most romantic island in the world. Meanwhile, Caribbean season highlights include Castries on the island of St. Lucia; Puerto Limon in Costa Rica; Gatun Lake in Panama; and Colombia's magnificent colonial city of Cartagena.
Sailing from Miami, Cartagena, New York, Los Angeles, Bridgetown, Panama and Papeete, this impeccable selection of carefully crafted voyages aboard Marina, Nautica, Sirena and Oceania Cruises' new ship, Vista, is ideal for travellers who dream of sojourns in tropical archipelagos and who wish to explore colonial cities and soak up the laid-back, island atmosphere. Voyages range from seven to 16 days, sailing to iconic Caribbean destinations including Bridgetown, Cartagena, Gustavia, Puntarenas, San Juan and St. John's. Many of these voyages feature memorable daylight passages through the Panama Canal, linking sought-after Caribbean destinations with storied Pacific Riviera ports such as Acapulco, Cabo San Lucas and Puerto Quetzal.
With more than 60 immersive ports of call, Oceania Cruises' carefully planned itineraries invite travellers to experience blissful escapes on delightfully less-travelled islands with the cruise line's smaller ships able to access boutique ports and yacht harbours in destinations such as Moorea, Raiatea and Rangiroa in French Polynesia, and Barbuda, Dominica and the British Virgin Islands in the Caribbean.
Sailing with Oceania Cruises is the most relaxing way to visit French Polynesia – an exotic utopia and haven of idyllic beauty and tranquillity. From Tahiti and Bora Bora to the sapphire seas of Moorea, the line's South Pacific sojourns cover some of the most remote and gorgeous islands in the world, filled with blue lagoons, coral atolls and lingering sunsets. Carrying fewer than 700 guests, Nautica provides an intimate experience for travellers to explore the region, with 10-day itineraries designed to offer a unique flavour of this South Pacific jewel.
Coveted Caribbean attractions including St. Lucia's Pitons, Antigua's stunning choice of 365 white sand beaches, the blue cobblestone streets of Old San Juan and ancient sacred ruins like Chacchoben and Kohunlich from Costa Maya are on offer. Enjoy a daylight journey through the Panama Canal and visit some of Central America's most enticing destinations.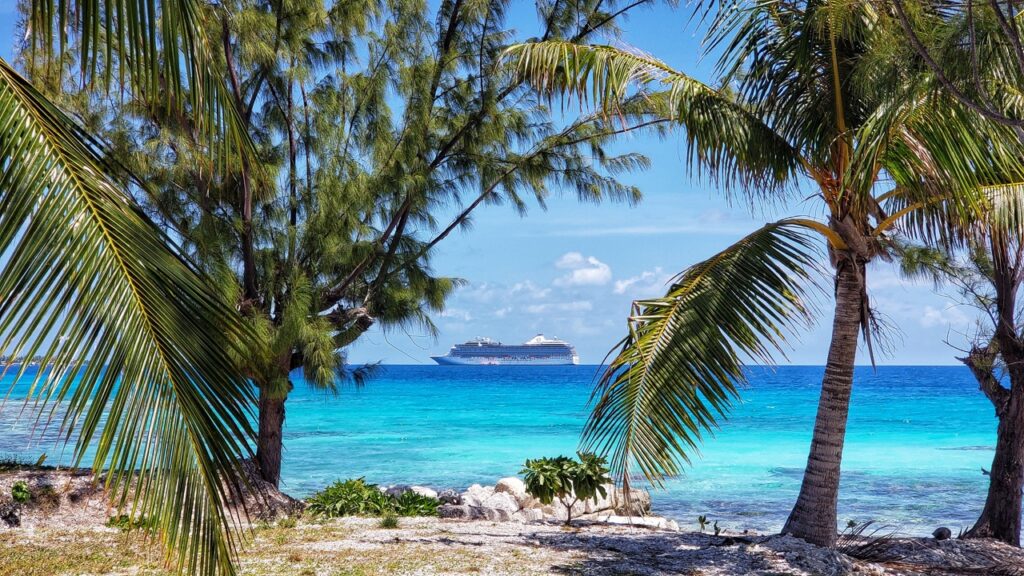 ---
Tahiti Voyage Highlights:
Tahitian Legends: 10-days roundtrip from Papeete (Tahiti) aboard Nautica, overnighting in Papeete and Bora Bora and visiting Moorea, Fakarava, Nuku Hiva, Rangiroa and Raiatea. Departs January 20, 2024.
Lands of Captain Cook: 31-days from Papeete to Sydney aboard Nautica, overnighting in Papeete, Bora Bora and Sydney and visiting Moorea, Fakarava, Nuku Hiva, Rangiroa, Raiatea, Papeete, Bora Bora, Pago Pago, Apia, Suva, Bay of Islands, Auckland, Rotorua, Gisborne, Wellington, Burnie and Eden. Departs February 19, 2024.
Tahitian & Hawaiian Hues: 18-days from Los Angeles to Papeete aboard Nautica,overnighting in Bora Bora and Papeete and visiting Lahaina, Honolulu, Hilo, Raiatea and Moorea. Departs January 8, 2025.
Tahitian Legends: 10-days roundtrip from Papeete (Tahiti) aboard Nautica, overnighting in Papeete and Bora Bora and visiting Moorea, Fakarava, Nuku Hiva, Rangiroa and Raiatea. Departs February 15, 2025.
---
Caribbean Voyage Highlights:
Golden Sands & Sunsets: 10-days roundtrip from Miami aboard Vista, visiting St John's, Castries, Bridgetown, Gustavia, San Juan and Puerto Plata. Departs February 18, 2024.
Island Tapestry: 10-days from Cartagena to Miami aboard Sirena, visiting Santa Marta, Oranjestad, Willemstad, Castries, Codrington, San Juan and Great Stirrup Cay. Option to combine this voyage with the Reefs & Rhythms sailing to create an immersive 20-day circle of the Caribbean. Departs March 17, 2024.
Beyond the Panama Canal: 16-days from Miami to Los Angeles aboard Nautica, daylight transit of the Panama Canal and visiting Great Stirrup Cay, Cartagena, Puntarenas, Corinto, Puerto Quetzal, Acapulco, Cabo San Lucas and Ensenada. Departs December 23, 2024.
Radiant New Year: 12-days roundtrip from Miami aboard Vista, visiting Costa Maya, Harvest Caye, Roatan, Puerto Limon, Colón, Cartagena and Port Royal. Departs December 27, 2024.
---
For additional information on Oceania Cruises' small-ship luxury product, exquisitely crafted cuisine, and expertly curated travel experiences, visit OceaniaCruises.com, call +852 800-967609 (Hong Kong), +65 31 651 677 (Singapore), or speak with a professional travel advisor.