23 Jan 2022 By AWAY IN STYLE
Orka Wellness Concept Brings All-Day Health-Conscious Gem
Orka, meaning 'energy' in Swedish, is the newest wellness concept to open in the center of Hong Kong's busiest district. 
Orka Wellness Concept aims to bring a 'wow' factor — "wellness on Wyndham" — by offering a tasty and affordable social affair, bringing the wellness community something new and exciting through sustainable and health-focused menus, introducing underrated superfoods to the forefront of the city's dining scene.
Promoting a five-dimensional experience, Orka incorporates visual, aroma, flavour, energy and social responsibility into every aspect of its concept, and provides both vegan and non-vegan options to all diners for an all-inclusive dining experience.
Nobin John, Co-founder of Orka Wellness Concept, is a socially-responsible food and coffee lover, and board-certified Functional Medicine Health Coach, as well as a holistic medicine and nutrition expert, who decided to bring this unique wellness space to Hong Kong earlier last month, due to the gaps in  relaxing yet healthy offerings in the city. "Positivity is the need of the hour and the key ingredients to that are a balanced living approach and elevating food ingredients that power a positive mindset. Food has historically united people, but today, because of our varied dietary preferences, we find ourselves making sacrifices too often to facilitate the needs of others. The way forward will be to challenge culinary boundaries and have venues that offer at-par offerings for both vegans and non-vegans equally. Going plant-based is a solution, but plant-based need not be an all-or-nothing approach. Even if a non-vegan shifts his or her plate towards a 75% plant-based diet, that itself will contribute hugely to making this world a better place and reducing carbon footprint."
Helming Orka's kitchen is Head Chef & Culinary Director Ching Tso, who has worked under renowned chefs such as Gordon Ramsay and Shane Osborne in London, then relocating to Hong Kong to continue his training and eventually rejoining Osborne and opening Arcane as Sous Chef in 2014, which now holds one Michelin star. At Orka, Chef Ching combines his knowledge of years of fine dining experience with his enthusiasm around sustainability and using clean, wholesome ingredients. His menus showcase the perfect marriage of health and wellbeing with culinary influences from both Asia and Europe. His dedication to preparing all dishes and sauces in-house is reflected in his responsibly-sourced and carefully curated menu items.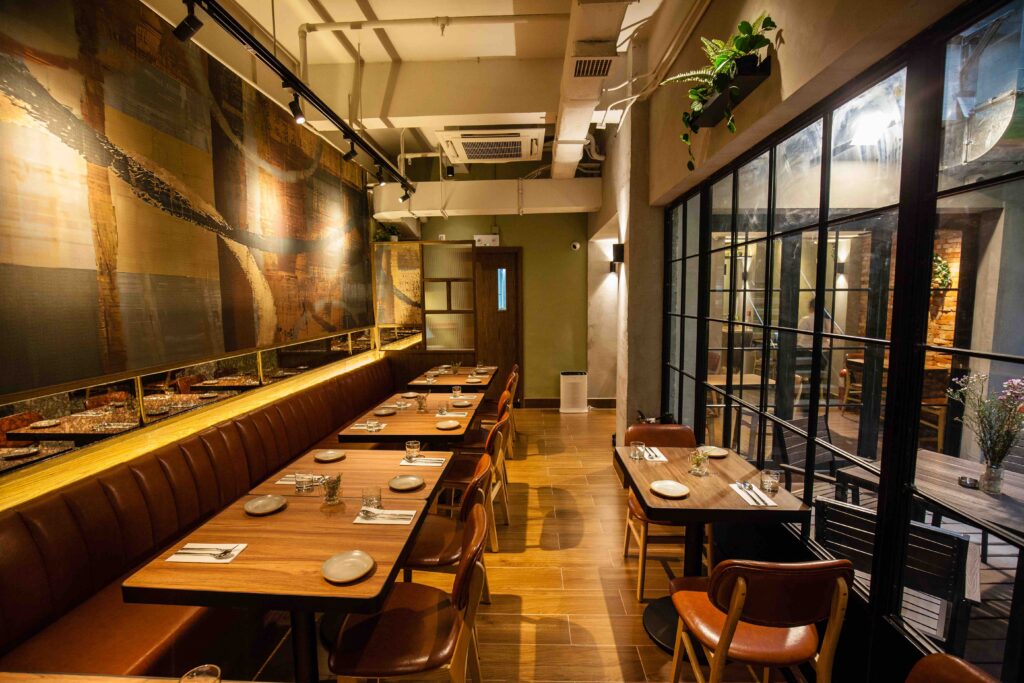 Orka's signature gut-healthy dishes from the all-day a-la-carte menu include starters such as Beet This Soup (HK$98) a lush vegan dish made with beet, lime, coconut, pumpkin seed and galangal, and the Aqua Spark Salad (HK$148) with umami seaweed, organic chives and Gochujang, finished with applewood smoked salmon or the vegan herb-marinated jackfruit. Unmissable mains include the Bibambap ZEN (HK$238), a generous rice dish topped with assorted vegetables, kimchi and either a light beef tartare or soy-marinated jackfruit. Delectable desserts such as the G.M.T. Toffee Pudding (HK$128) made with banana, pandan, mango and coconut, and Petit Force (HK$78) are must-tries.
Designed for citydwellers on-the-go, Orka now offers complete meals that are designed closely with wellness professionals to ensure both macro and micronutrient requirements are met in meals, be it vegan or non-vegan, with the aim of staying energised during a busy day at work. First is the quick and affordable Quickie Menu available from 12pm, offering vegan dishes such as the Hungry Jack's Sourdough Sandwich (HK$98) served with homemade pickles and Perilla leaves, and Yogi on Sands (HK$98), featuring spice-marinated banana blossom served with coleslaw and guacamole. Those who opt for non-vegan dishes can enjoy satisfying plates such as the signature Mighty Bulgogi Burger (HK$128) with Australian wagyu, homemade pickles and Perilla leaves, and the Smokey Linguine (HK$138) with fiddlehead, garlic and Perilla seed, served with the diner's choice of applewood smoked bacon or smoked shiitake mushrooms as a vegan option. The menu will offer a seasonal variety of customisable add-on options to meet any dietary needs.
The three-course Executive Set Lunch, priced at HK$168, is also available from 12pm onwards, with gut-healthy sourdough bread served with homemade vegan butter, alongside starters such as the Tartare Elevation with a Korean-style beef or the vegan patty version made with pumpkin, portobello mushroom and organic tofu, which are mixed with crunchy water chestnut, pear and Perilla leaf, or The Grounding Soup made with cauliflower and leek, puffed rice and an aromatic leek oil. Mains include Meat or not to Meat with wagyu beef cheek and bone broth or the vegan banana blossom and chickpea, served alongside root vegetables and legumes. Fish or not to Fish is a lighter main dish served with Jerusalem artichoke, sugar snap peas and shallots, and guests can select from an Ora King salmon or home marinated tender jackfruit wrapped in kimchi.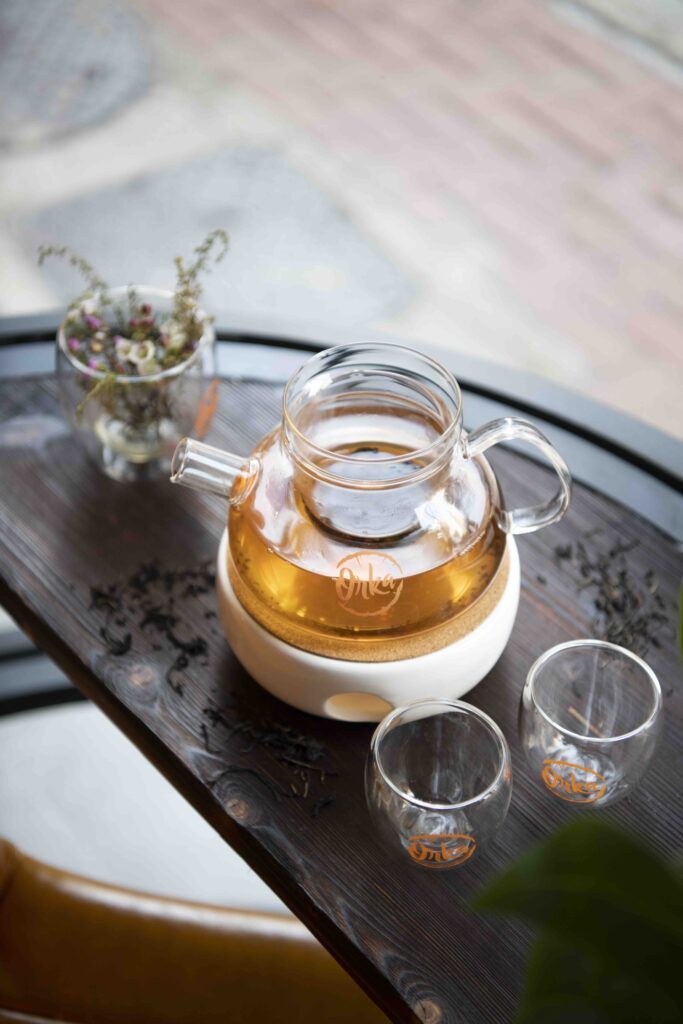 Orka's signature teas feature single-origin organic teas from the foothills of the Himalayas and Assam, blended by the founders themselves. The blends are curated and are classified in three groups — 'Awakening', 'Refreshing' and 'Relaxing' — where guests can select their brew based on the mood they wish to trigger. The exclusive Functional Lattes & Smoothies are also a great addition to the beverage menu, showcasing natural ingredients and LowGI Palmyra Blossom sugar in blends including the Golden Elixir (HK$45) with turmeric, cinnamon, black pepper, and coconut, the Butterfly Blue-Pea Elixir (HK$47) with cinnamon, nutmeg, and ginger, and the Moringa Chai Elixir (HK$45) of moringa powder, cinnamon, ginger and coconut milk powder.
Orka Coffee Designs — "OCD" — host multiple functional coffee drinks that combine healing ingredients with coffee to create a unique, mindful and delicious experience. A favourite is the Maca'XP French Press (HK$75), made with organic black maca root, a unique caffeine-free offering that mimics a nutty roast. Orka's house coffee blend is a mix of premium Ethiopian and Yunnan beans — an "East meets West"-take on coffee. Orka also serves other single origin espresso beans served in-house and for retail. For plant-based milk lovers, soy, oat and macadamia nut milks are also available.
Diners can now enjoy a well-rounded and healthy Orka meal safe at home, offering up to 15% off for pickup on all dishes and menus with their choice of a complimentary wellness tea, available all day until 10pm. Delivery is now available on FoodPanda and will be on the Oddle platform across Hong Kong soon.
Additionally, Orka's flagship space offers a lavish event and workshop area on the first floor for hiring out, where wellness classes, life event celebrations, seminars, pop-ups and other health and wellness-promoting activities will take place. The retail section, where dine-in guests can enjoy a 5% discount, will showcase shelves of wellness products that are also served in the restaurant, including an array of tea blends and coffees.
Address: 36 Wyndham Street, Central, Hong Kong | Tel: +852 3489 1217 | Opening hours: Mon–Sun: 8:00am–10:00pm