24 Dec 2022 By AWAY IN STYLE
Pacific Place Celebrates the Chinese New Year with a Joyful Spirit
Hop into the Year of the Rabbit where prosperity and good fortune await!
 Pacific Place wishes shoppers a year full of harmony, kindness and elegance in the Year of the Rabbit.  To celebrate the Chinese New Year, Pacific Place is collaborating with the renowned creamy candy brand "White Rabbit" – to bring to the city the brand's first-in-Hong Kong exclusive pop-up store.  Running from 10 January until 5 February 2023, the store will offer a new flavour of its iconic creamy candies debuted in the city, as well as limited White Rabbit-themed merchandise that will get everyone nostalgic.  In addition, a series of exciting shopping rewards, including the exclusive 3D Lai See inscribed with the essence of White Rabbit, will be offered to Pacific Place shoppers, allowing them to indulge in the festive spirit to the fullest.
In the scenic contemporary Chinese landscape installation, rabbits excitedly jump into a paradise of flora and fauna.  This Rabbit Garden exudes the charm of the rabbit characterised by its daintiness and vibrancy in pursuit of festive indulgence at Pacific Place.  Surrounded by lush greenery and peachy blossoms set in a pink and red colour palette, the rabbit gratefully welcomes the new year with enthusiastic affection. Shoppers can join the celebration to welcome the year ahead by bestowing best wishes and blessings to everyone.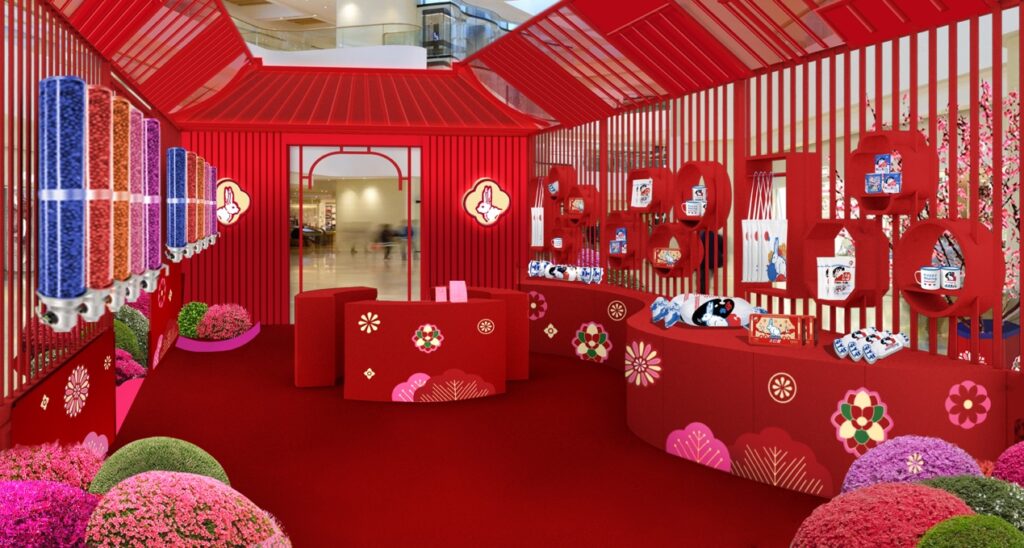 A collection of New Year Shopping Rewards is waiting for Pacific Place shoppers, including an elegantly designed red packet proudly presented by Pacific Place featuring the White Rabbit.  Incorporating a 3D design, the red envelope depicts two White Rabbits amidst a dynamic ambience as it unfolds.  The floral illustration further encapsulates wishes of good wealth and a bright future, making it an exquisite and memorable gift filled with the sincerest blessings.
THIS IS THE PLACE to kick off the splendid new year with bliss and good fortune!