4 Feb 2023 By AWAY IN STYLE
PEGASUS 88M SUPERYACHT "VIRTUALLY INVISIBLE"
With reflective 'Solar Wings' it's the world's first 3d printed superyacht solar-electric / hydrogen hybrid with zero emissions and with multi-level "Tree of Life" hydroponic garden providing fresh food and air purification
by jozeph forakis … design
The first 3D-printed superyacht (integrated hull and superstructure) is 88m/288ft LOA
Designed to be "virtually invisible" – both visually and environmentally.
In keeping with the nature-friendly theme, the exterior design features a multi-tiered 'wings' superstructure with mirrored glass reflecting the sky, clouds, and surrounding environment.
The centerpiece of the interior design is the multi-level "Tree of Life" hydroponic garden providing fresh food and air purification.
The glass of the superstructure incorporates transparent solar panels to power electrolyzers extracting H2 from seawater. Fuel cells convert H2 to electricity stored in Li-on batteries for powering azimuth pods, and all operating and hotel systems.
Zero emissions and infinite range.

A Jozeph Forakis rules-breaking concept uses robotic 3D printing

After the world premiere of his award-winning CLX96 design (exterior and interior) at FLIBS 2022, international designer Jozeph Forakis presents the visionary PEGASUS envisioned for introduction in 2030.

The futuristic yacht was conceived on a beach in Koufonissi island, Greece. "I was inspired to create a yacht as close to the sea and nature as possible, made of clouds floating above the waterline," Forakis says, "I wanted to honor nature by blending into it, becoming virtually invisible."

This desire for "invisibility" drove Forakis to develop a true zero emissions yacht that is "invisible both in design and in her environmental impact," says the designer.

With characteristic in-depth research, Forakis and his team at jozeph forakis … design composed a symphony of selected advanced technologies (existing and currently in development) to achieve unprecedented levels of sustainably, range, and structural integrity.

The 88m superyacht's construction uses robotic 3D printing to create a mesh framework integrating both hull and superstructure. The result is an extraordinarily strong and lightweight structure that can be produced using less energy, material, waste, space, and time compared to conventional construction.

The unique exterior design starts with a low, linear hull with a plumb bow and silverymetallic finish, which blends chameleon-like with the water's colors and movements. This foundation at the waterline supports the superstructure with multi-tiered, ephemeral glass wings that reflect the clouds and the sky.

Like a shape-shifting vessel from the future, the elegant, lattice framework of her 3Dprinted structure becomes visible thru the reflective glass at certain angles and lighting conditions. The dramatic triangulated structure allows light to penetrate all levels of the interior while framing the remarkable views in all directions.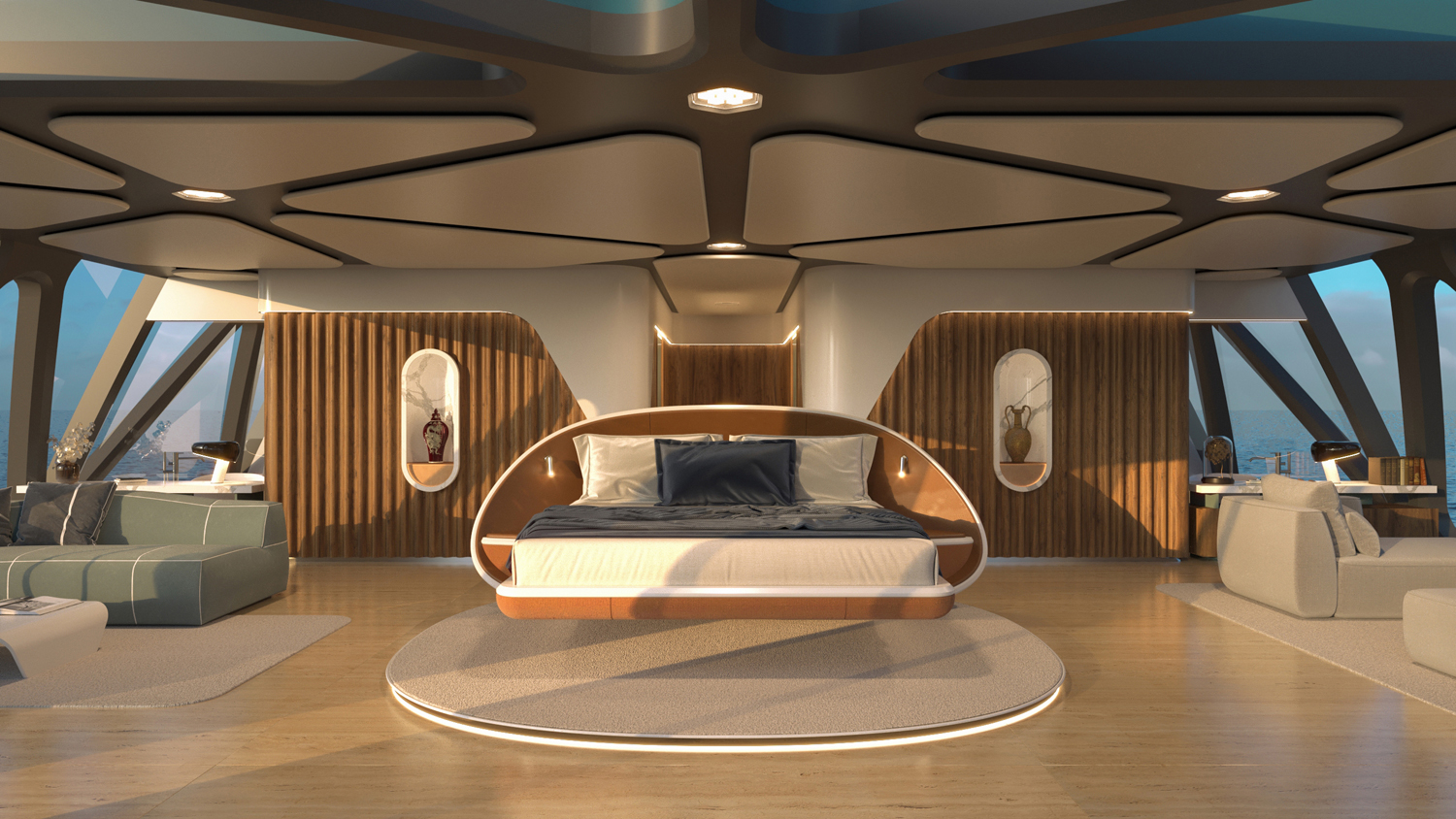 The multi-level "Tree of Life" is a living, breathing monument to mother nature

The centerpiece of the futuristic interior design is the multi-level "Tree of Life" – a living, breathing monument to mother nature and the nucleus of the hydroponic garden providing fresh food and air purification. The base of the tree emerges from a reflecting pool on the lower deck and is surrounded by the hydroponic + meditation Zen Garden. The tree extends vertically thru all four levels accompanied by a sculptural spiral staircase.
The spacious guest lounges showcase the harmonious balance of minimalist design and living nature, both inside – with living greenery and rich appointments skillfully integrated throughout – as well outside with uninterrupted views in all directions and copious daylight penetrating to the core.
The top level is exclusive to the owner, with forward facing master-suite featuring a large private terrace.
The forward pool club has an aquarium-style lap pool and expansive horizontal windows that transform into open balconies on both port and starboard. When closed, the pool cover functions as the helipad.
At the aft of the ship, the open beach club with an oversized Jacuzzi and fold-down balconies transforms into an enclosed solarium with sliding glass panels across the ceiling and down the transom bulkhead.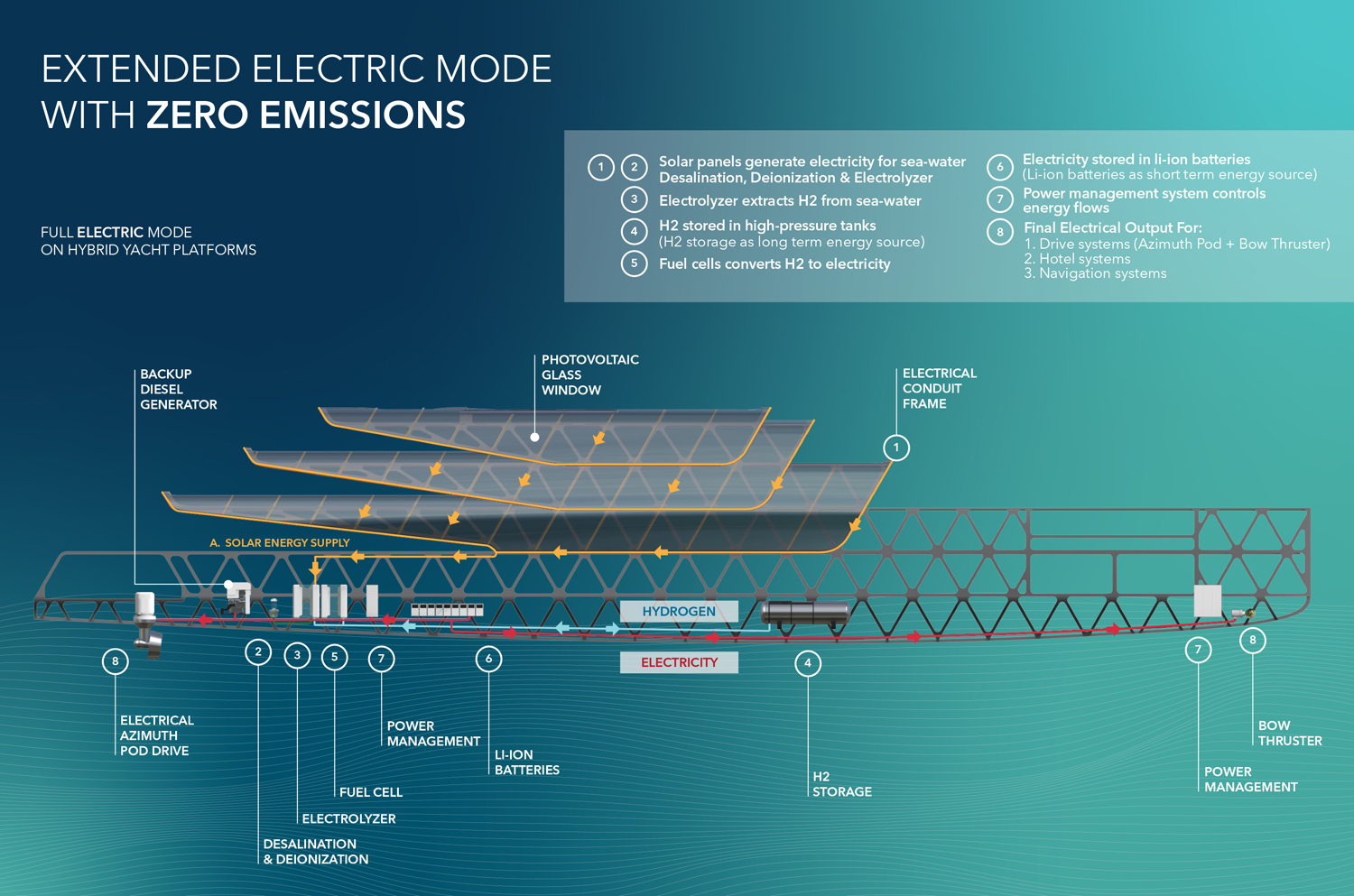 Solar energy converts seawater into hydrogen, producing zero emissions and infinite range.

In operation PEGASUS will produce zero carbon emissions and will have a virtually unlimited range. Solar energy is used to convert seawater into hydrogen which is stored for longer periods. Onboard fuel cells convert the H2 into electricity stored short-term in Li-ion batteries.
Solar panels generate electricity for sea-water Desalination, Deionization & Electrolyzer
Electrolyzer extracts H2 from sea-water
H2 stored in high-pressure tanks (H2 storage as long term energy source)
Fuel cells converts H2 to electricity
Electricity stored in li-ion batteries (Li-ion batteries as short term energy source)
Power management system controls energy flows
Final Electrical Output For:
Drive systems (Azimuth Pod + Bow Thruster)
Hotel systems
Navigation & safety system
Jozeph Forakis states – "Now is the time for courageous leaps toward our collective sustainable future. PEGASUS is a bold but achievable vision for the near future of the superyacht industry, where man and machine live in harmony with nature rather than competing or compromising it.
At jozeph forakis … design, our experience designing across many industries gives us unique exposure and perspective to various new technology and innovation verticals.
The aimed added value here is the design vision that guides the skilled selection, research, development, and transfer of several critical technologies from disparate industries that generally don't communicate with each other to create a unique composition that helps fulfill that vision as a harmonious, original design".