3 May 2023 By AWAY IN STYLE
Penelope CRUZ wearing CHANEL at the 2023 MET GALA
Penélope CRUZ, Co-chair for The Costume Institute Benefit and CHANEL Ambassador, wore a custom long dress with a large shawl collar in light blue organza embroidered with silver sequins and a silver leather belt embellished with pearls inspired by look 81, from the Haute Couture Spring-Summer 1988 collection. CHANEL bag and shoes ROUBACHKA bracelet in white gold, cultured pearls and diamonds. "LE PARIS RUSSE DE CHANEL" Collection. CHANEL High Jewellery COMÈTE Couture ring in white gold and diamonds. CHANEL High Jewelry COMÈTE DIAMOND ring in white gold.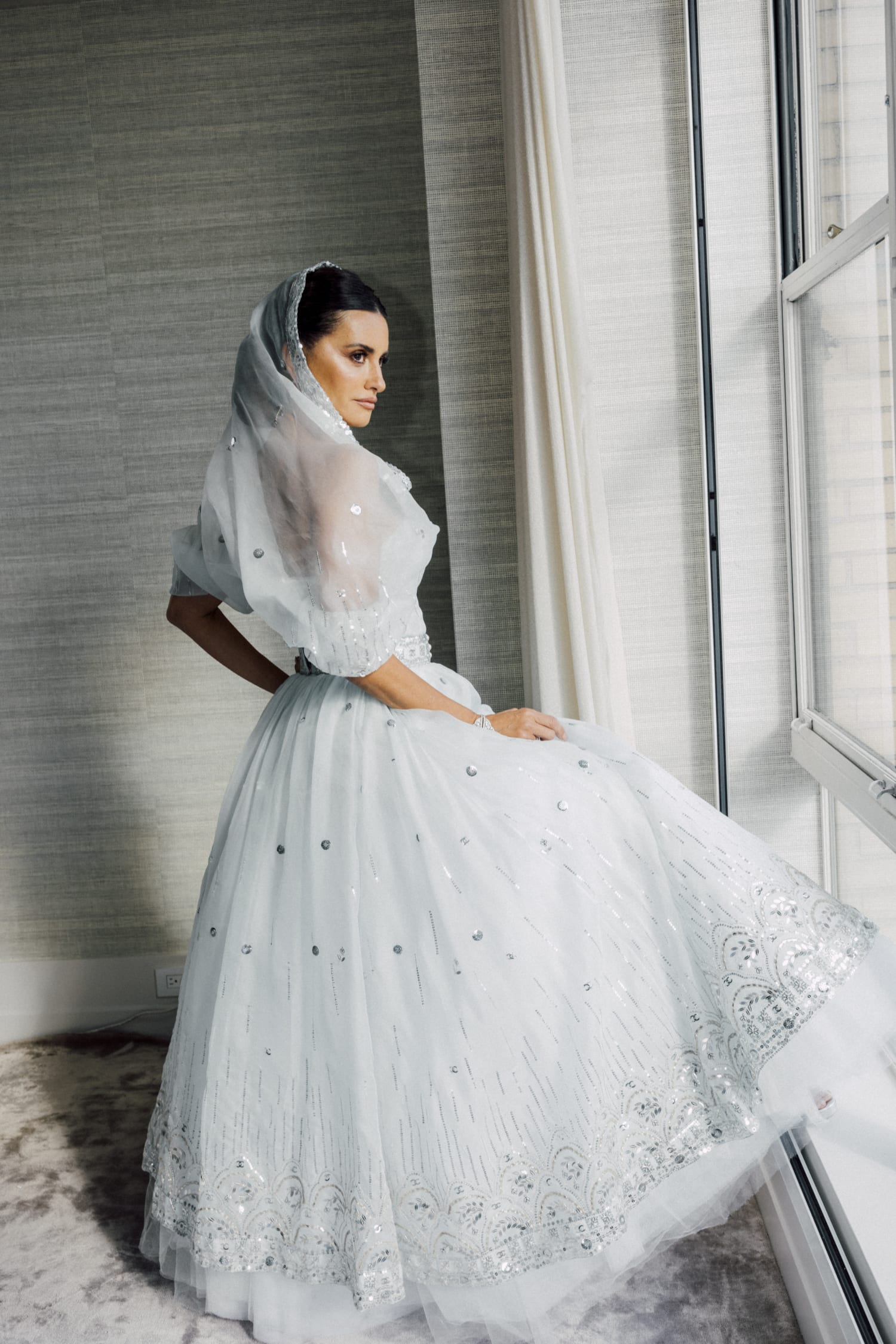 In conversation with Penélope Cruz
Three adjectives to describe Karl Lagerfeld?
Genius, Unpredictable, Funny.
Can you tell us about your first meeting with Karl Lagerfeld? 
The first time I saw Karl, it was at a show, Spring-Summer 1999, somebody introduced us and we said hello to each other. That's when I met also all the CHANEL people who for the most of them are still working for the House, which is a very good sign. Then I met Karl again in his studio because there was one look, a wedding dress, that I was going to wear at the Goyas. He gave me a beautiful sketch that he did with my face and I was so honored and blown away, it's such a special gift to have.
What is your best memory with Karl Lagerfeld? 
For sure the walk we took very late at night in Central Park after his last show at the MET which is the last collection where he was present. We went together at the after party. He seemed very calm, very happy. There was something in his energy that day that felt almost childish. I loved seeing him like that. It was a beautiful night we shared together.
A secret he shared with you that you never revealed until today (it's about time!) 
We liked talking about doctors and about genetics! That's one of the things that made us connected.
The most amazing CHANEL fashion show under Karl Lagerfeld you've ever attended?
Many with him! But I would say his last collection that was shown when he had already died, in the snow. We were all there celebrating him, and I walked the show : it was very hard to walk without crying. It seemed like time stopped. There was an energy that only the people that were there could understand. Something happened that was very strong. Kind of a spiritual, mystical experience that we all felt in a strong way. He was definitely present. There was a lot of magic this morning, I felt very lucky to experience that and to be there to celebrate him in that way. Of course, it was very sad too, because we were missing him so much.
How is the look you are wearing tonight iconic to CHANEL? 
It's iconic, it's from a special collection, 1988 Spring-Summer Haute Couture collection that was incredible, as every single collection he ever did. But there is something about that one. When I knew I had the possibility to bring ideas to redoing one of the pieces from Karl, there was so much to choose from, and then when I saw this one, I knew it was the one for me, for this night, to celebrate Karl. It has magic, you put it on and you're flying. It's a beautiful piece of art.
How is sharing this moment of Karl's celebration with Virginie Viard so important?
What Virginie is doing is very special, I don't think somebody else could have done that because she's been part of Chanel for so long and very close to Karl. She's bringing her own flavor, her own style, her coolness, her rock'n'roll personality, and at the same time respecting the essence of Chanel. Taking after Karl was not easy and I think that's why everyone is so in love with everything she's doing. Also, she loves and understand women very much, and she designs with that generosity in mind. It's never about herself : it's about liking creating for other women, you can see that in every collection.