17 Nov 2021 By AWAY IN STYLE
Sail Away With Valef Yachts
The success story of the family business Valef Yachts, Greece's first yacht charter company founded back in 1969, writes a new chapter. The well-established mega-yacht charter company is embarking on a generational change and introducing a new management team led by the women of the family.
American-Greek Kassandra Lefakinis and Alexandra Lefakinis are the women born into the business that set the standard for the luxury yacht charter experience. The sisters now announce they will lead the sector into the future as owners and managing partners of Valef Yachts. They are accompanied by their mother Kathy Lefakinis, who has held the position of President of Valef Yachts since 1981.
This announcement follows the passing of Valef Yachts' founder a year after its 50th business anniversary in 2019, self-made millionaire Vassilios (Bill) Lefakinis, who pioneered the yacht charter business in a country predestined for it: Greece.
Bill was born in Athens in 1933 and left Greece on his own at the age of 13 to go to the United States in pursuit of a better life. He graduated from an Ivy League School on a scholarship, became a veteran having served both in the US army and in the Greek airforce, and started what would become his legacy work Valef Yachts at the age of 36 by providing comfortable access to the wealth of the Greek islands, from untouched to vibrant, to the affluent network he had earned and under his motto 'Discover the Yachting World of Greece.'
Bill's drive came from the need to succeed, and his daughters experienced first-hand the passion he put into the business. "He did a lot of heavy lifting with his personality and charm. That was back then with no internet, when you really had to make a lasting impression," daughter Kassandra resumes.
Bill worked hard to make Valef Yachts known amongst a discerning international clientele. He made heritage mega yachts available for private charters – such as Onassis' legendary 'Christina O.' which wrote history as the world's grandest and most exalted yacht – and he served celebrity clients such as Bruce Springsteen and Sting, The Beatles, Hugh Hefner, or aided legendary productions such as The Love Boat and James Bond with Roger Moore.
'She will lead you anywhere and everywhere.'
Valef Yachts in the 2nd generation under Kassandra and Alexandra will continue to set the benchmark in high-end yacht chartering, building on the heritage yacht portfolio earned by the trust of mega yacht owners and guests valuing authenticity, discretion and pampering.
The next generation debuts with the campaign 'She will lead you anywhere and everywhere', designed to celebrate the power of the female. Boats are traditionally referred to as "she", dating back to ancient times when ships were dedicated to goddesses. The 'she' then references both a Valef executive and a yacht, at once.
Kassandra and Alexandra Lefakinis, who grew up with the business and spent every summer on the Aegean Sea, see the future of the luxury yacht charter business as a holistic experience that fully embraces the elements.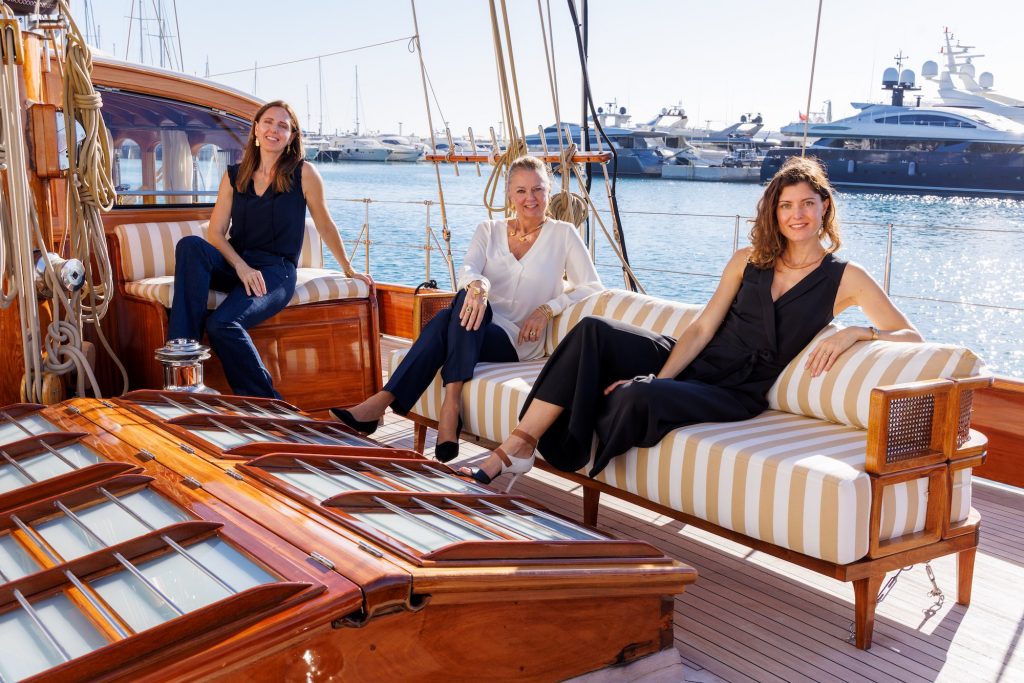 "Greece reflects the soul. Being out on the sea feeling the elements looking into an endless horizon, your mind and heart and soul go different places. It's a priceless experience," says Kassandra and adds: "The biggest gift of my life has been growing up on boats. It is all about a new approach to living and access to a different world. Greece serves that in abundance with each Greek island being completely unique and in no comparison to the other," she adds.
Kassandra and Alexandra highlight the importance of being "boutique" to have control and intimacy for every charter. Guests are provided custom-made experiences from everything Greece has to offer in culture, spirituality, history and dining. A first class concierge service, spearheaded by the women themselves, is a must and offers immediate access to the hidden treasures of Greece.
"Our clients today fully immerse into the Mediterranean Sea life by having what feels like a wellness retreat experience with organic, locally-sourced food and products, on-board master chefs, water sports with numerous sea toys and fitness instructors, and highly attentive crews – all operated in full privacy," Alexandra, who studied International Business & Management at Dickinson College in Pennsylvania, summarizes.
Kassandra Lefakinis made a name for herself in the wellness industry as the co-founder of the organic self-care brand OPUNTIA Luxury Oils that features a skin-healing and aromatherapeutic blend of rare essential oils from the Mediterranean. The co-owner of Valef Yachts also works towards the establishment of a Marine Protected Area in Santorini, as witnessed in 'Guardians of the Aegean', a documentary film on over-fishing in the Aegean featuring Pierre-Yves Cousteau, which she co-produced and co-sponsored with Valef Yachts.
American-born Kathy Lefakinis continues to manage Valef Yachts' U.S. office, but spends more time each year in Greece with her daughters who are based in Greece and to work from the Greek headquarters on the Athens Riviera. "I am proud of my daughters for taking on their father's legacy with the same spirit and dedication they witnessed from him," Kathy concludes.
About Valef Yachts
Valef Yachts is synonymous with pioneering luxury and mega yacht chartering in a country predestined for it: Greece. The heritage company was founded back in 1969 by self-made businessman Bill Lefakinis.
Bill worked hard to make Valef Yachts known amongst a discerning international clientele. He paved the way to make heritage mega yachts available for private charters – such as Onassis' legendary 'Christina O.' which wrote history as the world's grandest and most exalted yacht.
The 2nd generation of the family business is women-led by Bill's daugthers Kassandra and Alexandra Lefakinis. The women carefully curate from a portfolio of over 400 exclusive vessels to excel the wishes of their clients, for a custom-made charter experience in Greece and The Mediterranean.
Ranging from 60 feet to 325 feet, weekly charter rates range from EUR 14.000 / £12,000 / $16,000 for a yacht accommodating up to six passengers, to the highest category yacht with rates starting at EUR 560.000 / £479,000 / $647,000 per week for a party of 36.