Savour An Indigenous Malaysian & Singaporean Buffet at the Lounge
Sweltering summertime calls for appetizing, flavourful and spicy delicacies. The Lounge at JW Marriott Hotel Hong Kong presents an authentic Malaysian and Singaporean lunch and dinner buffet this July and August, transporting your taste buds to Southeast Asia. The diversified cuisine of the two destinations takes influence from a myriad of cultures, including Chinese, Indian, Nyonya and even Portuguese culinary heritage. Savour a symphony of flavours in the Malaysian and Singaporean food staples while soaking up the bustling city views through the floor-to-ceiling windows at The Lounge this summer.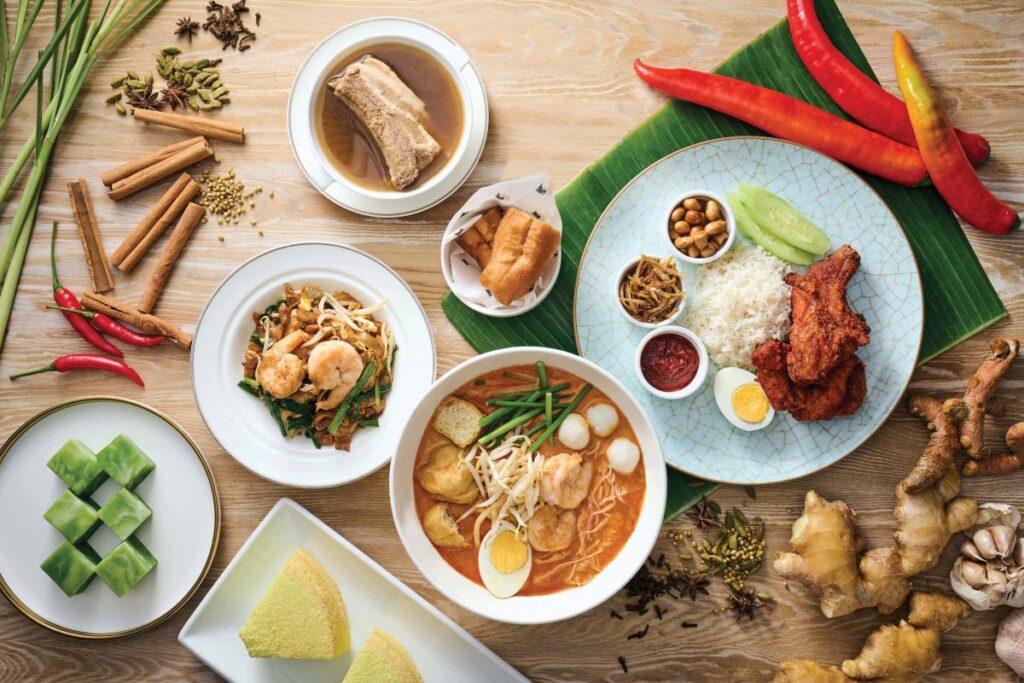 Lunch Buffet
Indulge in a refined spread of indigenous Malaysian and Singaporean delicacies in the lunch buffet. Begin the feast with the traditional Rojak Salad, a unique mix of fruits, vegetables, fried dough sticks and peanuts along with a tangy and spicy dressing; as well as the nourishing and hearty Bak Kut Teh that blends a variety of aromatic spices and herbs. Dig into the popular dishes bursting with vibrant flavours, including Ngoh Hiang (five-spice pork roll with beancurd skin), Roasted Fish with Tamarind Dipping Sauce, Singaporean Wok-Fried Chilli Prawn, Beef or Chicken Satay, Malaysian Curry Chicken, and more. The locals' favourite rice and noodle dishes are also served, from Char Kway Teow (spicy fried flat rice noodles with shrimp), Nasi Lemak (deep-fried chicken with coconut rice), Laksa, to Hainanese Chicken Rice and Ipoh Bean Sprouts and Chicken Noodles. Delight the palate with iconic desserts such as the fluffy Pandan Chiffon Cake and refreshing Pandan Ice Cream.
The tempting lunch buffet also offers a spinning salad bar with 60 condiments, and a signature noodle live station highlighting handmade shrimp wontons and flavourful broth options. Complete the meal with delicate desserts, ice cream, and fruits.


Pricing and Availability:
12.00 pm – 2.30 pm (Monday – Saturday)
Malaysian and Singaporean Bistro Specialities, Salad Bar, Noodle Station and Desserts: HK$ 408
Malaysian and Singaporean Bistro Specialities Only: HK$ 288
Salad Bar or Noodle Station Only: HK$ 278
Reserve the lunch buffet on JW eShop.
Dinner Buffet
Immerse in the fascinating night views and the cosy ambience at The Lounge. The sumptuous dinner buffet with all-you-can-eat Malaysian and Singaporean delights will take diners on an exotic culinary journey. Be pampered by a medley of flavours in the delectable classics such as Malaysian Double-Boiled Pork Soup with Crab Meat and Bean Curd, Singaporean Fried Chilli Crab, Malaysian Roasted Chicken, Singapore-Style Fried Turnip Cake with Preserved Vegetables and Eggs, and Singaporean Curry Chicken. The made-to-order Penang Har Mee (Prawn Noodle Soup) is a spicy-savoury concoction of a comforting shrimp broth and various enticing toppings. A special live station is set up to prepare a heavenly treat for durian lovers, the D24 Durian Pancake. The creamy and aromatic D24 durian filling wrapped in the buttery crêpes exudes tropical notes.
In addition, the dinner buffet features freshly made salads, top-notch seafood, sashimi and sushi, premium cheeses and cold cuts, a signature noodle bar, Roasted Beef and Herb-Crusted Lamb Rack at the carving station. Asian bistro-inspired specialities include Braised Abalone, Peking Duck, Barbecued Pork, Roasted Pigeon, and more. Do not miss the homemade sweet treats to wrap up the feast.
Pricing and Availability:
7.00 pm – 10.00 pm (Monday – Saturday)
Monday – Thursday HK$ 508 per adult; HK$ 358 per child (3-12 years old)
Friday – Saturday HK$ 558 per adult; HK$ 388 per child (3-12 years old)
Reserve the dinner buffet on JW eShop.
The above prices are subject to a 10% service charge. For enquiries, call +852 2810 8366 or email jwmarriott.hk@marriotthotels.com. Menu items and prices are subject to change without prior notice.