6 Jan 2023 By AWAY IN STYLE
Shiny Violeet Afternoon Tea & Staycation Package
Ring in the festive cheers and get glowing with luxurious gourmets to revitalise and brighten the New Year ahead. Cordis, Hong Kong's modern European restaurant and bar, Alibi – Wine Dine Be Social has partnered with LANEIGE in this first ever collaboration to provide guests an elegant "Shiny Violet Afternoon Tea" experience inspired by LANEIGE's Perfect Renew 3X. From 9 January to 28 February 2023, guests can enjoy this shiny afternoon tea set at Alibi – Wine Dine Be Social and extend the shimmering staycation journey at Cordis, Hong Kong.
FEEL THE GLOW – the South Korea-based beauty and skincare expert LANEIGE is pleased to launch the Perfect Renew 3X Signature Serum in 2023, presenting the anti-aging serum that boosts a triple-layered formula. The evolutionary serum precisely targets visible signs of aging: wrinkles, firmness and radiance with greater synergy, for a more youthful skin appearance. The innovative twist-up design presented in light purple and gold-tone has elevated with a touch of luxury and elegance. Inspired by its signature triple-layered targeting special feature, purple and gold-tone presentation, Alibi – Wine Dine Be Social is delighted to debut this co-branded afternoon tea set with LANEIGE from January to February 2023.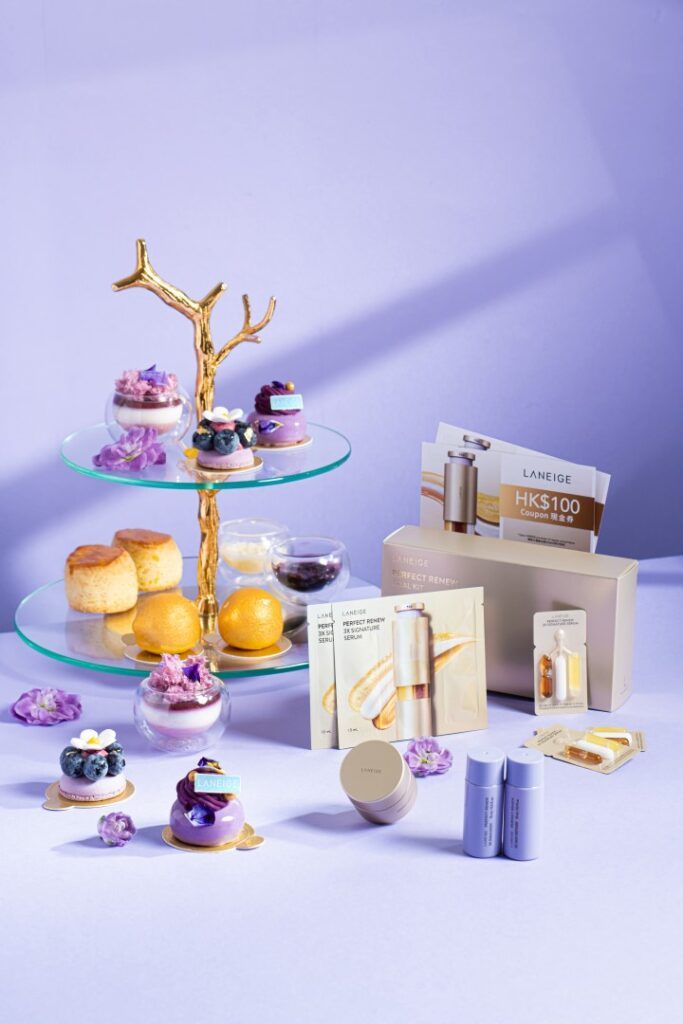 Alibi's Chef de Cuisine James Oakley has specially curated an array of tempting savouries. Awaken the palate with Red Cabbage Cured Salmon, Celeriac Remoulade, Crisp Lavash, which has extracted the natural purple colour from the red cabbage, and presented in triple-layered to echo with the serum design. A surprise awaits as you bite into the Forest Mushroom Savoury Macaroon to feel the heavenly aromatic mushroom bursts with flavours. Tempt your taste buds with the crunchy Canadian Lobster Croquett and unbeatable mouth-watering Serrano Ham and Manchego Cheese Toasties.
Executive Pastry Chef Roy Ma and his team have used a variety of natural purple ingredients such as blueberry and purple sweet potato to curate a lingering sensation of sweet treats. Unleash the romantic vibe with Fig Yoghurt Panna Cotta, a velvety mix of smooth fig mousse, panna cotta and fruity jelly, presented in 3 layers with dreamy purple gradient inspired by LANEIGE's signature serum design. Indulge in the Purple Sweet Potato Matcha Mousse Cake, the richness of purple sweet potato with the slightly-bitter yet silky and fluffy Japanese matcha mousse create double temptations. Relish in the floral garden by savouring the Blueberry Ispahan Cake which adds a romantic touch to the tea set. Celebrate the joyful festive season with the golden glittering Lemon Strawberry Cheese Cake, a combination of slightly-sour lemon cheese cake and fresh strawberry jelly to complete the sensational indulgence. Other highlight includes Signature Scone with Clotted Cream and Blueberry Jam.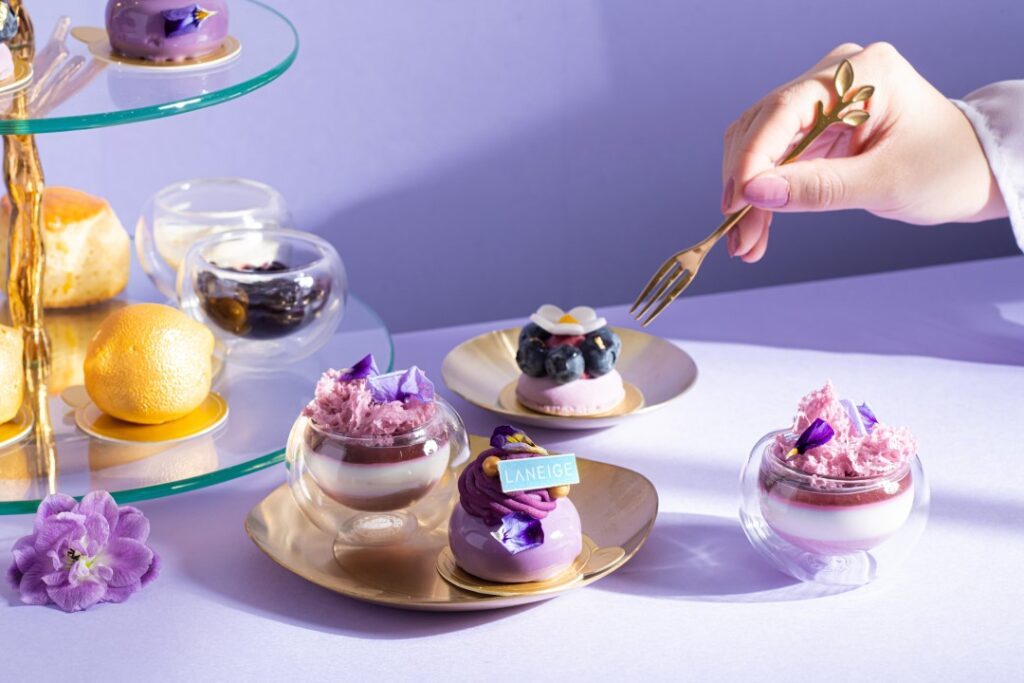 Elevate the afternoon tea experience with a glass of Golden Citrus mocktail, which is curated by the award-winning mixologist team from Alibi – Wine Dine Be Social, and infused by passionfruit, yuzu and orange to refresh the palate. In addition, each guest will receive a complimentary LANEIGE Perfect Renew 3X beauty gift set (valued at HKD520)*.
Available from 9 January to 28 February 2023 daily from 3:00pm to 5:30pm, the afternoon tea is priced at HK$498 for two persons (up to 20 sets per day).
Reservations can be made at +852 3552 3028 or via email to cdhkg.restaurants@cordishotels.com or Whatsapp +852 9717 4727. All prices are in Hong Kong dollars and subject to a 10% service charge. *A redemption card of complimentary gift set is served on a first come first served basis while stock lasts, available for redemption at Alibi – Wine Dine Be Social and LANEIGE Store.