16 Jun 2022 By AWAY IN STYLE
Signum Collection Shines a Light on Crystal Living
THE SWAROVSKI X ROSENTHAL SIGNUM COLLECTION SHINES A LIGHT ON CRYSTAL LIVING
SWAROVSKI 攜手ROSENTHAL推出SIGNUM 系列 打造現代生活方式新體驗
Swarovski takes its seat at the table with the launch of the SIGNUM Collection, created in partnership with world-renowned porcelain artisan, Rosenthal.
"The partnership between Swarovski and Rosenthal is yet another way through which we are breaking boundaries and building new bridges. This exclusive collection of tableware epitomizes the renovated image of Swarovski as well as its dedication to the highest standards of craftsmanship, thanks to the combination of the unmatched know-how provided by Rosenthal and the new creative vision of Swarovski that we have initiated in 2021 and we are proudly expanding with each new launch."
Michele Molon, Swarovski CEO a.i.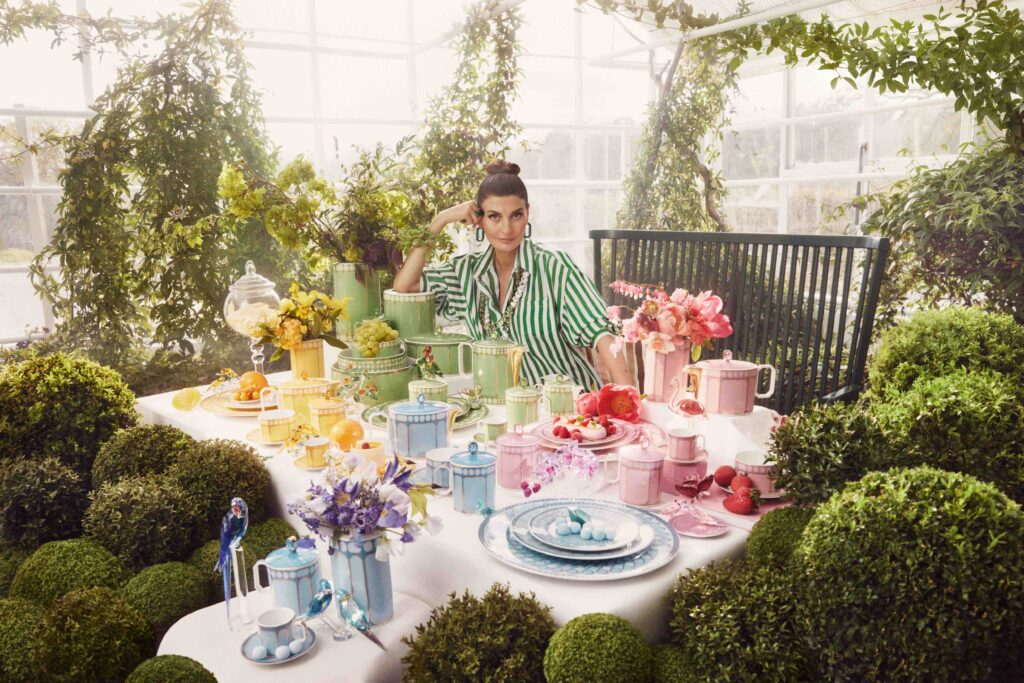 Swarovski攜手享譽世界的瓷器工匠 Rosenthal,推出迷人的 SIGNUM 系列,打造頂級家飾用品。
 「Swarovski與Rosenthal的合作,是兩個品牌打破界限並建立新橋樑的一種方式。 這一獨家餐具系列是Swarovski品牌全新形象的縮影,代表了我們對高工藝標準的追求; 同時,得益於Rosenthal無與倫比的專業技術和Swarovski於2021年設立的全新創意願景, 我們在每一次的新品發佈中也不斷發展和完善。 」
– Swarovski代理首席執行官Michele Molon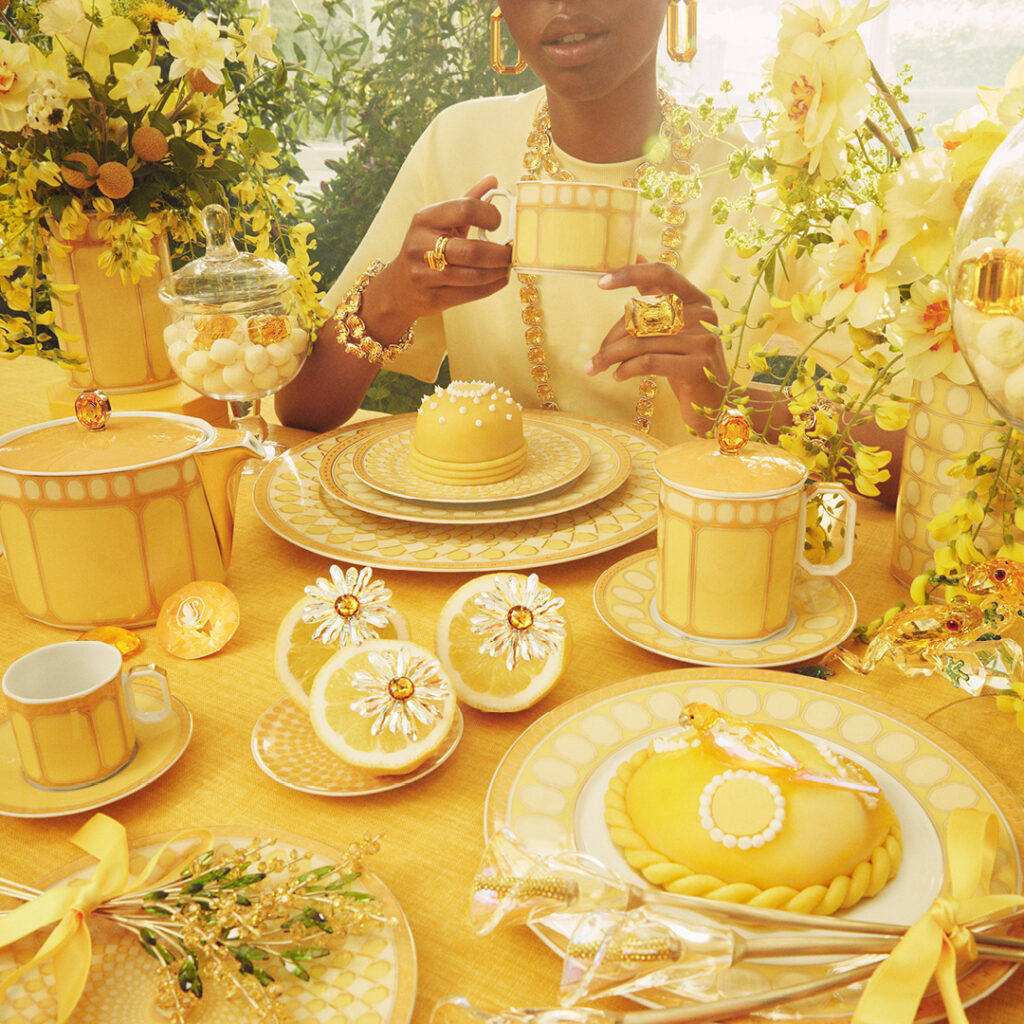 Designed by Swarovski's Creative Director, Giovanna Engelbert, and developed with the porcelain experts from Rosenthal, each piece is thoughtfully made to highlight moments of joy while simultaneously showcasing the heritage and craftsmanship of two innovative brands.
 "With this collection we offer a new way of embellishing your daily life. Just like we are adorning ourselves with jewelry, we get the joy from decorating our lives through this whimsical yet elegant collection of porcelains that adorn our tables."
Giovanna Engelbert, Swarovski Creative Director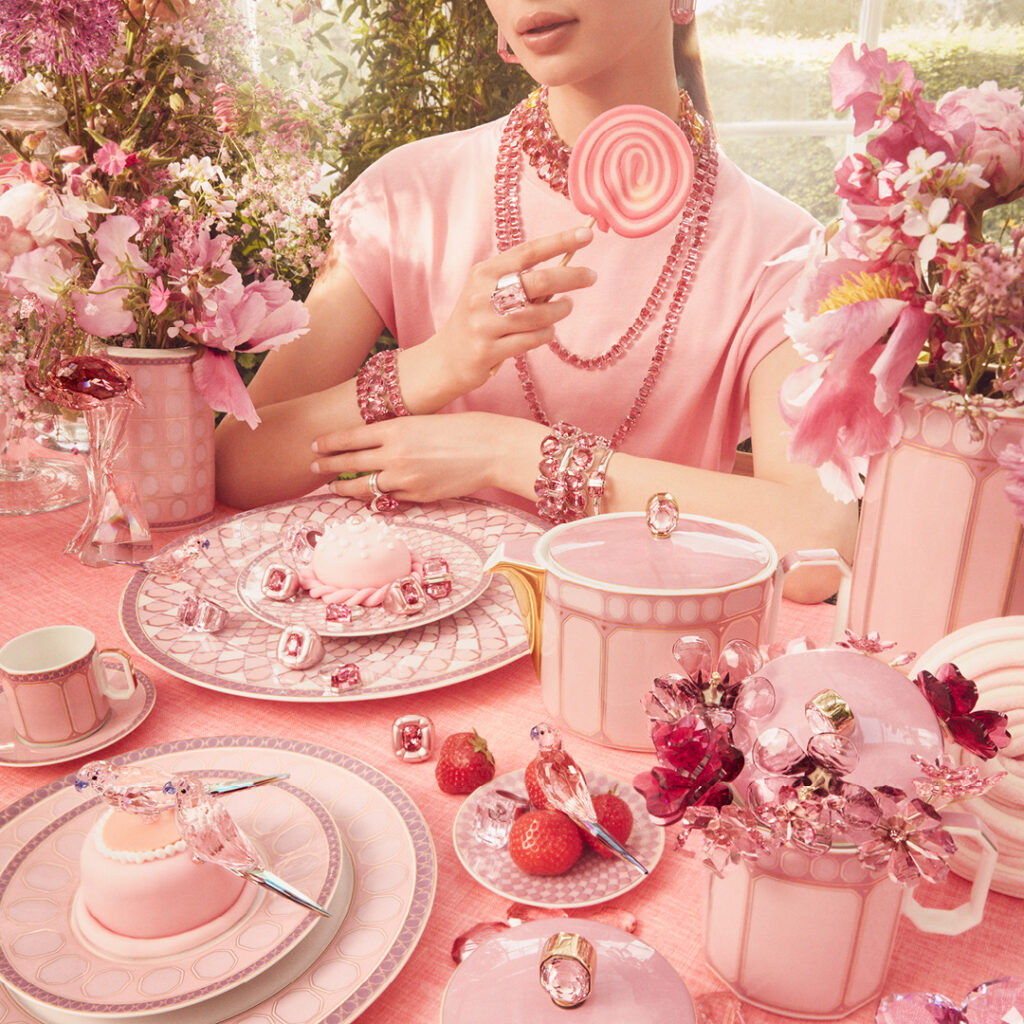 該系列產品由Swarovski創意總監 Giovanna Engelbert 傾情設計,並聯合Rosenthal 瓷器專家共同開發,每一件單品都經過反覆推敲和打磨,展現出兩個具有創新精神的品牌的 悠久傳統和精湛工藝,伴您共度歡樂時光。
「通過本系列產品,我們以一種新的方式來點綴生活。 就像穿戴珠寶、打扮自己一樣,我們在這個異想天開而又優雅典致的系列中找到了裝飾生活的樂趣。 」
– Swarovski創意總監Giovanna Engelbert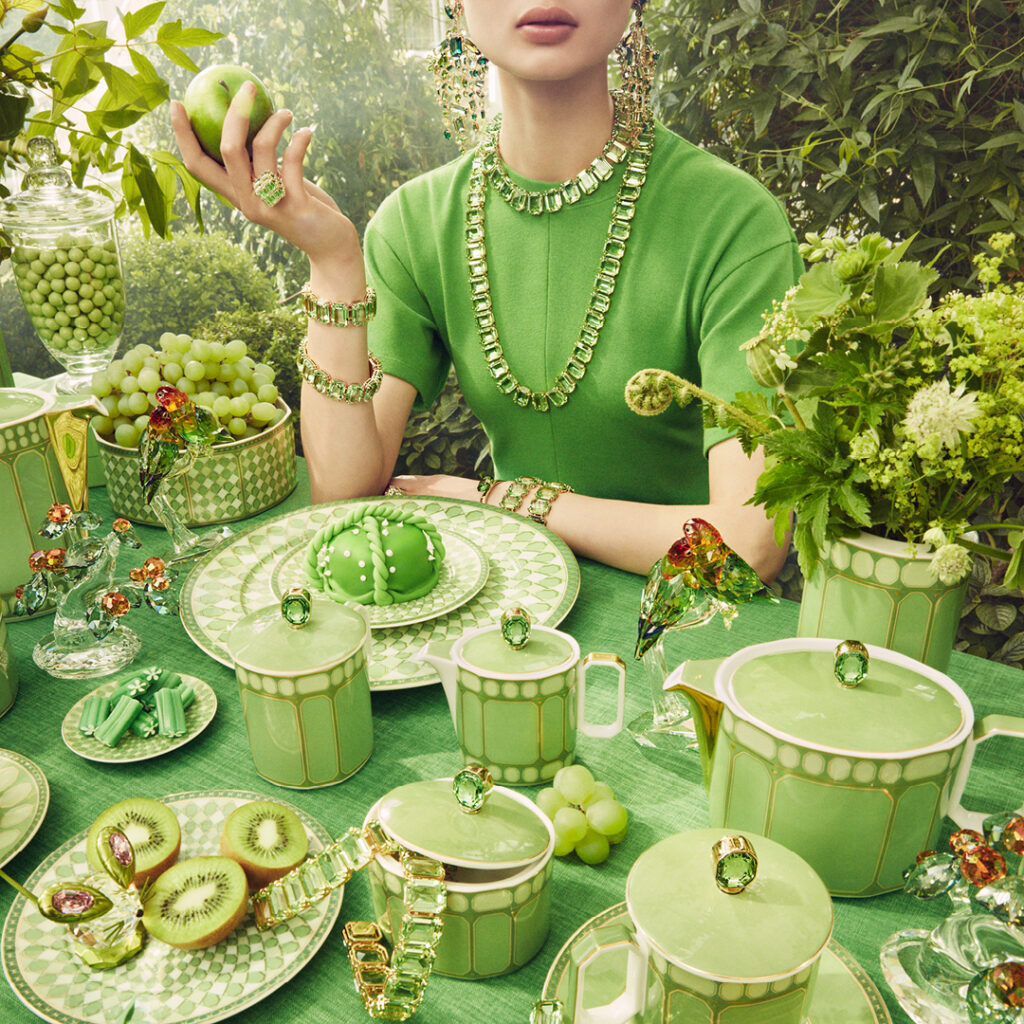 ARTISTRY MEETS IMAGINATION
With this collection, Swarovski is introducing its brand pattern for the very first time, a translation of the brand's octagonal motif.
Inspired by the 19th century Austrian art movement, with its modern approach towards arts and craftmanship, the collection is colorful yet sophisticated with a retro futuristic vibe. Rosenthal's extreme attention to detail and in-depth knowledge of their craft results in a range that is as artistic as it is usable. The German company, who stands alone for their award-winning designs, has interpreted this new entry point into the crystal lifestyle in a vibrant selection of moreish candy colors.
"We are passionate about producing porcelain collections that conceive exceptional memories and bring people together all over the world, a vision very much in line with Swarovski's – creating sparks of joy and imagination with every interaction. Signum is the unity of these two ambitions, made real."
Mads Ryder, Rosenthal CEO.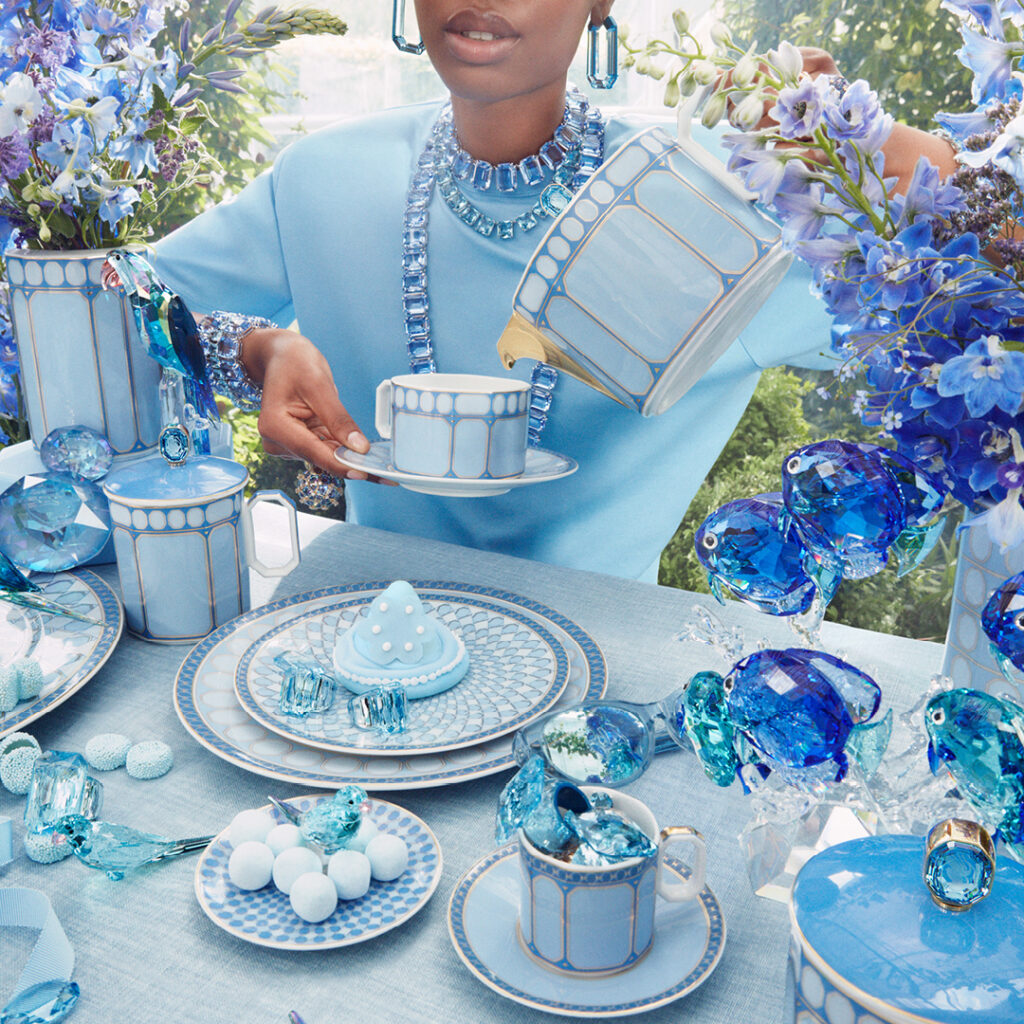 藝術性與想像力的碰撞
Swarovski在SIGNUM系列中運用品牌標誌性的八邊形造型,詮釋令人著迷的圖案設計。 從 19 世紀奧地利藝術運動及其對藝術和工藝產生的現代影響中汲取靈感,SIGNUM 系列將復古及未來感相容並蓄,帶來樂趣的同時又不失精緻高雅。
Rosenthal 憑藉其精湛的工藝及一絲不苟的匠人精神,打造出藝術美感和實用功能兼備的產品。 這家屢獲殊榮的德國公司打破傳統,選擇明快誘人的糖果色調詮釋此次合作,與Swarovski共同呈現新世代生活方式。
「我們以精緻的瓷器產品系列,構建非凡生活體驗並拉近世界各地人們的距離,這與Swarovski的願景高度一致,所以在合作中,我們不斷碰撞出歡樂與想像力的火花。 SIGNUM彙聚二者的長處,並將概念化為現實。 」
– Rosenthal 首席執行官 Mads Ryder
THE SIGNUM COLLECTION
The Swarovski x Rosenthal SIGNUM Collection is a richly detailed representation of brand heritage.
Just as the octagon, the Swarovski brand colors of blue, green, yellow, and pink are captured in graphic designs, edged with golden accents (per Rosenthal) – another detail that links to Swarovski's heritage and craftmanship in designing and creating jewelry. The stylish swan-engraved, cut-crystal lids are a feature of the collection and add an extra dose of luxury to an already enchanting range, as do the center stamps featuring a golden Swarovski Swan.
From forms to printing to the application of delicate and hand painted décor details, each is a representation of Rosenthal's craftsmanship and expertise.
Including tea sets, espresso sets, and full dining services, the complete collection is available in verdant green and is designed to stand alone or be customized with select pieces in the other colorways. Offering the opportunity to curate your own tablescape, individual pieces can be combined to radiate a sense of diverse, contemporary cool.
With a touch of art and alchemy, the Swarovski x Rosenthal SIGNUM Collection honors l'art de la table–the pleasure of setting a table–with a fresh approach to modern living.
SIGNUM 系列
Swarovski x Rosenthal SIGNUM 系列是精益求精、品牌傳承的榮耀之作。
一如Swarovski八角形元素的不同色彩,SIGNUM 系列的設計採用了藍色、綠色、黃色和粉紅色四種品牌色彩,並由手繪金色點綴邊緣——以此細節呼應Swarovski在設計和創作珠寶方面不斷傳承與創新工藝的特點。 蓋子上鑲有精緻、時尚的天鵝圖案,為本就迷人的產品增添奢華質感,同時中心印章也呈現了一隻優雅的金色Swarovski天鵝。
從造型到印刷,再到點綴細節和手繪裝飾,每個步驟都展現了 Rosenthal 的精湛工藝和專業水準。 包含茶具、咖啡套裝和整套餐飲用具在內,整個系列可以單獨使用或搭配不同配色的精選單品,通過單品的混搭組合,在自家餐桌設計中收穫別樣樂趣,打造多元化的時尚酷感。
帶著藝術和神秘的氣息,Swarovski x Rosenthal SIGNUM 系列以全新的現代生活方式,致敬餐桌藝術,為您帶來無窮樂趣。
The collection will be available in selected Hong Kong stores in end of July 2022.
系列將於7月底在香港指定專門店有售。