Yurakucho Izakaya: Elevating Lunch in Central with Hidden Bridge-Inspired Delights
An authentic izakaya experience inspired by the hidden area beneath the Yurakucho elevated bridge. Yurakucho's lunch set menu elevates the lunch options in Central with a fusion of Japanese bento culture and the vibrant energy of the city. From Monday to Wednesday, between 12:00 PM and 2:30 PM, you can enjoy a 3-course dining experience for just HK$148, showcasing bold and diverse flavors of Japanese cuisine.
The lunch set starts with a salad and pickles as appetizers, followed by a choice of main course grilled on the restaurant's open charcoal grill. Options include Red Snapper Marinated in Sake Kasu (HK$148) or Chicken Steak (HK$148). Yurakucho caters to the preferences of every guest, with options like the vegetarian-friendly King Oyster Mushroom with Black Curry or Authentic Miso Sauce (HK$148). For those who enjoy classic dishes from Tokyo's Ginza district, there are options like the indulgent Japanese-style Pork Cutlet with Black Curry or Wagyu Beef Burger with Authentic Miso Sauce. All sets come with a bowl of Japanese rice, with prices starting at HK$148.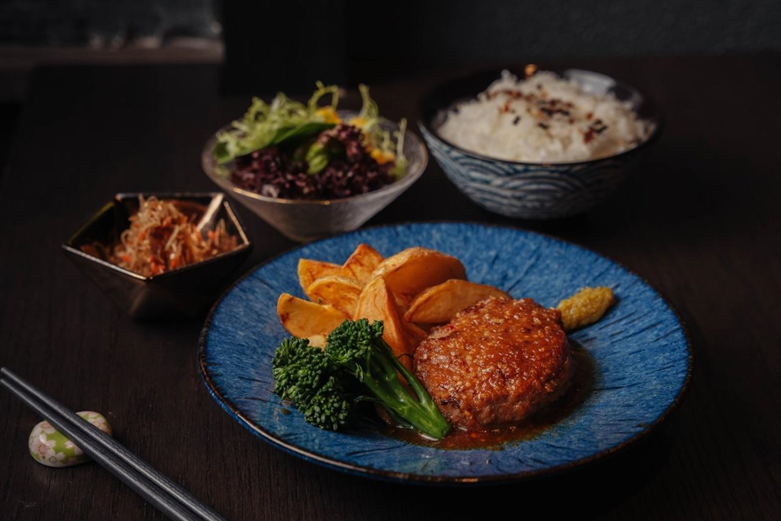 But wait, there's more on the menu! Guests should not miss the desserts and complimentary tea or coffee to perfectly conclude their lunch. Additionally, guests have the option to add on lunch side dishes such as Onsen Egg, Molten Egg (HK$12), Chicken White Soup Onsen Egg (HK$28), or Udon Noodles (HK$15). Every dish on our lunch menu is carefully crafted by our expert chefs to provide the best Japanese dining experience.
Hold onto your glasses! Yurakucho is injecting new energy into the Yunhan Street area with a brand-new Happy Hour cocktail menu inspired by the area beneath the Yurakucho elevated bridge. Let us tell you, "under the elevated bridge" refers to the underground malls and restaurant areas located beneath bustling city districts in Japan. Happy Hour is available from Monday to Saturday, from 5:00 PM to 7:00 PM. During this special time, guests can indulge in refreshing highball cocktails with various flavors unique to Yurakucho, including the highly sought-after "Sonic on Tap" made with Ki No Bi Gin, Kyoho Grapes, Genmaicha (toasted brown rice tea), soda water, and tonic water, priced at just HK$60. You can also enjoy highball cocktails, wines, and sparkling wines with different flavors at the same price. For just HK$80, you can upgrade to cocktails and spirits such as Negroni, Aperol Spritz, or Margarita. Bid farewell to dull happy hours and join the drinking experience "under the elevated bridge" at Yurakucho for an unforgettable time.
Lunch Set: Monday to Wednesday, 12:00 PM to 2:30 PM
Summer Seasonal Menu: From June 19, 2023, to September 23, 2023
Address: G/F, 43-55 Yunhan Street, Central, Hong Kong
Phone: 2813 1669
For reservations: book.bistrochat.com/yurakucho
Instagram: @yurakucho.hk