27 Oct 2021 By AWAY IN STYLE
Spiderman one of the most popular HALLOWEEN costumes across Asia
Halloween is fast approaching which means for many people a critical decision needs to be made: what should my costume be?
With this in mind, experts at DYS were eager to find out which costumes are the most popular worldwide. To do so, they collated the monthly search volumes for the most common Halloween costumes, across the countries with the highest GDP, to determine which costumes come out on top.
The most popular costumes worldwide
By far the most popular costume across the world is Spiderman. The Marvel superhero is the most searched for costume in a whopping 17 countries. The American made characters' popularity is spread across multiple continents topping the list in Asia, Europe, Africa and of course North America.
In second place is pirate costumes which were the top scorer in five countries. Australia, Thailand, Columbia, Algeria, and Norway all prefer to don boots, eyepatches, and billowy shirts on the spookiest night of the year.
Ranking third are witch costumes which took the top spot in The Netherlands, Argentina, Peru, and Venezuela (4 countries). Of the top three costumes witches seem to be the most suited to the spooky season.
The countries that love to dress up the most
As the originators of the holiday, it is unsurprising that America is the most eager to dress up this Halloween. The total number of monthly searches for costumes came to a massive 716,900. The highest number of searches was an average of 60,500 for Spiderman costumes. The lowest was 5,400 searches for caveman costumes.
In second place is the United Kingdom with a total of 121,120 searches. The highest number of searches are for Spiderman costumes at 22,200. The lowest is 480 searches for demon costumes.
Close behind in third place is Mexico which had a total of 102,350 results. The highest number of searches were for devil costumes (12,100). The lowest searches (40) for police costumes.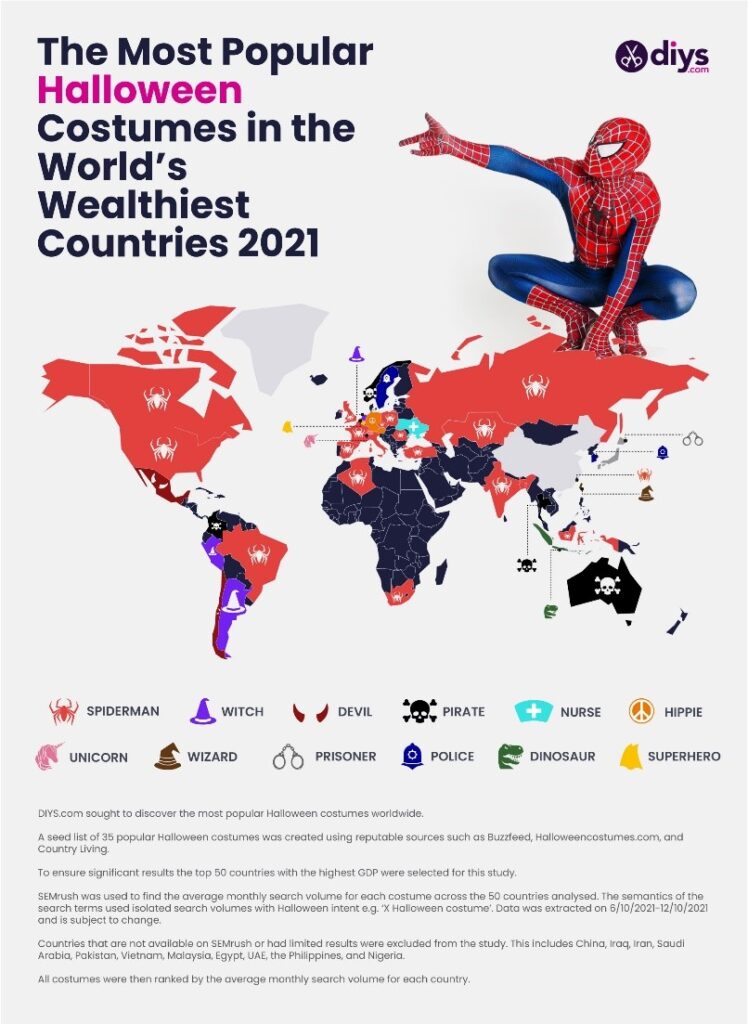 The experts at DIYS.com have shared 3 Halloween tips for whatever costume you decide to go for.
If you're purchasing a costume online: Always read the description before purchasing. Most retailers will use a photo of the model in the item for sale plus a few extras. Make sure you know exactly what is included so you're not left with half a costume when the time comes.
If you're making a costume: Get started early, you never know when you might run into problems so give yourself plenty of time to fix them.
When deciding on a costume: Always keep the occasion in mind. If you're choosing a costume for trick or treating, you'll need some insulation, if you're going to a house party you'll need to be able to sit down in your costume.